Note: This story was updated to correct the price of a three-bedroom unit, which is listed correctly in the text.
For a new housing development in Chicago to truly become a community, a lot of pieces need to be in place. Structured Development founding principal Mike Drew said he believes it's all there for the new 34-unit condo building The Seng, located a few blocks southeast of North and Clybourn avenues, which completed construction in February.
"It's a good place to raise a family," Drew said. "There are tremendous amenities, everything from a 97 walking score to fantastic transportation, great schools, a playground on site, to provide open half acre of public private park that we will maintain and program."
And, Drew said, it's a bargain.
"We follow the principles of smart growth in terms of creating several different levels of income in this development," Drew said. "These are sold at significantly reduced prices to market value. As an example of a three-bedroom that goes for ($333,000) is measured against market average of $700,000 in the neighborhood."
The condo units are being marketed and sold in partnership with the Chicago Housing Trust, which restricts ownership to people making no more than 120% of the area median income. Ald. Walter Burnett (27th Ward) said The Seng's multi-bedroom units can bring in middle-income families previously priced out of the area.
"It should always be different economics in order to have a real community because somebody's got to work, somebody's got to serve, somebody's got to do some of everything," Burnett said. "We have a lot of public servants who can't afford million-dollar homes, and we are giving them an opportunity to be able to stay in the community for which they work."
Burnett also pointed to the area's growing retail and entertainment options as reasons it's a good place for families to purchase homes.
"Being able to walk right into the Wild Mile, walk right to the grocery store, go on North Avenue and buy whatever you want to buy, walk right to the train station — you have all of the options for different types of schools, it's just a great area," Burnett said.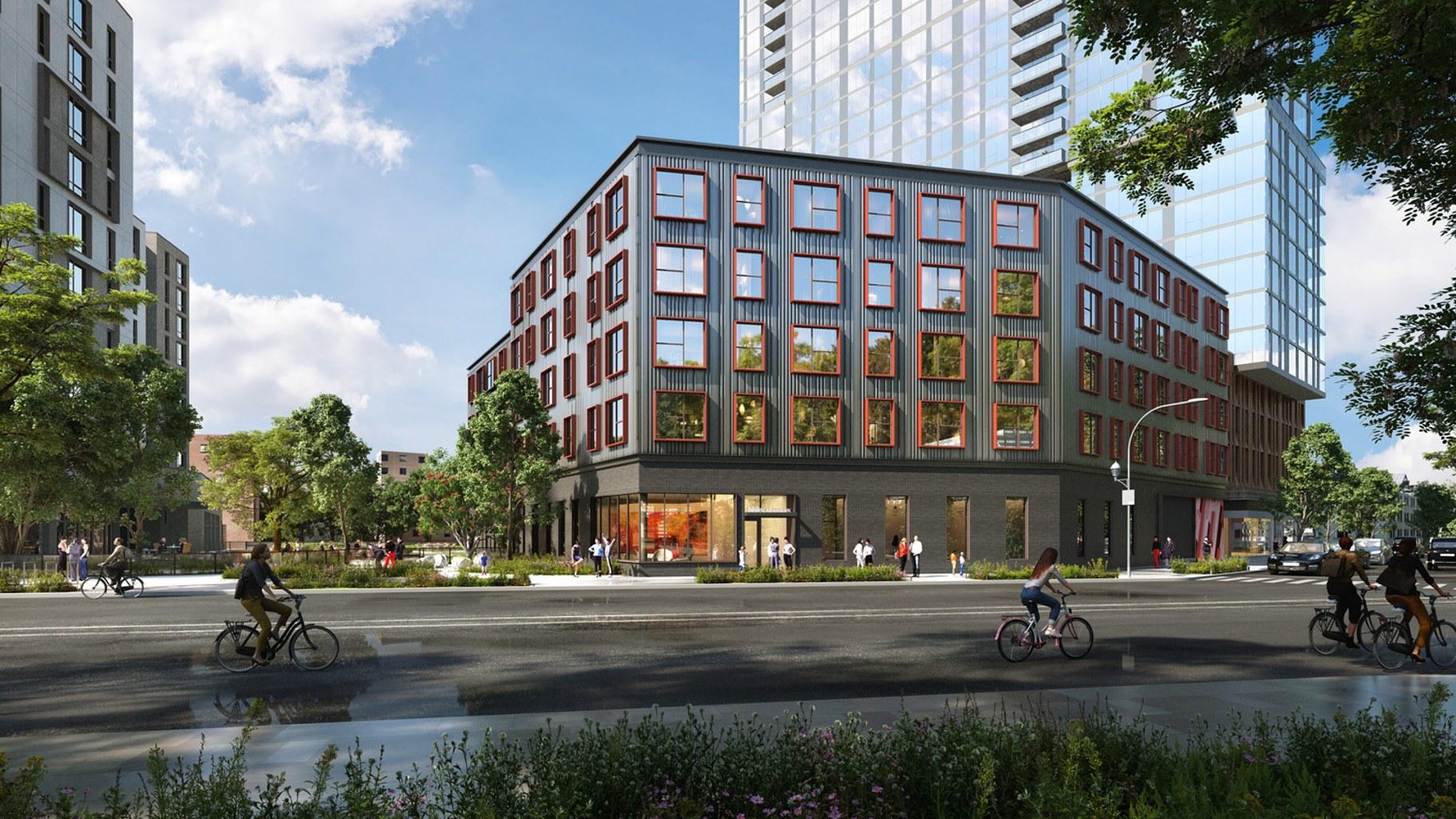 Exterior rendering of The Seng. (Courtesy of Structured Development)
Emily Talen, who studies housing at the University of Chicago, said the density and diversity this development aims to create are part of the roadmap to a thriving neighborhood.
"The more density we can get there, the better it's going to be in the long run for supporting walkability," Talen said. "And that's the holy grail: walkable cities. The second holy grail is social diversity. You want to be able to have a variety of income levels accessing resources. We're in crisis proportions here with the lack of affordability in Chicago."
Talen said she sees one immediate challenge for the area: car traffic. That's why long-term, Talen said, she would look for increased sidewalk activity as a marker for success.
"That brings safety because eyes on the street, you know, more people out and about," Talen said. "If there were thriving public spaces where people are bringing their kids to play, you know, if we see that kind of activity going on around there, that would be a great thing."
Talen said she would also look for more small businesses to move in — businesses like Sully's House, a sports bar less than a block away from The Seng. Owner Sherife Jusufi said she's seen a lot of change come to the area since the bar moved in in 2006.
"It was all basically factories and that was it," Jusufi said.
Jusufi agreed that more small businesses will be needed to fill out the community.
"With that many people, you're going to need services, coffee shops, little restaurants, places for the kids to go," Jusufi said.
And she sees some potential bumps in the road, too — specifically schools and parking.
"I know everyone thinks that everyone uses the subway system, the trains and buses," Jusufi said. "But a lot of times people with young children and kids that they're taking to school usually have cars. And they need to figure out just where the regular school CPS school will be for this neighborhood."
Still, both Talen and Jusufi said they have high hopes for how this new community will come together.
"I think it's great," Jusufi said. "I think you have everything here."
"I feel like the development has all the right ingredients and it will gel," Talen said. "It's just — let's hope it gels in the right direction."
Applications for The Seng close this week, and the lottery drawing for all applicants takes place next week. Applications have already closed for two-bedroom units.  And if you're wondering about the name — it comes from The Seng Company, a furniture hardware manufacturer that once stood on the site.
---