Lori Lightfoot, who made history as the first Black woman and first gay person to be elected mayor of Chicago, is asking voters to add one more first to her resume: the first woman to be reelected as Chicago mayor.
Jane Byrne, the city's first female mayor, lost her bid for reelection in 1983.
But facing eight challengers, it is unlikely Lightfoot — or anyone else, for that matter — will win more than 50% of the vote. That means the top two finishers Tuesday night are likely headed to an April 4 runoff.
Seeking to deny Lightfoot a second term are Ja'Mal Green, Sophia King, Kam Buckner, Willie Wilson, Brandon Johnson, Paul Vallas, Roderick Sawyer and Jesús "Chuy" García.
WTTW 2023 Chicago Election Voter Guide
Control of the Chicago City Council is also up for grabs, with 41 of 50 races for alderperson contested. In addition, voters will elect three people to serve on a council in each of Chicago's 22 police districts to help oversee the Chicago Police Department as part of an effort to rebuild trust in the beleaguered law enforcement agency.
Polls are open at 6 a.m. Tuesday and are scheduled to close at 7 p.m. Voters in line when the polls close will be allowed to vote. More than 210,000 votes were cast by mail and during the early voting period that began Jan. 26 and ended Monday, according to data released by the Chicago Board of Election Commissioners.
Voters can cast a ballot at their assigned precinct polling place on Tuesday, or head to an early voting location in each of Chicago's 50 wards, which will remain open as vote centers on Tuesday, officials said. Voters can also go to the Chicago Board of Election Commissioners supersite at 191 N. Clark St.
Completed mail ballots can be dropped off on Election Day at any of the vote centers or the board's office at 69 W. Washington St., 6th floor. Secure drop boxes will also be available at Wrigley Field, Gallagher Way, 1060 W. Addison St., United Center, South Atrium, 1901 W. Madison St., and Wintrust Arena, main entrance at Cermak & Indiana, 200 E. Cermak Road.
Mail ballots must be postmarked no later than Tuesday and arrive by March 14 to be counted, officials said.
Those who have received a mail ballot but wish to vote in person should take the ballot they got in the mail to any early voting site or their precinct polling place and surrender it to an election judge. They will then be issued a new ballot, officials said.
Mail ballots received by Monday will be counted on Tuesday, and included in results reported after polls are scheduled to close at 7 p.m., officials said.
More: WTTW News Explains: What Happens to Your Ballot After You Vote?
The election is the first to reflect the ward map drawn by members of the City Council to reflect the results of the 2023 census.
Chicagoans can register to vote, or update their name or address, and cast a ballot on Election Day at any early voting location or precinct polling place, as long as they have two forms of government-issued identification, one of which shows the voter's current address, officials said.
Those unsure about whether their ward has changed can look up their address on the city's website and check which police district they live in on the police department's website.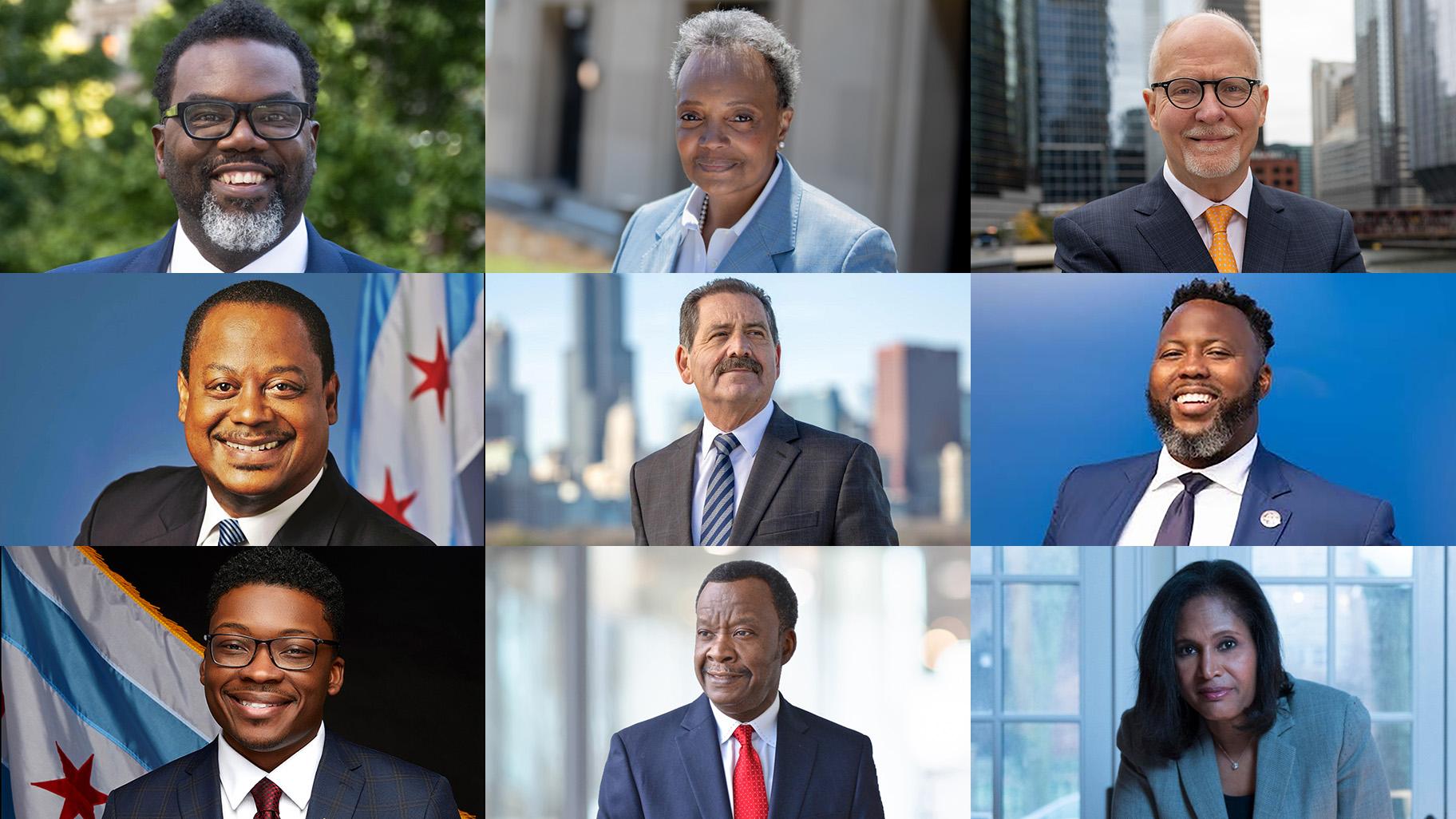 The nine candidates running for Chicago mayor. (Campaign photos)
Election Defined by Crime, Public Safety
Lightfoot spent much of the campaign asking voters to give her a chance to finish the work she started before the COVID-19 pandemic, and the economic collapse it triggered, staggered Chicago.
But it is unclear whether Lightfoot will be able to overcome serious headwinds caused by the surge of crime in Chicago that began as the pandemic swept the city and shut down schools and businesses.
Although murders declined approximately 14% in 2022 as compared with 2021, violence in Chicago has yet to return to prepandemic levels. There have not been fewer than 700 murders in Chicago since 2019, which included Lightfoot's first seven months in office.
That surge in crime spilled out from the South and West sides — where violence has been a part of daily life for residents for decades — into downtown and parts of the North Side, where many residents were unaccustomed to coping with the regular threat of shootings, carjackings, robberies and burglaries.
While acknowledging that Chicago voters are concerned about public safety, Lightfoot has declined to shift her public safety strategy — and has steadfastly supported Chicago police Supt. David Brown, her hand-picked choice to serve as the city's top cop. That left the mayor vulnerable to criticism from both the left and right, narrowing her path to a second term.
All of Lightfoot's challengers would immediately fire Brown, saying he has not kept Chicagoans safe, and he has failed to implement the reforms required by the federal court order spurred by a probe that found officers routinely violated the constitutional rights of Black and Latino Chicagoans.
As the consent decree prepares to enter its fourth year, the city is in full compliance with 3% of its requirements, according to data released by the Chicago Police Department.
Vallas, the former CEO of the Chicago Public Schools, separated himself from the crowded field of candidates with a laser-like focus on promises to take a "tough on crime" approach to the city's public safety wors.
Vallas has vowed reverse rules that have "literally handcuffed" officers, "demoralizing" them and making "proactive policing" impossible. That will help fill the department's more than 1,000 vacant positions by making the Chicago Police Department a more attractive place to work, Vallas said.
That enforcement-focused approach won Vallas the endorsement of the Fraternal Order of Police, Lodge No. 7, which is led by John Catanzara, who has repeatedly blasted the federal court order as an impediment to public safety.
Vallas, a Democrat who has faced persistent criticism that many of his policy positions put him in the center of the Republican Party, served as an unpaid adviser to the police union during contract negotiations in 2021.
Lightfoot has called Catanzara a "bigot" and accused Vallas of "blowing the ultimate dog whistle" when he told a Southwest Side crowd that his "whole campaign is about taking back our city, pure and simple."
At the other end of the spectrum, Johnson, a Cook County commissioner, is the only candidate not to promise to hire as many new police officers as quickly as possible after taking office to address the increase in crime and violence.
Instead, Johnson has said he would invest at least $150 million in programs designed to address the root causes of crime, including a lack of affordable housing, while adding 200 detectives to the Chicago Police Department's ranks. Johnson has said he would "maintain" the Chicago Police Department's budget, which totaled $1.94 billion in 2023.
Johnson authored a nonbinding resolution in the summer of 2020 that called for county officials to "redirect funds from policing and incarceration to public services not administered by law enforcement that promote community health and safety equitably" after the police murder of George Floyd touched off a wave of social justice protests and unrest.
Johnson has also endorsed the "Treatment not Trauma" plan authored by Ald. Rossana Rodriguez Sanchez (33rd Ward) that calls for publicly run mental-health clinics to be reopened and for social workers, not police officers, to respond to 911 calls for help from those experiencing a mental health crisis.
García has also said he would not increase – or decrease – the budget for the Chicago Police Department while promising a more collaborative approach than Lightfoot.
The specifics of García's public safety plans are not significantly different than the policies pursued in recent months by Lightfoot. García said he would redeploy officers from citywide units to patrol neighborhoods, and assign nonsworn members to administrative tasks while freeing up officers to fight crime, all efforts backed by Lightfoot.
Lightfoot spent the last days of the campaign blasting Vallas and Johnson, another indication that the success of her bid for reelection relies on a pitch to moderate voters – and has little room for error.
City Council Control Up for Grabs
While most progressive political organizations are backing Johnson in mayoral race, they are also working to remake the Chicago City Council after a wave of retirements and departures by veteran alderpeople.
Twelve members of the Chicago City Council are not seeking reelection, which will mean nearly a quarter of the city will get new political leadership in 2023, putting control of the City Council up for grabs.
The Chicago Chapter of the Democratic Socialists of America, known as the DSA, which shifted the balance of political power in Chicago in 2019 by electing six members to the City Council is hoping to nearly double that number this year and seize more power for progressives than at any time since the era of former Mayor Harold Washington.
The Democratic Socialist members of the City Council have consistently championed efforts to decrease the Chicago Police Department's budget in order to strengthen the city's social safety net, increase oversight of the beleaguered police department and fight gentrification. That has put them on a collision course most of the time with Lightfoot, who has frequently criticized and clashed with them — sometimes in very personal terms.
That push triggered a counterpunch by political action committees funded by Chicago business leaders, determined to prevent the City Council from moving further left during the next four years.
At the same time, Chicagos's progressive political community is spilt, with García declining to endorse any of the 10 candidates backed by the Chicago DSA.
New Police Oversight Effort Launches
The victors on Tuesday – and after the likely April 4 runoff – will take office at the dawn of a new era of police oversight.
Once the 66 Police District Councils are elected, they will nominate seven people — to be confirmed by the mayor and Chicago City Council — to serve on the commission that will oversee the entire department and city.
While progressive groups have endorsed a slate of candidates for Police District Councils across the city, the Fraternal Order of Police, Lodge 7, has also backed nearly two dozen candidates. Those below-the-radar contests will shape whether the fulfills demands that the Chicago Police Department give Chicagoans a real say in how the department operates that reached a crescendo in the wake of the 2014 police murder of 16-year-old Laquan McDonald.
In August, Lightfoot named seven interim members of Community Commission for Public Safety and Accountability and charged them with rebuilding trust in the scandal-plagued agency.
The interim commission wasted no time in exercising its authority, telling Chicago Police Department officials to scrap plans to launch a new system to track Chicagoans they believe to be members of gangs and blasting Lightfoot for crafting a $1.94 billion Chicago Police Department budget that does not ensure Chicago is policed "effectively or equitably" because it lacks "a long-term, data-driven strategy to reduce violence."
The commission has the final say on policy for the Chicago Police Department, but the mayor can veto its decisions. In turn, the mayor's action could be overridden by a two-thirds vote by the City Council.
The commission will have the power to hire the head of the Civilian Office of Police Accountability, known as COPA, which is the agency charged with probing police misconduct.
In addition, the commission will conduct a search for a new police superintendent when that position becomes vacant and fill empty spots on the Chicago Police Board, which disciplines officers.
The commission will also have the power to pass a resolution of no confidence in the superintendent and any member of the Chicago Police Board with a two-thirds vote. That could trigger City Council action.
Contact Heather Cherone: @HeatherCherone | (773) 569-1863 | [email protected]
---