Despite being thousands of miles away, the Ukrainian National Museum in Chicago is spreading awareness of what life is like for Ukrainians back home during the ongoing war.
One of the museum's current exhibits is focusing on the population's most vulnerable: children.
The "Mom, I Don't Want War" exhibit compares children's drawings during the ongoing Russia-Ukraine conflict to Polish children's art made during World War II and the German occupation.
"You see the pain," said Lydia Tkaczuk, president of the museum's board of directors. "And they always say art is where you can see a child's pain or even an adult's pain. … The way children paint or draw tells a lot about what is sitting inside of them, what they're feeling."
Read More: 'Chicago Tonight' in Your Neighborhood: Refugees Find Safety in Ukrainian Village One Year Into War
Since the war began, Tkaczuk said, the museum has seen more than 9,000 people come through its doors, compelled to learn about Ukraine's history.
"There seems to be a heightened interest," Tkaczuk said. " … When the war broke out on Feb. 24, we had many, many people. We couldn't handle the flow of visitors."
Maria Klimchak, the museum's curator, said it's been her mission not only to preserve her country's culture but also to also spread awareness.
"Sometimes people forget about the war," Klimchak said. "They have some fatigue. [We] try not only to promote Ukrainian culture, Ukrainian peaceful ideas everywhere, but that they are fighting for freedom."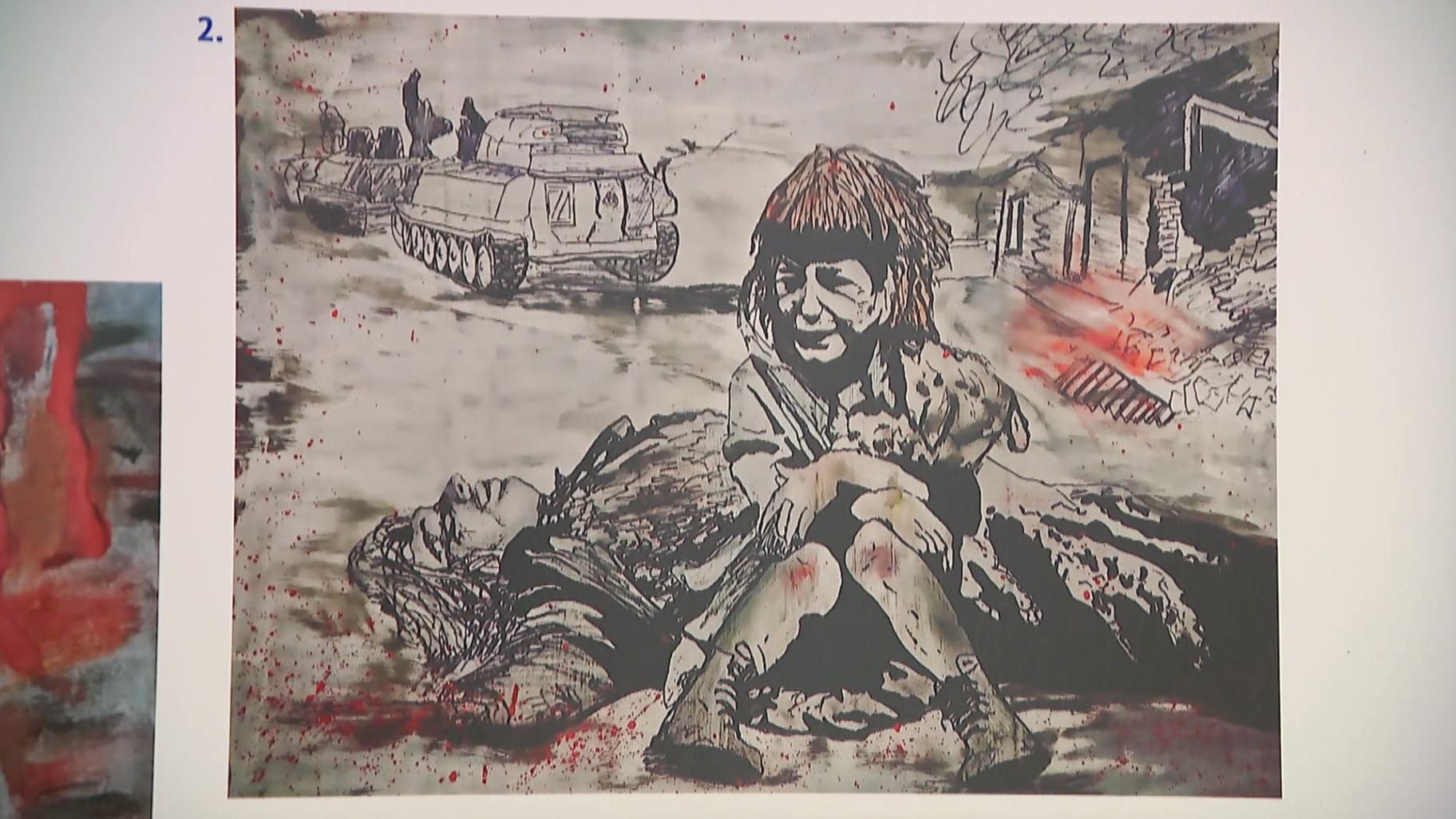 The "Mom, I Don't Want War" exhibit is part of a joint Polish-Ukrainian project, featuring children's art made in Poland during World War II and the German occupation from 1939 – 1944, compared to children's art from Ukraine created during its current war with Russia. (WTTW News)
Klimchak's sister is a teacher in Ukraine and said children are attending school out of bomb shelters. It's a communal effort to keep children safe.
"This is how children in Ukraine live, how teachers live, how parents live — thinking about protection, how to save their life," Klimchak said.
One panel in the exhibit signifies hope: hope that one day children will see their colorful hometown the way they once did.
"War will stop, and children will smile again," Klimchak said. "They will have their own bed, they will play in their own backyard, in their own house."
The "Mom, I Don't Want War" exhibit was produced in partnership with the Consulate General of Poland in Chicago, the Polish Museum of America and the Consulate General of Ukraine in Chicago. The exhibit will run through Feb. 28.
The museum has raised more than $100,000 in donations in fundraising for Ukraine this past year alone.