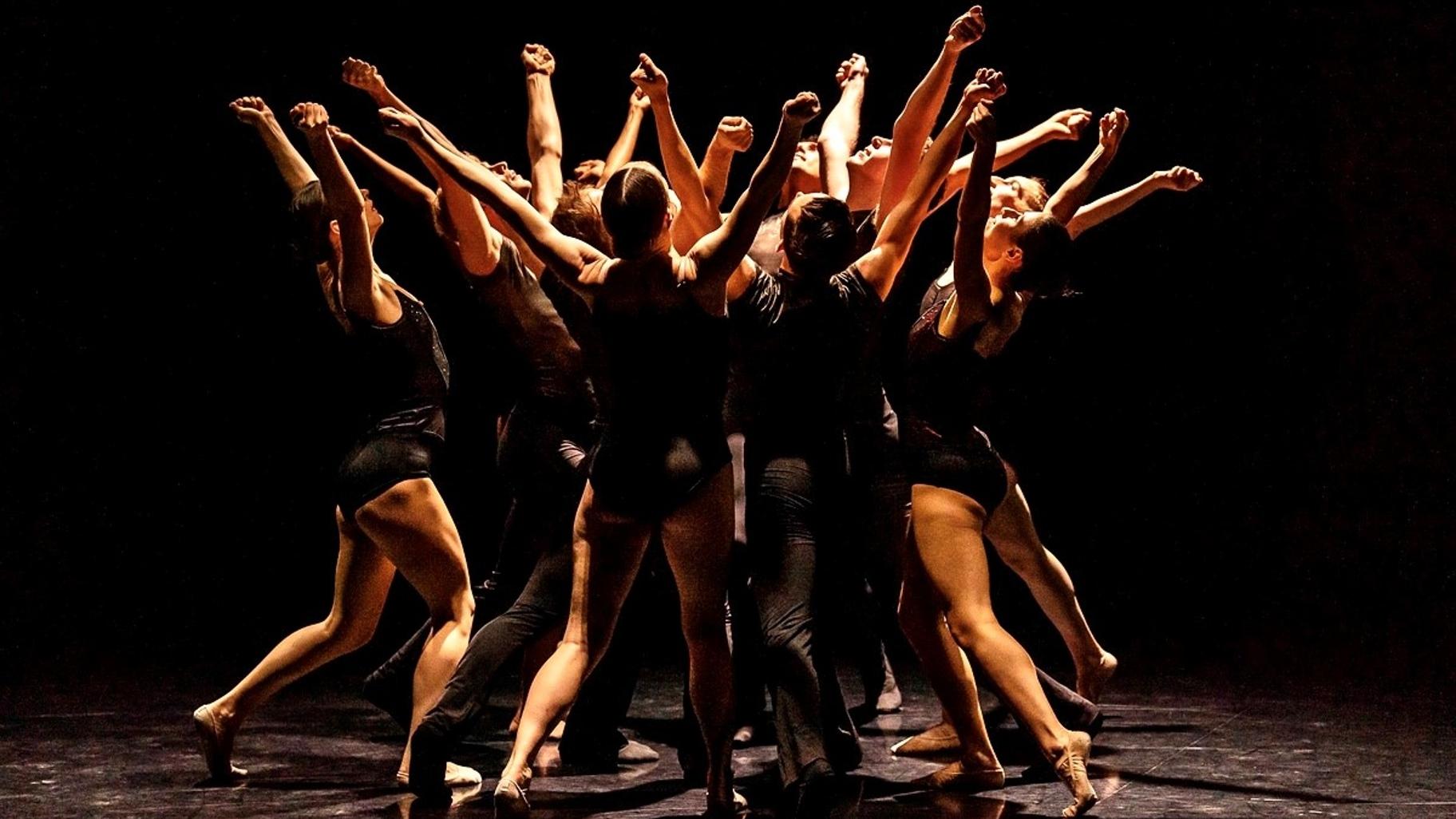 Visceral Dance Chicago performs "Minor Threat." (MREID Photography)
Of the four feverishly performed works that comprise Visceral Dance Chicago's winter engagement, three were created in the wake of the pandemic years. But every one of the four might well have been given the all-embracing title of "Pandemic Era-Fever" — from Mark Golden's "Minor Threat," dating from 1996, to two works ("Ash in the Rainbow" and "Avow") created in 2022 by Nick Pupillo, Visceral's founder and artistic director, to the world premiere of "Name It," by Israeli choreographer Danielle Agami.
Even the titles of these works suggest the overall tone. And throughout, there was just something about the palpable anxiety, nervous energy and often strong but futile quest for both intimacy and attention in these pieces that powerfully suggested the temper of recent times.
Human relationships and emotional yearnings were intense yet often distanced and troubled. And while this might be reading too much into the choreography, these pieces — danced with fierce energy, impressive partnering and emotional heat — were compelling, with themes of desire, separation and angst. In addition, the measurably close connection between the stage and the audience heightened a sense of intimacy.
The program opened with Golden's "Minor Threat," set to Mozart's "Piano Concerto in D Minor." The mood was set from the very start as a smoky gray cloud drifted across the stage. A group of men dressed in black set the tone further, and the complex partnering between dancers Meredith Harrill and Jackson Liee was mightily impressive. Throughout, there was a sense of tension, anger and anxiety, as well as richly varied configurations and speed, with the cast of 10 finessing some very difficult partnering — something they continued to do throughout the evening. In a final moment, the dancers formed a tight circle suggesting a newfound unity.
The title of Agami's piece, "Name It," suggests the attitude-filled quality of the work that takes a somewhat sarcastic, satirical (and just slightly kinky) look at what drives performing artists. It addresses many of their doubts and the need for attention that can plague artists at even the very best of times; this was understandably heightened by life during the COVID-19 years when theaters went dark and artists were unemployed.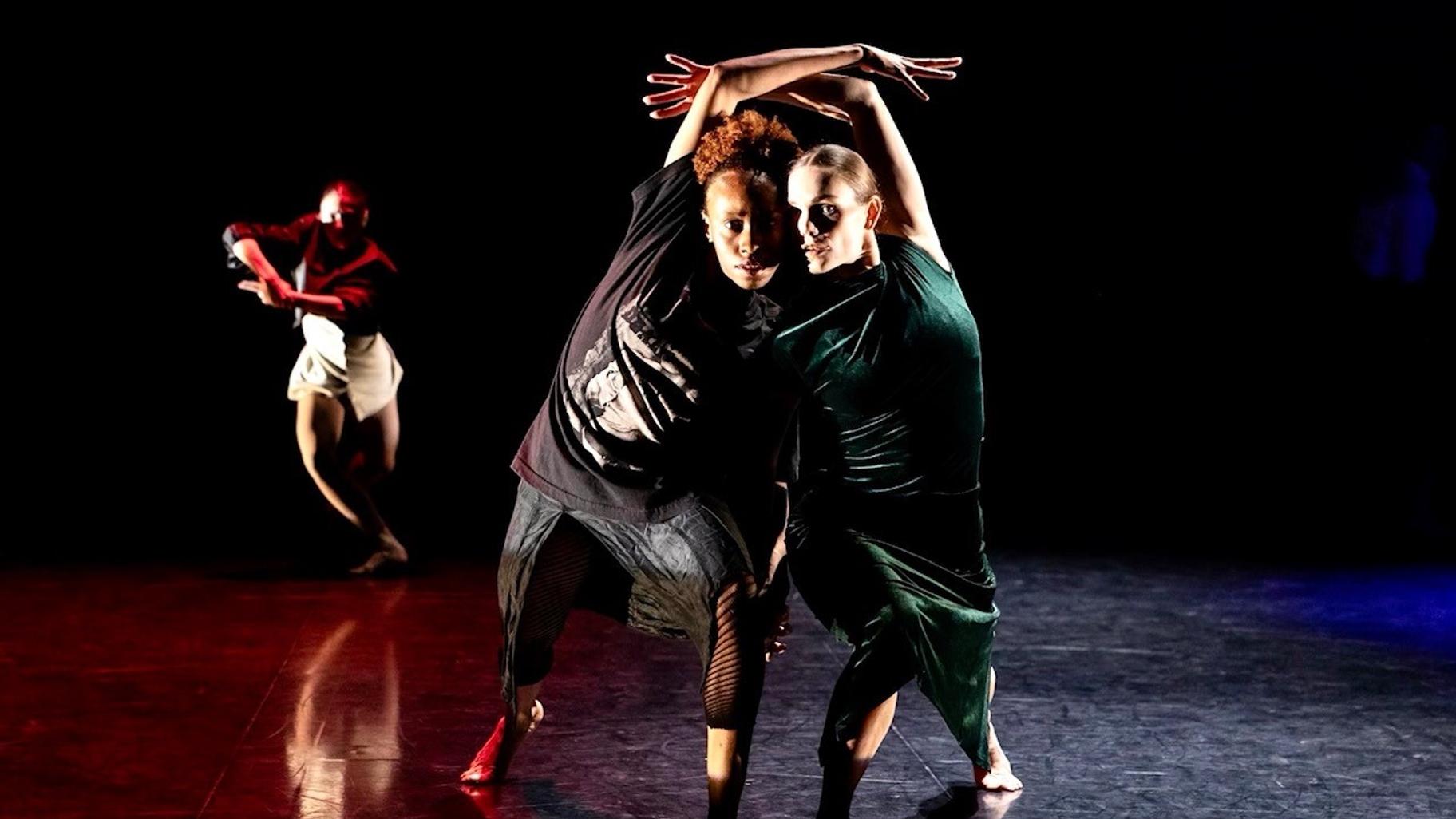 Visceral Dance Chicago performs "Name It," choreographed by Danielle Agami. (KT Miller Photography)
Generating a state of rage and sexual aggressiveness was Braeden Barnes, who was decked out in a T-shirt emblazoned with the name of Elvis Presley. And acting as a sort of emcee was the chicly outfitted Michelle Meltzer (an excellent actress, as well as dancer), who spoke into a microphone as she posed a variety of questions and comments with a sense of edginess and truth that surely were familiar to performers. Were they missed? Did they miss their audiences? And did they even confess that they were not considered "essential workers"?
Agami's work, set to music by Puerto Muerto, Glenn Kotche, Emily Manzo, David Fried and Elvis, was exuberantly danced by a cast of 10, with Meltzer and Barnes as the formidable standouts.
The second half of the program was devoted to Pupillo's two works. First came the poetically titled "Ash in the Rainbow," a duet set to almost painful music by the avant-garde Japanese composers Haco and Sakamoto Hiromichi. The piece's suggestion of an impassioned yet deeply troubled relationship was full of intense, complex partnering and was powerfully danced by Michelle Meltzer and Barnes.
Closing the program was Pupillo's "Avow," which came with this haunting note: "Everything we perceive is nothing but a dream within a dream." The piece was set to an intense score by the contemporary Italian composer Luca D'Alberto. Its nine dancers — with their ideal sense of synchrony — alternately captured a state of frenzy, anguish, alienation and desire.
The winter engagement will be repeated Feb. 23-26 at Visceral Dance Chicago's Ann Barzel Theater, 3121 N. Rockwell St. For tickets, visit visceraldance.com or call (773) 772-1771.
On April 28, Visceral will celebrate its 10th anniversary with a performance at the Harris Theater for Music and Dance.
Note: This article was updated to correct the name of one of the dancers in "Name It."
Follow Hedy Weiss on Twitter: @HedyWeissCritic
---