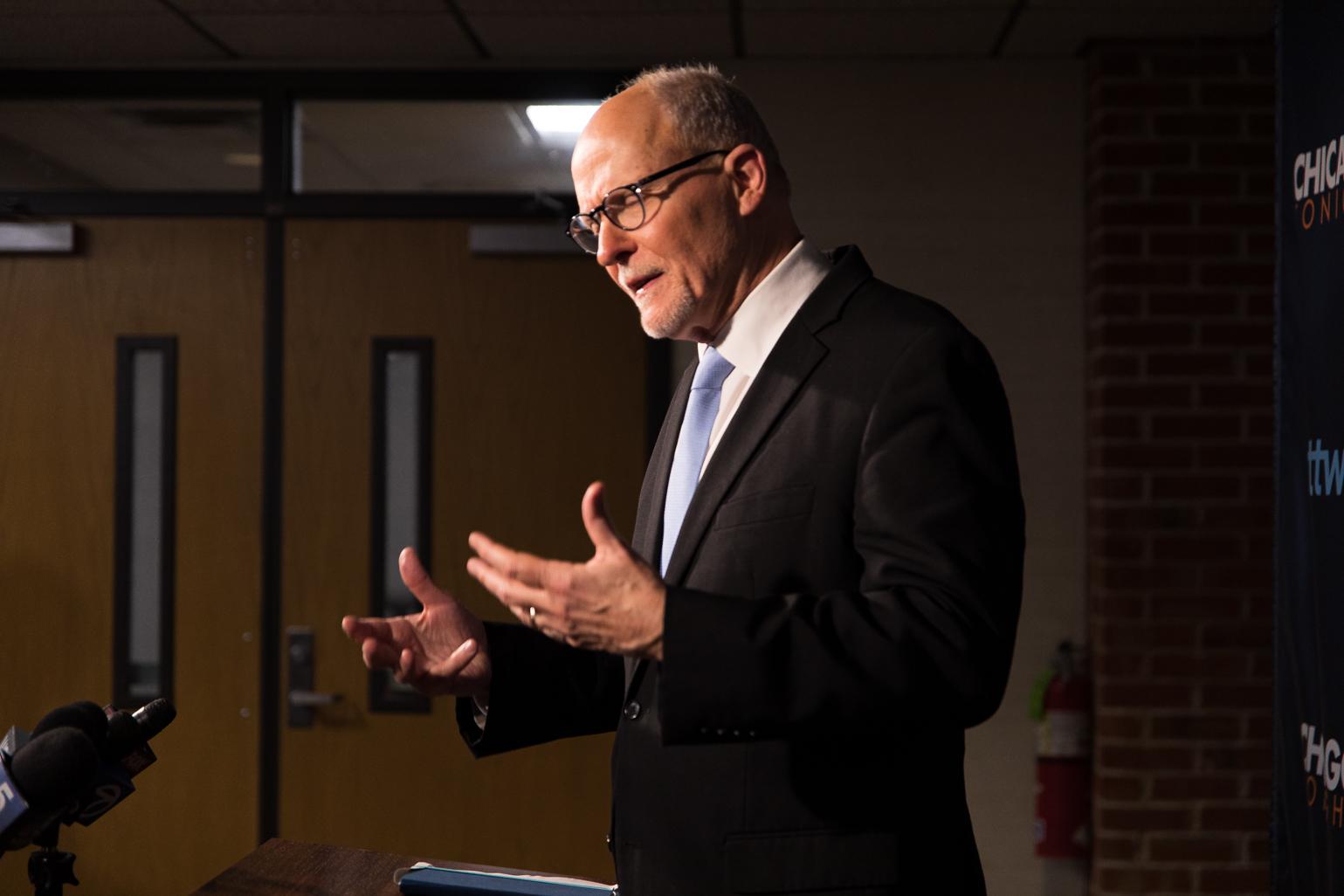 Paul Vallas fields questions from the news media on Feb. 7, 2023, after the WTTW News mayoral forum. (Michael Izquierdo / WTTW News)
Paul Vallas, one of the leading candidates for mayor of Chicago, properly claimed a home in south suburban Palos Heights as his legal permanent residence, entitling him to tax breaks, according to the results of a brief probe by the Cook County Assessor's Office announced Friday.
Vallas, who has been registered to vote in Chicago at an apartment in Bridgeport for less than a year, declined to answer questions about his residency directly from WTTW News on Thursday. Instead, a spokesperson for his campaign issued a statement saying he lives in Chicago while his wife, Sharon, lives in Palos Heights to care for her elderly parents and 93-year-old mother-in-law.
"Vallas was born and raised in Chicago and has unquestionably deep roots in the city," according to a statement from the campaign released Friday. "He has lived outside the city due to various positions in other cities over the years, but has always maintained his close connection to the community."
Vallas, the former CEO of Chicago Public Schools, owns the home with his wife, Sharon, through a trust formed in 2007. Because that home is occupied by its owner, it is entitled to an exemption.
The Cook County Assessor's Office opened a probe into whether the trust that owns the Vallas property in Palos Heights also owned a home in Monee, Illinois, 40 miles from Chicago in Will County, after investigators determined there was evidence that the same trust owned both properties.
Both properties claimed they were occupied by their owners, which would entitle them to an exemption. However, that is an apparent violation of state law that prohibits homeowners from earning the tax break on their primary residence on multiple properties.
Lawyers for the Vallas family provided documents to the assessor's office on Friday that proved Paul and Sharon Vallas do not own the Monee property and that the properties are owned by separate trusts, according to the statement from the assessor's office.
Vallas received no special treatment from the office of Cook County Assessor Fritz Kaegi, a Democrat, the statement reads.
"Our office followed the same procedures in this case that we would have followed for anyone else," according to the statement from the assessor's office. "When a potential violation is flagged, investigators research the matter to determine whether a property owner improperly claimed an exemption. That is standard protocol regardless of the homeowner involved."
Vallas moved from Lincoln Park to Bridgeport in January 2022, using that address to register to vote in March 2022 and to form a new campaign committee, Vallas For Mayor, with the Illinois State Board of Elections in April 2022. Vallas moved to the second floor of a Bridgeport apartment building because it was more convenient for his "work and family," his campaign spokesperson said.
Between mid-2017 and January 2022, including when Vallas ran for Chicago mayor in 2019, he lived in a Lincoln Park apartment he rented from Tressa Pankovits, an employee and campaign volunteer. Pankovits, who initially answered a request for comment from WTTW News and promised to call back, did not answer subsequent calls and messages.
However, when Vallas contributed $250 to Democrat Alexi Giannoulias' successful campaign for secretary of state in September, Vallas listed his address as his Palos Heights home, according to records filed with the Illinois State Board of Elections. A spokesperson for Vallas said that was an error and would be corrected.
Vallas also uses the address of his home in Palos Heights for his consulting business, according to documents on file with state officials. A spokesperson for Vallas said that was done when Vallas was living in New Orleans more than a decade ago.
Contact Heather Cherone: @HeatherCherone | (773) 569-1863 | [email protected]
---