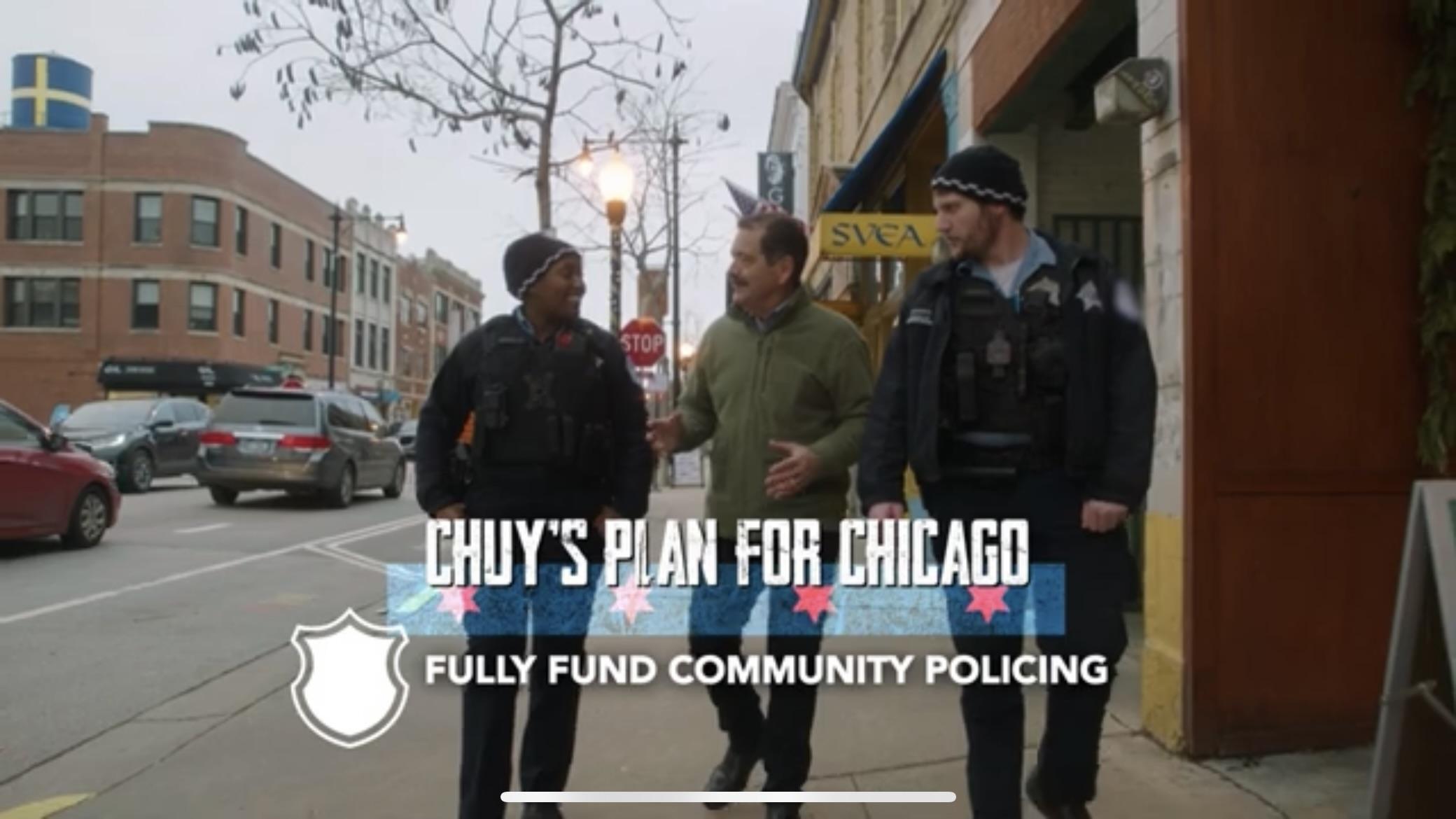 An image from the original version of the ad released by Jesús "Chuy" García showing uniformed Chicago Police Department officers. (YouTube / Chuy for Chicago)
Do not use images of uniformed Chicago police officers, firefighters or city personnel in campaign advertisements, the Chicago Board of Ethics warned candidates running for mayor, City Council and Police District Council.
The unsigned advisory opinion, issued Monday by the Chicago Board of Ethics, was prompted by a spate of campaign ads showing uniformed Chicago police officers and several complaints, officials said.
"The board reminds all candidates and their political committees that their use of photographs or video of CPD or other city personnel in uniform could not only subject those personnel to investigation and/or discipline by their own departments, but also subject the candidates to formal proceedings and possible public findings that they violated the city's Governmental Ethics Ordinance, and fines up to $20,000," according to the letter.
A copy of the letter was mailed to each candidate for mayor and City Council on the Feb. 28 ballot, said Chicago Board of Ethics Executive Director Steve Berlin. The opinion also covers the candidates for running for 66 seats on 22 Police District Councils across the city, Berlin said.
U.S. Rep. Jesús "Chuy" García edited his first television advertisement in the race for Chicago mayor on Jan. 25 to remove images of the candidate talking to two uniformed officers while promising to get tough on crime.
Chicago Police Department policy prohibits officers from engaging in political activity while "wearing a uniform or any part thereof which would identify the individuals as Chicago Police officer, or use property of the Chicago Police Department."
Representatives of the Chicago Police Department confirmed to WTTW News that the two officers were under investigation.
The People's Fabric, an anonymously run blog that focuses on Far Northwest Side politics, reported that a complaint was filed with the ethics board against Ald. Samantha Nugent (39th Ward) the same day the board issued the warning. Nugent is running against Denali Dasgupta, a data researcher who has the endorsement of the progressive organization United Working Families.
A mailer sent out by Nugent, who represents Sauganash, Forest Glen and Mayfair as well as parts of North Park, shows her alongside a man dressed in the Chicago Police Department's distinctive light blue button-down shirt with a Chicago Police Department patch visible on his shoulder, navy tie and navy pants. 
Nugent, who has been endorsed by the Fraternal Order of Police, declined to answer questions Wednesday about the warning by the Ethics Board in response to a request from WTTW News.
The People's Fabric also obtained an advertisement sent out by Anthony "Tony" Ciaravino, a Chicago Police officer running to represent the 11th Ward against Ald. Nicole Lee, Ambria Taylor, Elvira "Vida" Jimenez, Froy Jimenez, Donald Don and Steve Demitro.
The bulk of the advertisement features a picture of Ciaravino, in uniform, policing what appears to be a large protest in downtown Chicago.
A spokesperson for the Chicago Police Department told WTTW News the department had launched an internal investigation into Ciaravino based on his ad.
Ciaravino did not respond to an email message from WTTW News sent to his campaign.
Contact Heather Cherone: @HeatherCherone | (773) 569-1863 | [email protected]
---