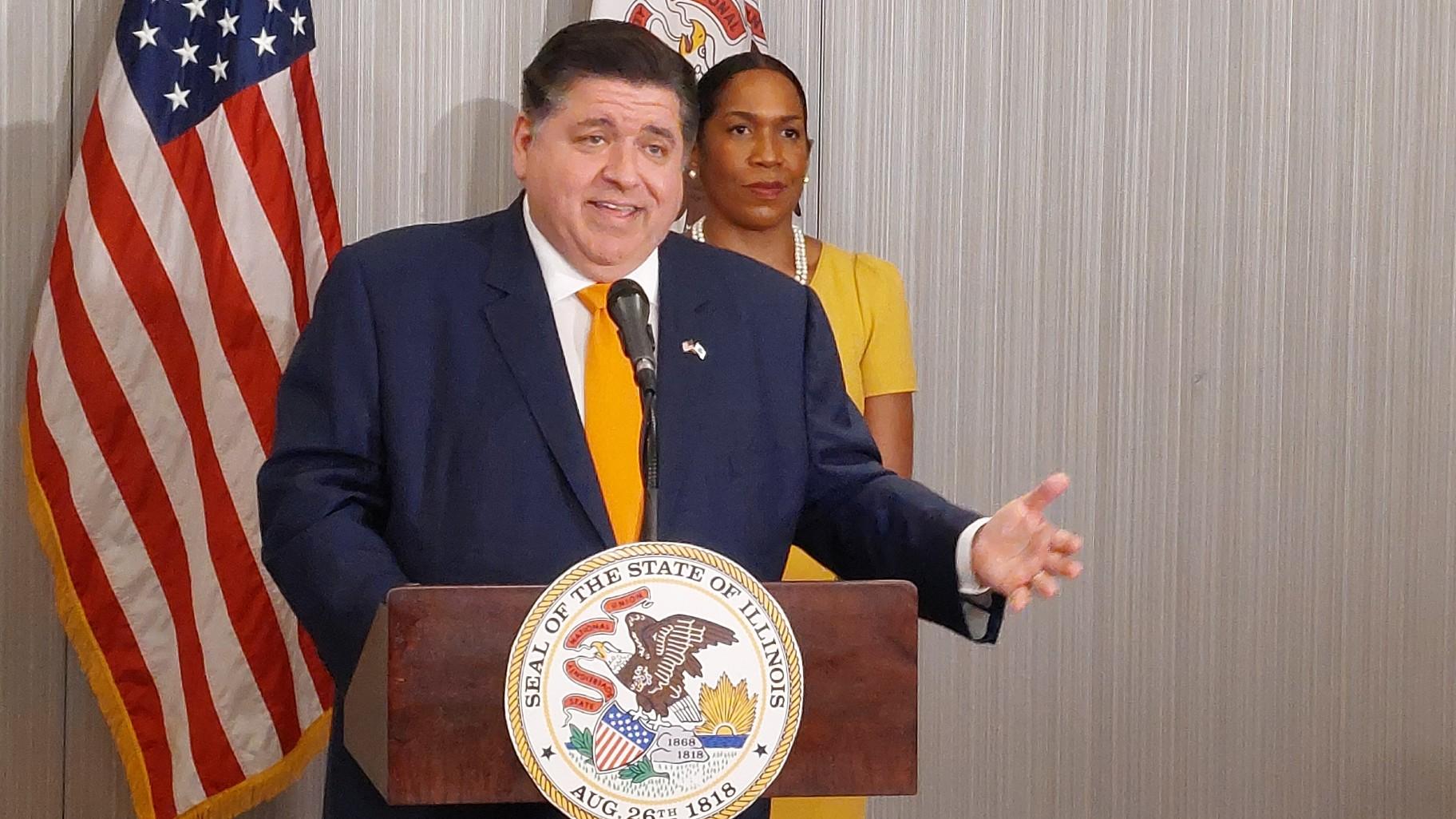 File: Gov. J.B. Pritzker speaks to the media on Nov. 9, 2022. (WTTW News)
On Wednesday in Davos, Switzerland, Illinois Gov. J.B. Pritzker dined with the Swiss ambassador to the U.S. and the U.S. ambassador to Switzerland.
Pritzker said he spent roughly two hours talking about opportunities to build on those new connections.
"We already have Swiss businesses in Illinois," Pritzker said, "but how do we enhance both those existing businesses, create jobs and more productivity, or more GDP rather, and then how do we attract more business?"
He cited Nestle as a Swiss company with an Illinois presence and said the company's CEO was at a meeting Pritzker just attended.
"As you can imagine, you collect cards and take notes," said Pritzker, who added he is having "important conversations with world leaders and putting Illinois as a major player on the world stage."
On a conference call with reporters Thursday from Davos, Pritzker said he paid for himself and wife M.K. Pritzker to travel to and attend the World Economic Forum — though he said the state government will pay for the security detail.
Also on the trip are Deputy Gov. Andy Manar, Deputy Gov. Christian Mitchell and Pritzker's chief of staff, Anne Caprara.
Pritzker called himself the state's chief marketing officer. He couldn't name any specific projects that have been secured after his Swiss schmoozing, but Pritzker said Illinois' commitment to 100% clean energy by 2050 via the Climate and Equitable Jobs Act law he signed into law in 2021 is an "important calling card here."
"Our largest industry in Illinois, arguably, is the agriculture industry," Pritzker said, "and here at Davos, there are quite a number of companies that are focused on both enhancing agricultural output, as well as applying green principles to it. There's a lot of talk here about quantum. That's something I've been focused on since Day 1 in office."
With Fermilab, Argonne, the University of Illinois and the University of Chicago, "everywhere we go people recognize that Chicago and Illinois are leaders in quantum."
Pritzker also said Illinois has infrastructure for attracting the bioengineering industry, with health care and pharmaceutical companies that are looking to use quantum computing and bioinformatics to develop new drugs, as well as battery manufacturers, hydrogen developers and tech leaders, like those Pritzker said he met from Microsoft.
Given that it was but a short car ride, Pritzker also visited manufacturing company Wieland's main facility in Vöhringen, Germany. The company, which makes copper and copper alloys, has an outpost in East Alton, Illinois.
Pritzker's invitation to and attendance at the elite conference has again raised speculation that the billionaire Democrat is eyeing a political platform beyond Illinois' borders, including a run for the presidency.
Politico's Global Insider newsletter reported Thursday that he was "overheard … talking at high volume in the central lounge of the Congress Center about his future political career, including a possible White House bid."
The governor and his team shot down the reporting Thursday, saying that if he was overheard making any such remarks, it was during an interview in response to questions from a reporter.
"I was simply responding that I have every intention to serve out the four years that I just won as governor — that we have a lot of challenges that we're going to work on overcoming and a lot of successes," Pritzker said.
Among those challenges: a series of lawsuits seeking to strike down the assault weapons ban law he signed last week. An Effingham judge is expected to make a ruling by Friday on one such suit, filed by former GOP nominee for attorney general Tom DeVore, that requests a temporary restraining order be used to keep the law from taking effect.
Pritzker said he is confident the courts will "ultimately" uphold the constitutionality of the law. He described the challenges as "political grandstanding by people who are beholden to the gun lobby" and who "focused on making political pronouncements that they think might have a positive effect for them with the constituents that they're playing to" rather than on Illinoisians' safety.
"Just because somebody goes on Fox News or stands up and gives a speech on the floor or elsewhere and says that they've talked to lawyers and they believe it's unconstitutional, that isn't definitive of whether anything is constitutional or not," Pritzker said. "It really needs to go through the court system. And we're trying to make Illinois a safer place for every resident. I'm committed to protecting Illinois from the constant fear that they're under of being gunned down."
Illinois' next budget could also present a challenge.
In 2020, voters roundly rejected a well-funded bid by Pritzker to amend the constitution so that Illinois could create different tax brackets based on income levels.
Despite a push by some Democratic legislators to try again for a graduated income tax that would charge higher rates to the wealthy, Pritzker signaled that he is not interested in a redo.
The governor said his next fiscal focus will be to reduce local property taxes.
Follow Amanda Vinicky on Twitter: @AmandaVinicky
---