This story was produced in partnership with students at the Medill School of Journalism at Northwestern University and WTTW News.
By: Bridgette Adu-Wadier, Selena Kuznikov and Samantha Aguilar
---
Chicago Public Schools has been working to combat declining enrollment and funding challenges — but a significant number of low-income families of color are choosing to leave the district, opting for private and charter schools.
For North Center parent Blanca Rosa Chattin, sending her daughter to DePaul College Prep, a private high school in Roscoe Village, was a necessary shift.
"We graduated from CPS, and we moved into private school," Chattin said. "And I think it was the best for my child because she adapted well to the new system."
Still, Chattin said dealing with the change hasn't been easy financially. A scholarship covers half her daughter's tuition, but Chattin makes sacrifices to pay for the other half.
"We took the risk," Chattin said. "We said, 'OK, we'll have to work.' I start working more hours, and we both, you know, push ourselves to work a little more to increase our budget."
High school Spanish teacher Claire De Leon transferred from Roberto Clemente Community Academy to Amundsen High School, a larger school. She said she saw many students transfer out of Clemente to charter or alternative schools.
De Leon said serving students at Clemente was a challenge because low enrollment and unengaged students go hand in hand.
"I was becoming apathetic and sort of stagnant as an educator," she said, "which is not what my students deserve from their teacher."
Chattin said smaller class sizes and supportive faculty at DePaul have helped her daughter thrive in a new environment.
"There's a better teacher-student ratio," Chattin said, "[and] the teacher emails me and says, 'You know, she needs help in this and this and that.'"
Chattin's story is part of a growing trend in CPS, a district with a majority Black and Latino population. Students are leaving their neighborhood schools, opting for private and charter schools — even if they're located father away.
Between 2019 and 2022, CPS lost nearly 37,000 students — 10% of its total enrollment. Of those students, 91% came from low-income families.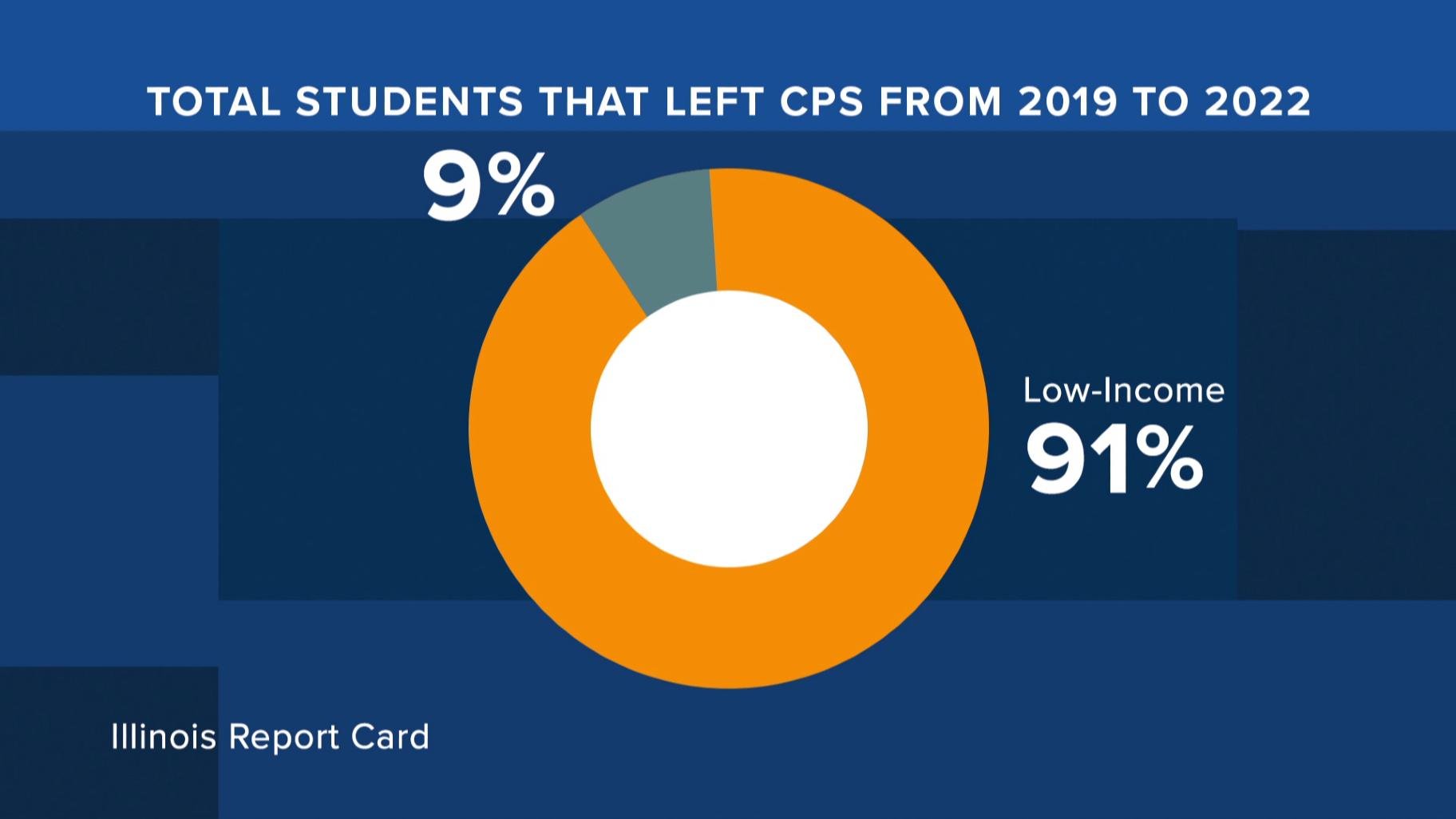 (WTTW News)
According to CPS Chief Portfolio Officer Alfonso Carmona, multiple factors contributed to the drop enrollment. These include dissatisfaction with high school options, declining birth rates and families moving out of Chicago.
"When it comes to making decisions about leaving CPS," Carmona said, "some of the families are not necessarily leaving the city. They're leaving the district and going to either private schools, parochial schools, and also many of our families are going into charter schools."
Blaire Flowers, a mother of five, chose to keep her 3-year-old son in his neighborhood school but moved her 15-year-old daughter to a charter school.
Flowers said her Austin neighborhood schools no longer offers as many educational opportunities as they did when she was a student at Austin Community Academy High School 20 years ago. Flowers said she feels the charter school offers more opportunities for her daughter.
"They have the Phoenix Pact, which is a program that helps students who keep their GPA up, and they're doing good in school, they pay for college," Flowers said.
The Austin resident rushes six miles to North Lawndale after dropping off her son.
"I have to drop him off here and then hurry up and get her to North Lawndale so she can be on time," Flowers said. "And most of the time, I don't make it."
According to Carmona, it's not uncommon for parents to literally go the extra mile.
"Many of our families, unfortunately, are willing to travel 10, 15 miles to go to a school because there's the perception that the school in the neighborhood is not good enough," Carmona said.
Most charter schools in Chicago are part of CPS. According to the Illinois Network of Charter Schools, 96% of students who attend charter schools are students of color.
"A key element in this process," Carmona said, "is not only to address the issues with enrollment and declining enrollment but also to minimize the amount of time our students are traveling to a school and to make our neighborhood schools stronger."
Carmona said that in past years, low-enrollment schools would lose out on necessary funding due to the loss of students. While CPS still uses a student-based budgeting formula, Carmona said the district is now providing additional financial support to neighborhood schools experiencing declining enrollment.
"This year, we are looking into how we approach this moving forward to make it more sustainable, to ensure that our students in a smaller school get the experiences that they deserve, regardless of the number of students that are in that particular school," Carmona said.
Despite the district's efforts, Chattin said she's confident in her decision to move her daughter to a private school and that she'll do whatever it takes to keep her daughter there.
---