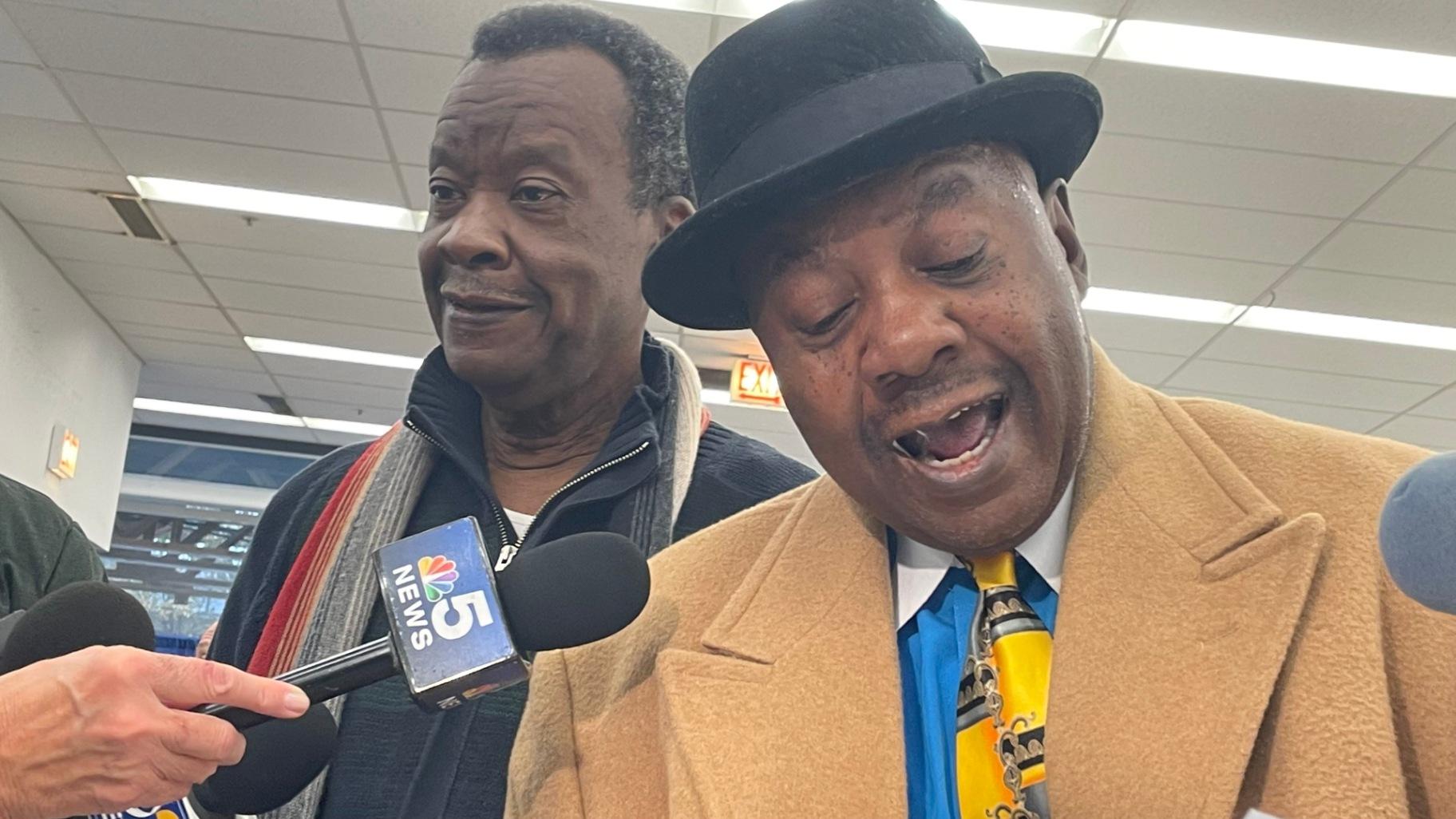 As mayoral candidate Willie Wilson looks on, former state Sen. Rickey Hendon tells reporters why he challenged Ja'Mal Green's nominating petitions. (Heather Cherone / WTTW News)
The top spot on the Feb. 28 ballot for mayor officially belongs to Ja'Mal Green, after an aide to rival candidate Willie Wilson dropped his challenge of the activist's nominating petitions Wednesday evening.
In turn, Green dropped his challenge of Wilson's petitions, ensuring that there will be at least seven candidates running to deny Mayor Lori Lightfoot a second term in office.
Green, 27, said his candidacy was "a historic moment for Chicago politics." If elected, he would be the city's youngest mayor.
Wilson did not respond to a request for comment from WTTW News
The Chicago Board of Election Commissioners is expected to rule Thursday that consultant Johnny Logalbo did not collect at least 12,500 signatures from registered Chicago voters to qualify for the ballot.
Ald. Roderick Sawyer (6th Ward) is still facing a ballot challenge brought by Wilson. Chicago Police Officer Frederick Collins is facing a separate challenge.
The decision by former state Sen. Rickey Hendon, an aide to Wilson, to drop his challenge of Green's nominating petitions brings an end to an acrimonious dispute between the two candidates for mayor.
Green failed to make the 2019 ballot after Hendon challenged his petitions. Hendon told reporters he would ensure that Green would once again fall short to get to the starting line of the mayor's race this year.
The intense personal feud reached a crescendo when Green's campaign released a recording of what they said was Hendon offering an aide to Green money if Green was to drop his challenge of Wilson's campaign, as first reported by The Triibe, a news organization covering Black Chicago.
Wilson's spokesperson told The Triibe that Hendon's comments were not authorized by the Wilson campaign.
Early voting is set to start Jan. 19, with Election Day set for Feb. 28. If no candidate gets more than 50%, the winner will be determined by a runoff on April 4.
---
Contact Heather Cherone: @HeatherCherone | (773) 569-1863 | [email protected]