Have you ever been driving down the Kennedy Expressway and wondered who was behind the artwork seen on the Wintrust billboard?
Arts Correspondent Angel Idowu shares exactly how Wintrust Bank partners with different organizations around the city to bring these creations to life.
The billboard is one of the city's biggest and most visible forms of public art.
"A nonprofit is chosen, and then that nonprofit gets to pick whatever artist they would like to work with," said Elizabeth Okey, vice president of community impact at Wintrust Bank.
With a three-year waiting list, the Wintrust billboard is exclusive to Chicago nonprofits that have a partnership with the bank.
December's "creative partnership" is with the Daniel Murphy Scholarship Fund.
This month's mural was designed by Daniel Murphy alumni Karen Spears. Her colorful and encouraging message was blown up to match the size of the billboard, with all three sides weighing a total of nearly 1,500 pounds of vinyl mesh.
"This moment feels so great. Not to just represent Daniel Murphy, but to represent my city, the city that made me, and being able to share my art with hundreds of thousands of people driving," said Spears, a visual artist. "It's so rewarding. This is a huge opportunity but I would hope it opens up more doors, not only for my artistry, but for millions of other people that now know who and what Daniel Murphy does."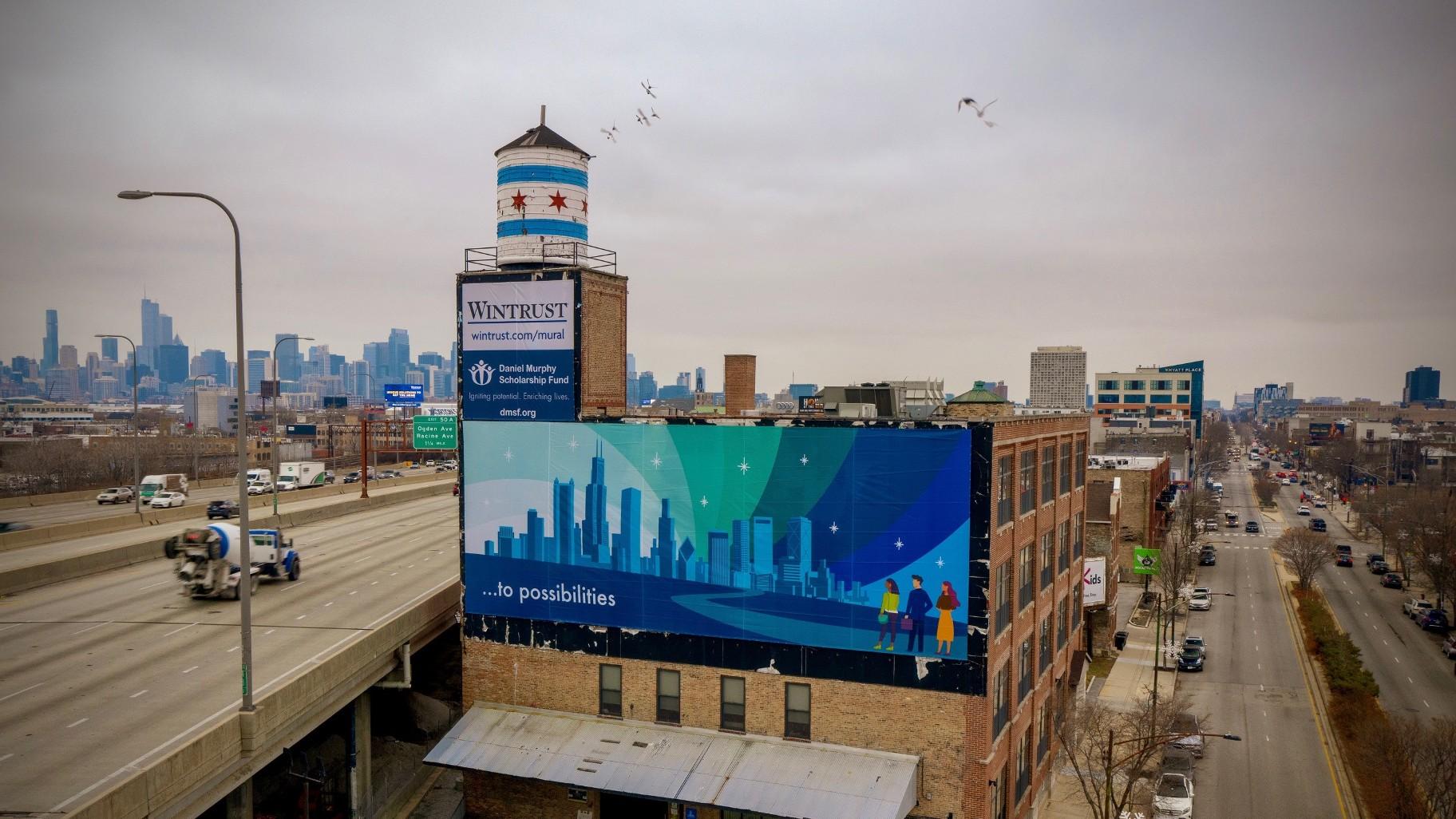 A view of the Wintrust mural along the Kennedy Expressway at North Avenue. (WTTW News)
"We are Chicago's largest high school scholarship granting organization. We have been around for 34 years," said Cindy Hallums, executive director of Daniel Murphy. "Karen is an awesome representation of what we hope our Murphy scholars become. She's an artist, she's an entrepreneur, she's a business woman, and is what we hope scholars become."
Spears says her work is typically designed on a smaller scale.
"But when tapped for it to be printed on a larger scale, the nerves kicked in," Spears said. "Words have power, and art has the ability to inspire. In designing this Wintrust mural, the biggest thing that I wanted to incorporate into the design are powerful words with eye-catching colors."
It's Spears' eye-catching calligraphy that reads "Uplifting Tomorrow's Leaders" that sets the tone for a three-part story that depicts what the organization described as lifelong support.
While this mural, like the rest, is only up for a month, Wintrust says they've seen the support each organization receives extend beyond the duration of the billboard residency. 
"It's a really great chance to catch people when they aren't expecting it," Okey said. "You're not in a museum, you're kind of captive. It's this really great chance to show people art in an otherwise daily dredge."
You can catch the "Uplifting Tomorrow's Scholars" billboard from the Kennedy Expressway at North Avenue now through the end of the year. 
Follow Angel Idowu on Twitter: @angelidowu3
---
Angel Idowu is the JCS Fund of the DuPage Foundation Arts Correspondent.
---