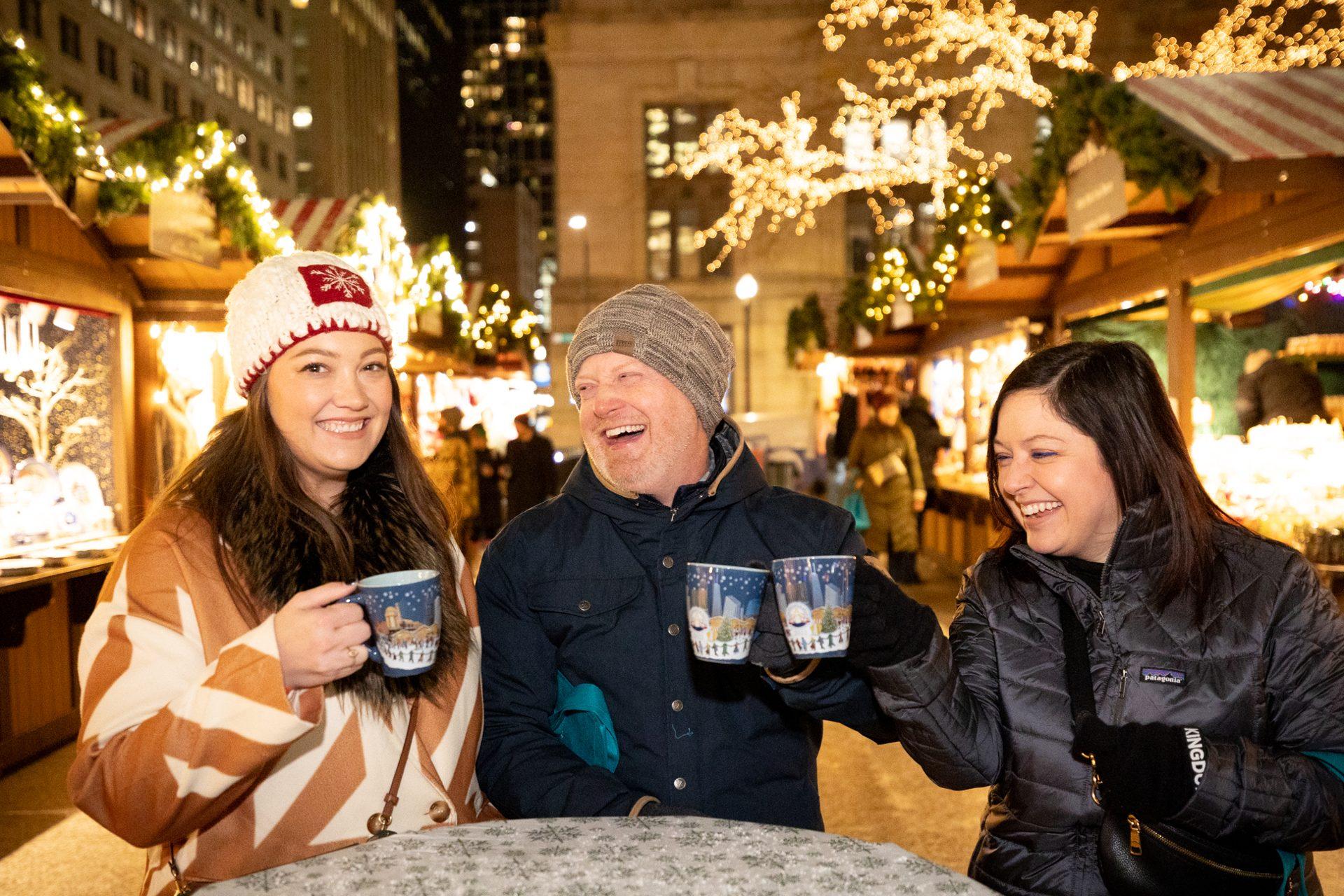 Christkindlmarket in Daley Plaza. (Credit: Eric James Walsh)
1. Be jolly
Celebrate the holiday season at Christkindlmarket, an outdoor holiday market inspired by a market in Nuremberg, Germany. Enjoy German foods, hot drinks and visits from Christkind, who delivers toys to kids, while you shop.
Details for the Loop location: 11 a.m.-9 p.m. Friday and Saturday; 11 a.m.-8 p.m. Sunday-Thursday through Dec. 24 (11 a.m.-4 p.m.) at Daley Plaza, 50 W. Washington St. Free / MAP
Details for the Lakeview (Wrigleyville) location: 11 a.m.-10 p.m. Friday and Saturday; 11 a.m.-7 p.m. Sunday; 3-9 p.m. Monday-Thursday through Dec. 31 at Gallagher Way, 3635 N. Clark St. Free / MAP
Details for the Aurora location: 11 a.m.-9 p.m. Friday and Saturday; 11 a.m.-6 p.m. Sunday; 11 a.m.-7 p.m. Thursday at RiverEdge Park, 360 N. Broadway, Aurora. Free / MAP
---
Find more holiday events: Chicago 2022 Holiday Events Guide 
---
2. Hop on
The Allstate CTA Holiday Train and Holiday Bus are making commutes merry and bright with their festively decked out fleet.
Details: Thursday-Sunday on the Blue Line. Trains and buses run through Dec. 20 and 23, respectively.
---
3. Belt it out
The best way to spread Christmas cheer is singing loud for all to hear, at least according to Buddy the Elf. Raise your voice and spread some cheer at the Millennium Park Holiday Sing-Along. The season finale features an English and Spanish program with the Back of the Yards Neighborhood Council's Music Project.
Details: 6-7 p.m. Friday at Millennium Park, 201 E. Randolph St. Free / MAP
---
4. Reimagine
"Mary, A Holiday Dansical" puts a modern twist on Langston Hughes' "Black Nativity" through ballet, hip-hop and contemporary dance featuring a cast of 17 dancer-actors.
Details: 7 p.m. Sunday at the Reva and David Logan Center for the Arts, 915 E. 60th St. $20 for kids, $40 for adults / MAP
---
5. Pick up
Not done shopping for everyone on your nice list? Check out the Randolph Street Holiday Market for art, housewares, décor, clothing and jewelry from 125 vintage and antique dealers.
Details: 10 a.m.-5 p.m. Saturday and Sunday at 1341 W. Randolph St. $10-$15 good for both days / MAP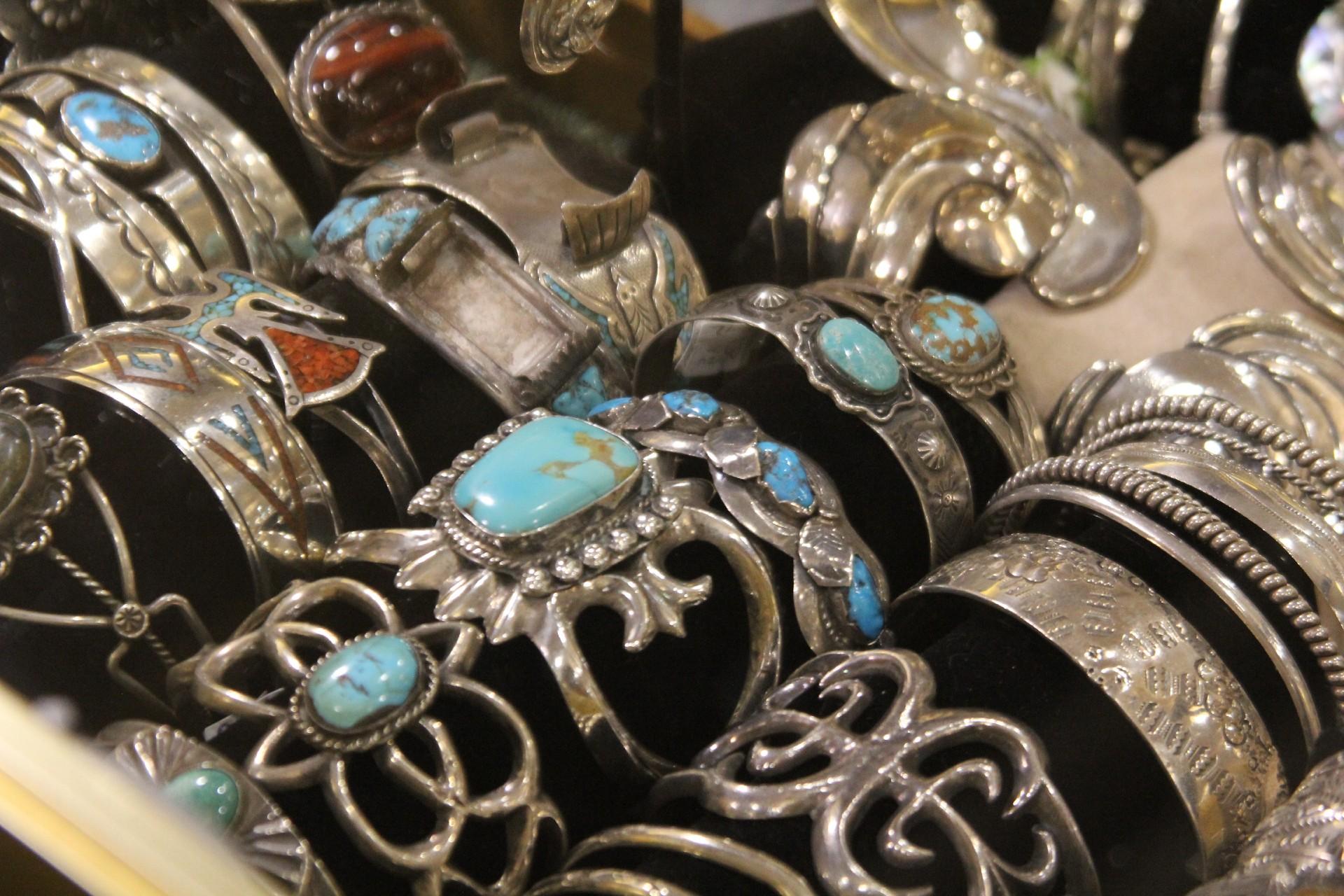 (Courtesy of Randolph Street Market)
6. Nosh
More than 25 area restaurants are serving up their best dishes at Pilsen Gourmet, which seeks to showcase the talents of leading Latino chefs. Learn more about the event from our "Latino Voices" conversation.
Details: 7-10 p.m. Friday at Apollo's 2000, 2875 W. Cermak Road. $55 / MAP
---
7. Relish
Embrace the beginning of winter with a Bonfire at Camp Shabbona Woods. Art making and nature walks are also on tap.
Details: 3:30-7 p.m. Saturday at Camp Shabbona Woods, 15810 S. Torrence Ave., South Holland. Free / MAP
---
8. Enjoy
Latin Grammy-nominated Mariachi Herencia de Mexico gets into the spirit with "A Very Merry Christmas Concert." Expect to hear Mexican and American holiday favorites, including the group's holiday hit "It's the Most Wonderful Time of the Year."
Details: 7 p.m. Friday; 2 p.m., 5 p.m. and 8 p.m. Saturday at the Old Town School of Folk Music, 4544 N. Lincoln Ave. $33-$35 (Map) / 7 p.m. Sunday at Thalia Hall, 1807 S. Allport St. $35 (Map)
---
9. Appreciate
For nearly 50 years, hundreds of musicians have come together for Tuba Christmas to perform holiday hits. The tradition continues this year and performers are encouraged to dress up themselves and their instruments in holiday gear. Tuba players can register starting at 8:30 a.m. ahead of a 9:30 a.m. rehearsal.
Details: 11:30 a.m. Sunday at the Palmer House, Grand & State Ballrooms, 17 E. Monroe St. Free to watch; $10 registration for participants / MAP
---
10. Cherish
After a traveling troupe of actors discover no one in town is celebrating Hanukkah, they work to bring back the spirit of the holiday while trying to outsmart goblins who haunt the old synagogue in "Hershel & the Hanukkah Goblins." While in-person tickets are sold out (There's a waitlist.), you can livestream the show from the comfort of your own couch.
Details: 7 p.m. Friday; 1 p.m. and 4 p.m. Saturday and Sunday through Jan. 1 at The Edge Off-Broadway Theater, 1133 W. Catalpa Ave. Free / MAP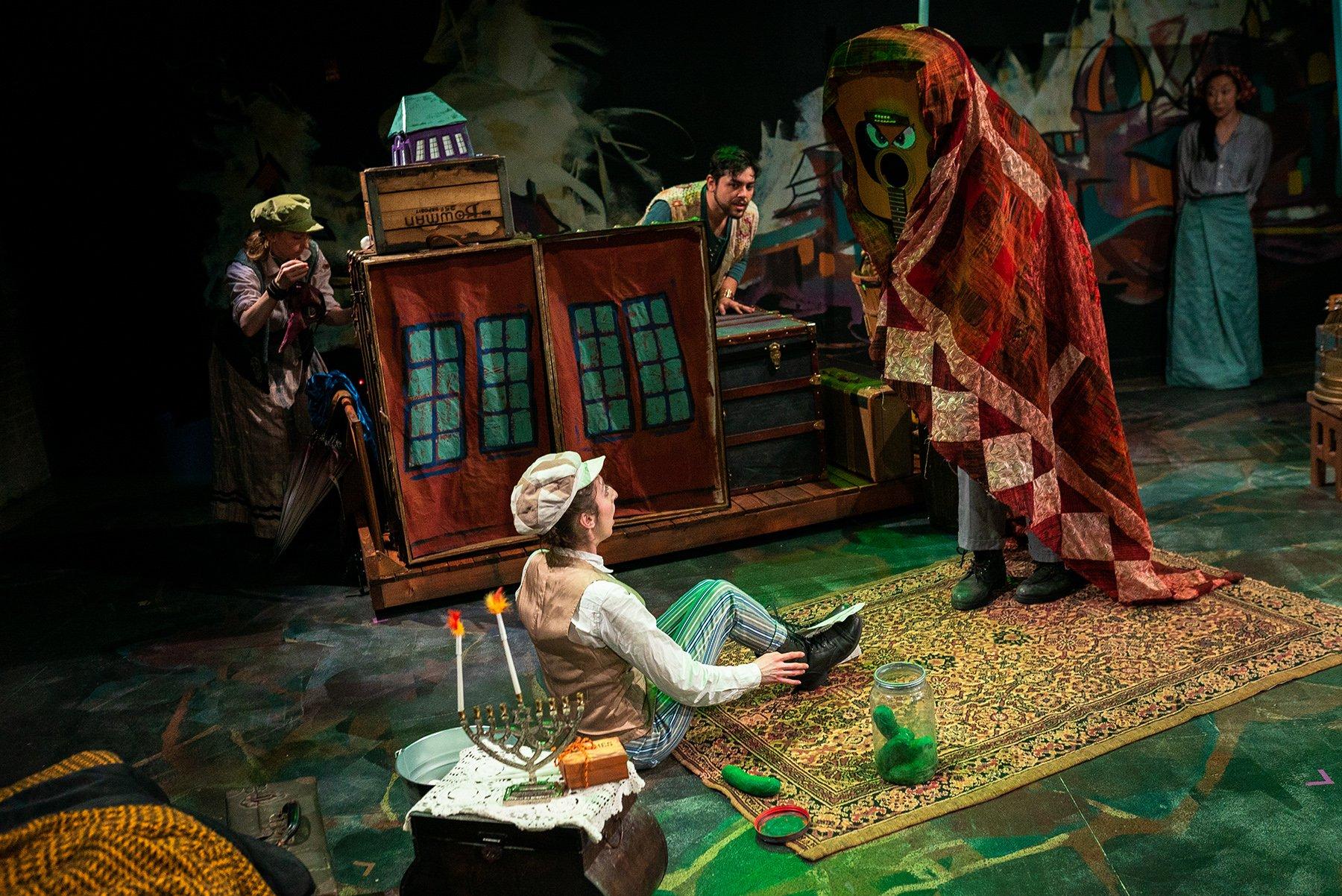 A scene from "Hershel & the Hanukkah Goblins." (Photo by Jenn Udoni–Franco Images)
Events listed are subject to change. We recommend double-checking times and locations before you head out the door. Want to share your upcoming events with us for consideration in a future roundup? Send us an email.
---