This story was produced in partnership with students at the Medill School of Journalism at Northwestern University and WTTW News.
By: Sabrina Carson, Melina Chalkia and Isabela Lisco 
---
Nikko Jhmarii Robinson, 22, spent most of his life in foster care in Cook County. 
"It's just challenging because you feel like you don't have a home, for me moving place to place," Robinson said. "I've been going place to place to place and it's just hard to really love somebody for real like … I don't know, because you just feel like they are going to leave you."
In Cook County, Black youth account for more than 70% of the child welfare system. Meanwhile, Black residents make up only 23% of the county's total population. As of February 2022, there are more than 4,000 Black children in foster care in Cook County.
Devon Reid, 30, is now a member of the Evanston City Council. Reid entered foster care at age 13 after his mother was incarcerated. He stayed in the system for the next six years.
"I broke down and cried at a point early on in my being in foster care for a few days," Reid recalled.
He sees the large numbers of Black children in the system as a symptom of bigger issues.
"This has to do with broader society issues around our criminal justice system that sometimes breaks up families, around resources that are available to lower income Black families in particular," Reid said.
Studies show poverty often leads to Black children entering the foster care system at a higher rate.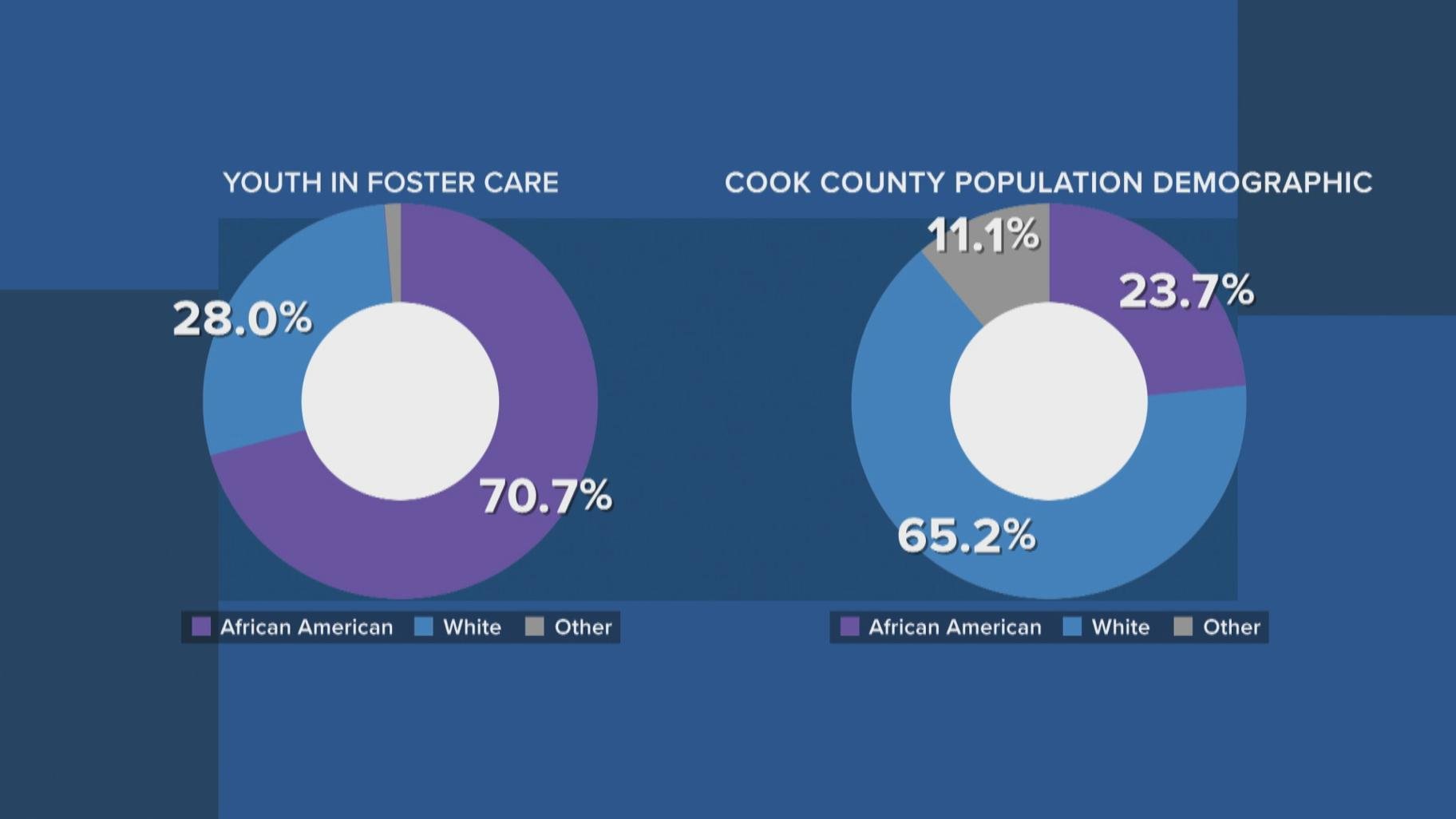 Kate Danielson is a foster mother and founder of the nonprofit Foster Progress. Her organization works to empower Illinois foster youth to successfully transition into adulthood.
She says people experiencing poverty often face impossible choices. 
"If you have to choose between going to work, and having like a safe childcare situation for your children, what are you meant to do?" she said.
That's what happened to 18-year-old Shamyah Allen. Her mother was a teenager when Allen was born.
"When I go back and read my articles that are in the system, it basically says that I got taken away from her because she didn't make enough money in the family," Allen said.
Robinson had a similar experience. When he was 7 years old, he was accepted into a more competitive school far from his home.  
"So I used to commute and somebody ended up catching me because I used to travel by myself on a train and bus, and then they said she was an unfit mother," Robinson said. "So, I had to go to the shelter."
In addition to economic disadvantages, multiple studies show that Black children are disproportionately taken from their families due to racial bias in the health care system.
"What the justice system is to Black men, the child welfare system is to Black women," Danielson said.
The Illinois Department of Children and Family Services says it is aware of these biases and is trying to address them. In 2020, officials launched annual implicit bias training for its frontline staff. 
"We wanted to make sure all of our staff take this training, and it gave us a baseline so we can be familiar with some of the biases that we may have to try to rip those things out," said Christopher Towers, of DCFS.
Shamyah Allen says almost all children who enter foster care experience some kind to trauma.
"We all have certain common traits when it comes to trauma, trust issues, lacking empathy at times," she said.
That's something his agency is aware of, Towers says.
"When you move from your family or you've moved from your communities, you're removed from your support systems," Towers said.
Studies show that the loss of their birth family and other familiar support networks can affect children's brains, bodies and behavior.
"The stigma, especially early on of being a foster child, and dealing with the fact that I had, you know, parents who were in prison, I was a foster child, and a grandmother just passed away," Reid said.
Reid also says the lack of support and resources can lead to desperation and young people turning to crime, drugs and other high-risk activities. 
Nationally, one in four foster children will be unhoused between the ages of 19 and 21, according to the Annie E. Casey Foundation. One in five report being incarcerated in early adulthood and by age 21, the unemployment rate is 43% for foster children. That's 12 times the national average. 
"I thought that by the age of 24, I would either be dead or in prison," Reid said.
Foster youth are 42% more likely to die before they reach adulthood, regardless of race. 
Like many foster children, Reid aged out of the system and was on his own at 21. He says this prevented him from finishing college. 
"I'd actually been in college for about a year and had to drop out because I could no longer afford to stay in college and go to school full time," Reid said.
Reid is part of the vast majority of foster youth who do not earn college degrees despite the fact that the state of Illinois offers them free tuition at public institutions. Less than 3% of foster children graduate college. 
For Danielson, college is key to economic stability. 
"Education is only the great equalizer if we all have access to it, equal access, and we don't," she said.
Danielson says she founded Foster Progress as one solution. In addition to providing resources, the nonprofit pairs foster youth with mentors to guide them through the college admission process.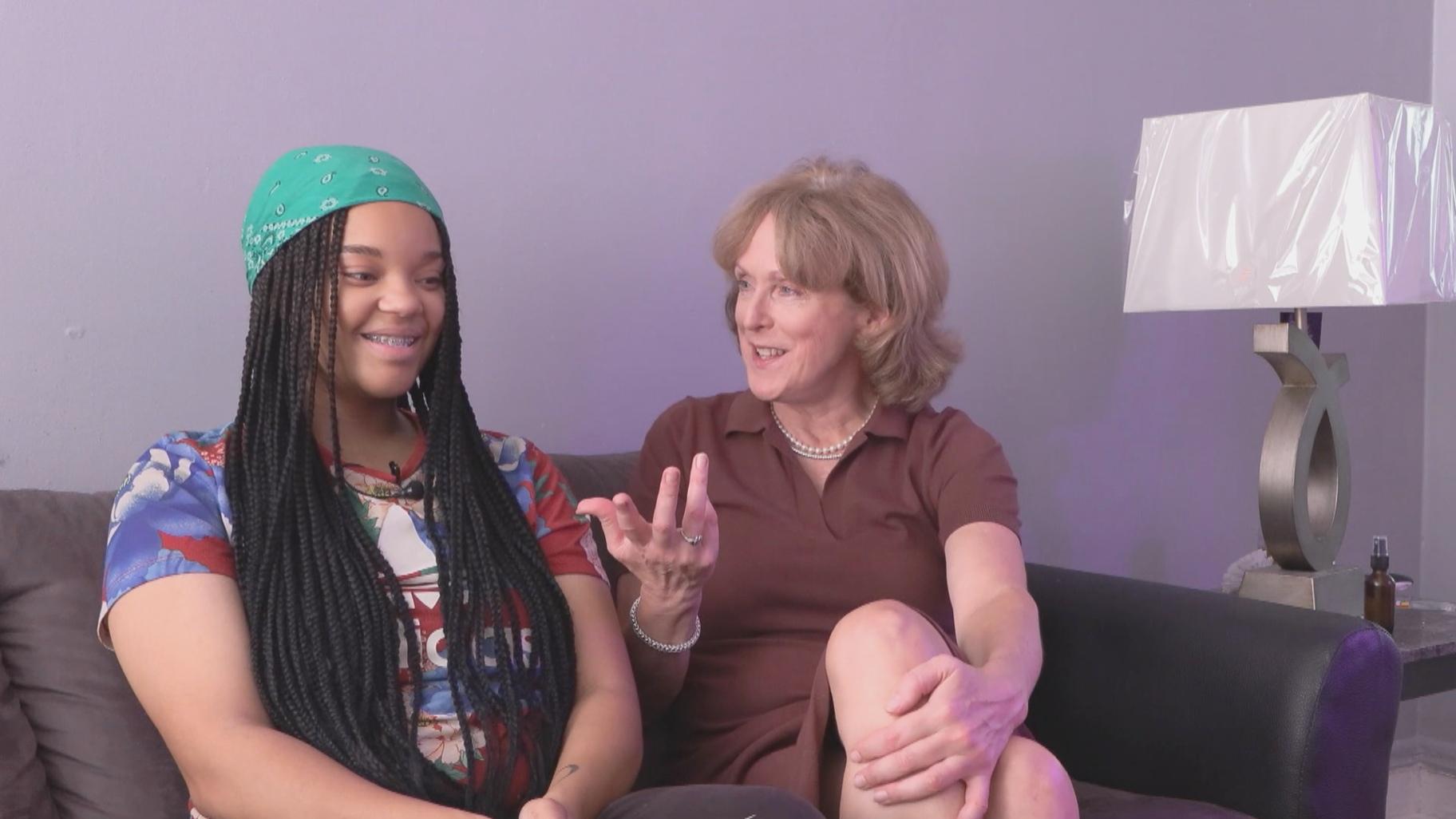 Shamyah Allen and her mentor Elizabeth Dierksheide. (Medill)
For Allen, having a mentor gave her a sense of comfort.
"Having the trust issue part, in me being able to trust to like feel like I could trust her and her being confident, I can say she would probably get the best version of me at anybody that I know," Allen said.
Allen's mentor, Elizabeth Dierksheide, says they talk multiple times a day and she's trying to help Allen develop a skin care business and gain confidence. 
"No matter what she does, it's unconditional love," Dierksheide said.
Of the 105 students mentored through the nonprofit in the past six years, Danielson says at least 80% have enrolled in college each year.  
"A college education not only affects the individual who goes on to achieve in higher education, but it affects their family for generations to come," Danielson said.
Nikko Robinson says his foster progress mentor and his current foster family are helping him succeed in college and are part of his support system. 
"It was just hard, because I kind of never trust nobody when I was moving a house to house," Robinson said. "And every time I got comfortable, I ended up leaving. And when I finally came here, I end up having a home."
---