In 1968, a U.S. Marine was wounded and evacuated from Vietnam. He returned to Chicago and found his calling making artwork with an approach that could be called obsessive.
Dr. Charles Smith now lives in Louisiana, and he continues to create. He recently returned to Chicago to open a new show at the National Veterans Art Museum.
"The basic purpose of the art is to guide the focus and attention to the African American experience …," Smith said. "So that the world will know the understanding of us as a people from the early beginning, and that is why the pieces tell the story of a period in time captured in art."
Smith gave himself the title "Doctor" to honor a lifetime of experience and knowledge.
He's made thousands of figures from a blend of concrete, wood pulp and rebar.
In the 1990s, his home in Aurora became a roadside attraction, and he now runs a heritage museum near New Orleans.
In an interview with WTTW News, Smith gave a harrowing description of the war he experienced.
"In my life in 1968, I came home from Vietnam heavily using drugs and marijuana to stay stable and very much full of hate for the killing I did of families, women, children, water buffalo, North Vietnamese, VC, anything that didn't have USMC on them I was killing 'em," he said. "That's what they told us to do. The communists, they need to be killed. And that's what we do — kill, kill kill."
Smith said that experience altered him.
"You feel it in your heart, and you feel the change and the hate taking over you and after a while you get accustomed to it," he said. "That's why they call it PTSD. It don't bother you now but as you get older, it bothers you. I'm under VA care right now for post-traumatic stress and situations of that war, and you never get over it."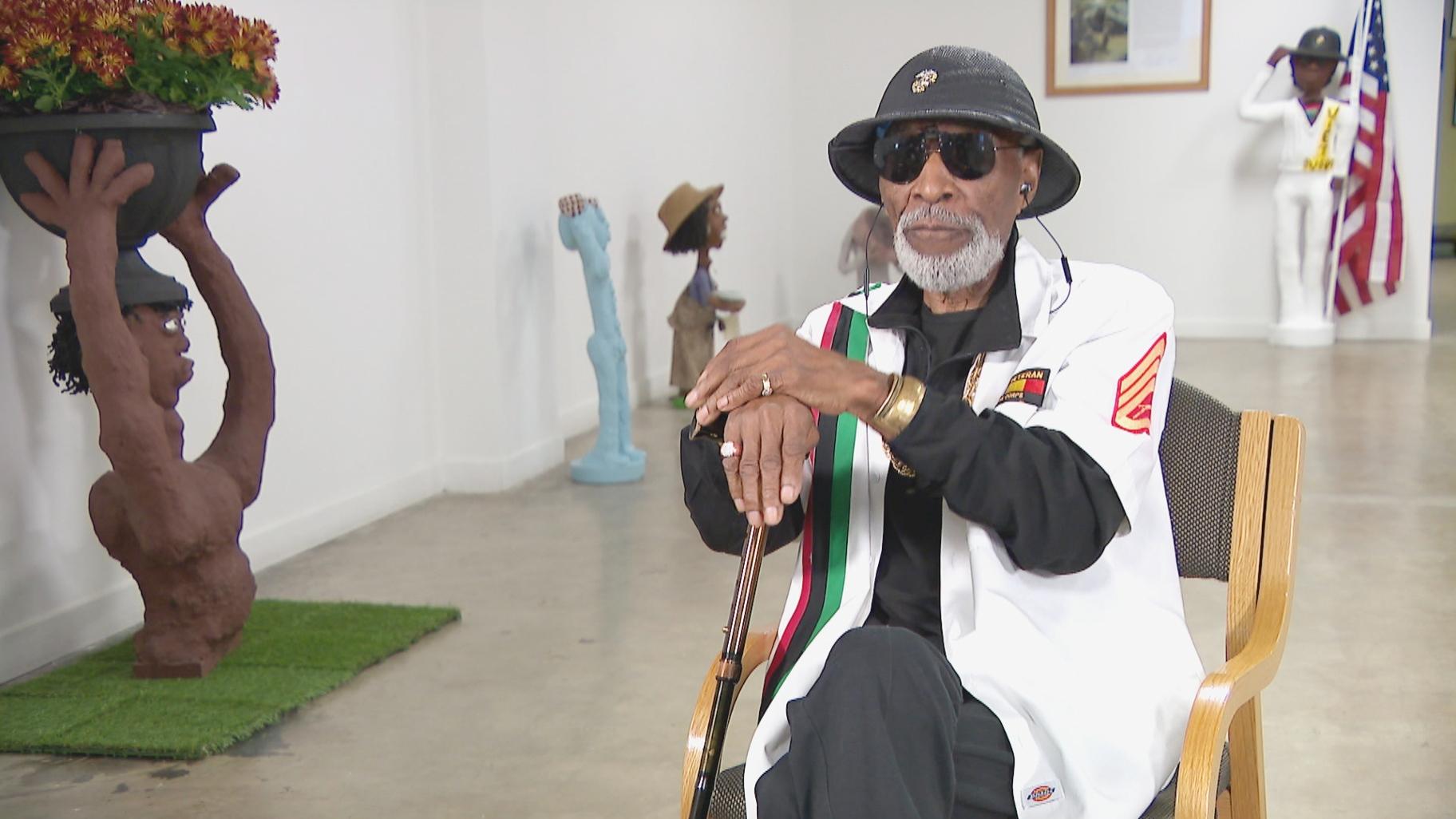 Artist Dr. Charles Smith speaks with "Chicago Tonight" about his new exhibition at the National Veterans Art Museum. (WTTW News)
He's also vocal about what he hasn't seen over the years in terms of political change and leadership.
"I'm 82 now and nothing has changed. Our representatives don't talk to us, they don't include us," he said. "They don't come and ask our opinion, what are our major needs?"
He turns toward the past for examples of leadership.
"All I know about a leader is Malcolm X, Martin Luther King, Frederick Douglass, Denmark Vesey, Gabriel Prosser and Ida B. Wells, and those people of the past," he said. "But today's leader has failed that leadership, and they don't measure up.
Years ago, Smith was a pastor in Tennessee. He no longer ministers a church, but he has not stopped preaching.
"The calling comes from God, because God has always been part of my life," he said. "And God worked with me, put that art in my heart, and said that's the platform you use."
Smith says his art creates conversation and aims to give direction on where the country needs to be politically, spiritually and personally.
 "I'm like the radio, if you don't change the channel or cut it off, I'm going to keep going," he said with a laugh.
The new exhibition of his work is titled "Dr. Charles Smith – Holding the Dream in My Hand."
It's at the National Veterans Art Museum, 4041 N. Milwaukee Ave., Chicago, until June 1.
---
On Dr. Martin Luther King
Dr. Charles King recalls the impact of Dr. Martin Luther King's assassination – and recalls meeting King in Chicago:
"In 1968 when Dr. King was assassinated, I went home and I cried so, and I was in the shower and I had my hands up in the air on the wall, and the water was running and I knew it wasn't just the shower water, it was the tears, it was the pain, because he was such a great man. He did everything to help us and to guide us. He went to places that no seasoned Marine would go. He went without a weapon. He went with just a message of brotherhood, peace and love, and when he came to Chicago we as young men we'd talk to him. And what I love about him that Black leaders don't do today like, he came in the 'hood.
He came and talked to us and asked us to join him in the march, and we critically questioned him about his motives and what Mayor Daley thought of him and what preachers thought and he cleared it up. He said 'Yeah, but they're talking. I'm here to help. I'm here to listen to find out what your needs are in education and housing and getting along, and being better citizens. And he just crushed us with truth and love and knocking hatred down with his effort.
He was moving at such capacity, like in the Marine Corps he was like a gunnery sergeant. And as he was doing that, you just fell in love with him. I met Dr. King, I walked with him, I talked with him, and when he moved on the West Side I told him I'm not carrying none of your furniture, man, you got to get movers. I'm not dealing with that furniture, because I had an attitude like most young men. But the point of it is, that's when God came into my life with the calling, because when I stepped out of that shower, I told God I said I know I'm not much, but Lord I want to be in the fight where Dr. King was and help anyway I can."
Note: This article will be updated with video.
---