Mayor Lori Lightfoot made her bid to become the first woman to be re-elected Chicago mayor official Monday morning, telling reporters she had gathered more than 40,000 signatures from Chicago voters to qualify for the Feb. 28 ballot.
But to win a second term Lightfoot will have to overcome a serious challenge from U.S. Rep. Jesús "Chuy" García (D-Chicago), who told reporters late Monday afternoon that he filed approximately 48,000 signatures — after just three weeks of effort.
After filing, Lightfoot told reporters she was eager to campaign in every Chicago neighborhood and remind voters "not only what we've done over the last three and a half years but what our vision for the next four is, and why the only rational choice is to return me to office."
García said his candidacy will be a unifying force in Chicago.
"This is a winning campaign," García said.
Lightfoot's decision to file shortly after 9 a.m. Monday means she will be listed seventh on the ballot. Had she waited to file at 5 p.m. Monday, she would have been entered into a lottery for the final spot on the mayoral ballot. Instead, García will be last.
Lightfoot said she did not care where she was listed on the ballot, since any advantage would be most pronounced for little-known candidates.
"They know who I am," Lightfoot said.
Mayoral candidates must submit at least 12,500 signatures from registered Chicago voters. Those who filed less than three times the required amount could find themselves in the crosshairs and facing weeks of wrangling over hundreds — if not thousands — of signatures.  
The deadline for objections to be filed is Dec. 5.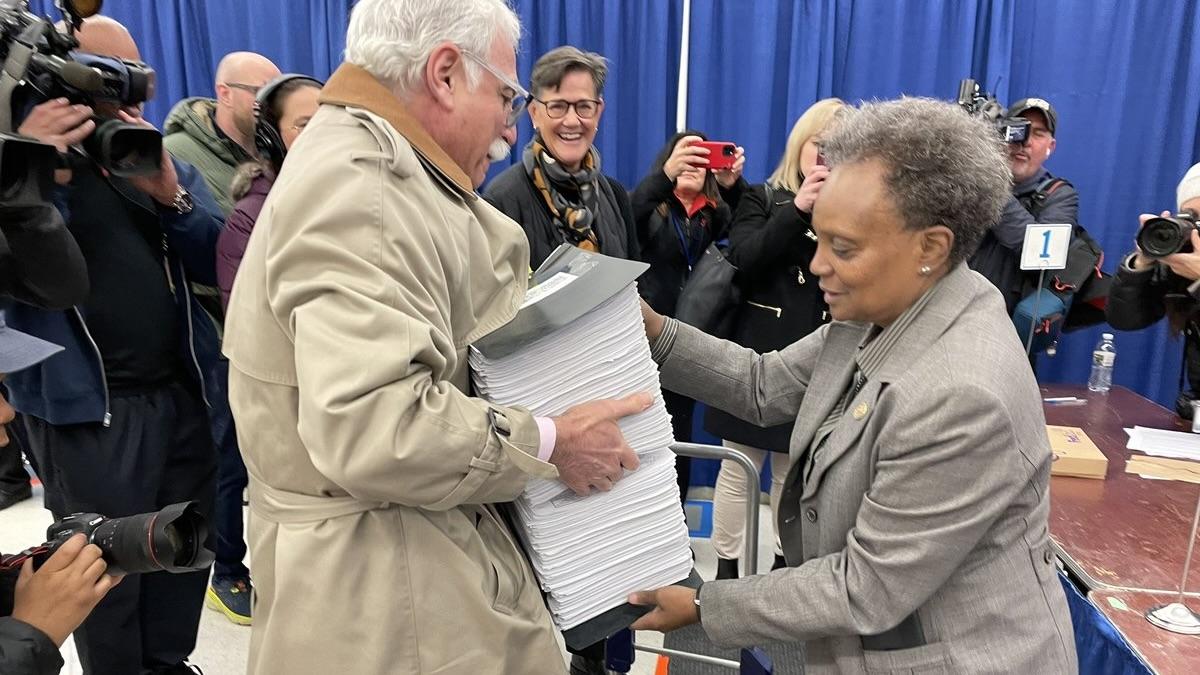 Mayor Lori Lightfoot prepares to file more than 40,000 signatures to make her bid for a second term official on Monday, Nov. 28, 2022. (Heather Cherone/WTTW)
Lightfoot's final stated signature tally places her firmly in the middle of the pack, an unusual position for an incumbent mayor running for re-election.
Businessman and philanthropist Willie Wilson told reporters he filed more than 61,000 signatures. Cook County Commissioner Johnson said he filed approximately 42,000 signatures, followed by Paul Vallas, with 41,000 signatures, Ald. Sophia King (4th Ward), with 37,000 signatures, Ja'Mal Green, with 30,000 signatures and state Rep. Kam Buckner, with 24,000 signatures.
All six candidates who filed at 9 a.m. Nov. 21 will be entered into a lottery to be first on the ballot.
Ald. Roderick Sawyer (6th Ward) filed his petitions in the mayor's race just after 3 p.m. He declined to tell reporters how many signatures he filed, but said it was an achievement after battling severe back pain for weeks.
In 2019, Lightfoot came from behind to stun Chicago's political establishment by defeating a dozen candidates in the first round of voting, including former U.S. Commerce Secretary Bill Daley, the son and brother of Chicago's longest serving mayors, and then winning every ward in the second round of voting to defeat Cook County Board President Toni Preckwinkle.
Lightfoot sought Monday to once again claim the mantle of an outsider, despite her status as the incumbent mayor of Chicago.
"What's on the ballot is: do we return to the status quo that left huge swaths of our city, of our residents, out of the equation, out of the future of Chicago," Lightfoot said, vowing to continue to address inequities that have long tormented Chicagoans if elected to a second term.
But Lightfoot is no longer the wonkish outsider focused on reforming Chicago's government with dozens of policy proposals and a detailed platform that she was in 2019. Instead, she is running for re-election after nearly four years in office marked by bruising and at times deeply personal confrontations she has said is rooted in racism and sexism.
To win a second term as mayor, Lightfoot will have to fight serious headwinds caused by the surge of crime in Chicago that began as the pandemic swept the city and shut down schools and businesses, triggering a financial meltdown. 
Lightfoot said she is ready to defend her handling of the COVID-19 pandemic, rooting out corruption at City Hall, fighting crime and boosting public investment on the South and West sides, calling it a "record of delivery that no one else in this race has."
"We have laid a foundation on which we are ready to begin building," Lightfoot said.
After launching her campaign in June, Lightfoot has yet to unveil any specific or new policy proposals, saying instead she will focus on "continuing the work on economic development, continue the work on making sure that we continue to stitch back together our social safety net that was devastated, frankly, years before I even decided to run but got really stressed during the pandemic."
Lightfoot vowed to protect the most vulnerable Chicagoans by ensuring they "have a place in our hearts, they have a home, that they have access to health care, that we eliminate the food deserts."
"So those are the things that we are going to continue to focus on and staying the course by making sure that we continue to deliver, Lightfoot said.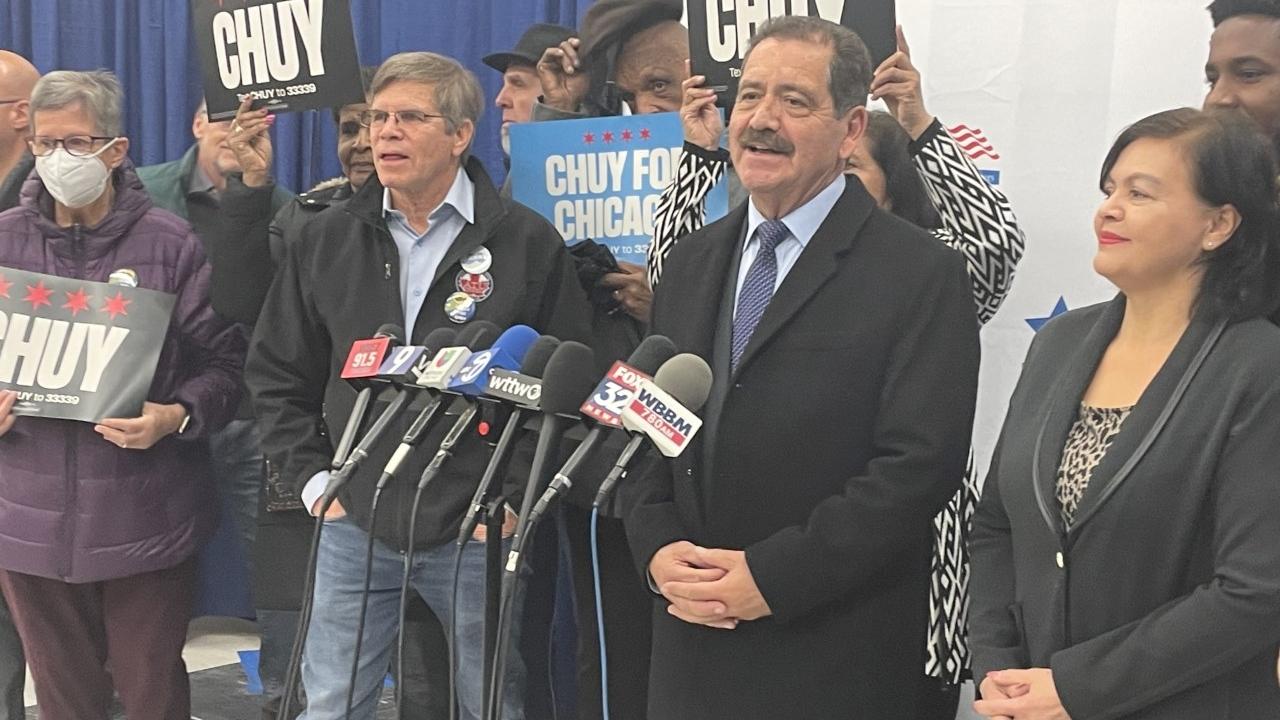 U.S. Rep. Jesús "Chuy" García speaks to reporters after filing his petitions for mayor on Nov. 28, 2022. (Heather Cherone / WTTW News)
García did not detail how his policies would be different from Lightfoot's, or the other candidates who are already in the race.
García first ran for mayor in 2015, forcing then-Mayor Rahm Emanuel into a runoff. García also got into that race relatively late — taking the place of former Chicago Teachers Union President Karen Lewis after she was diagnosed with brain cancer. Lewis died in 2021.
In that race, García had the support of the powerful Chicago Teachers Union and much of organized labor in Chicago.
Many of those organizations — as part of a coalition with progressive political groups — threw their support in the race for mayor behind Cook County Commissioner Brandon Johnson, who announced his bid for mayor last month.
Johnson is backed by all of the groups that have been working for nearly a year to unite behind one candidate to challenge Lightfoot — an effort that has now been thrown into disarray by García's second bid for Chicago mayor.
In all, nine major candidates filed to run for mayor of Chicago, along with two other candidates: Chicago Police Officer Frederick Collins and Johnny Logalbo.
Early voting is set to start Jan. 19, with Election Day set for Feb. 28. If no candidate gets more than 50%, the winner will be determined by a runoff on April 4.
Contact Heather Cherone: @HeatherCherone | (773) 569-1863 | [email protected]
---