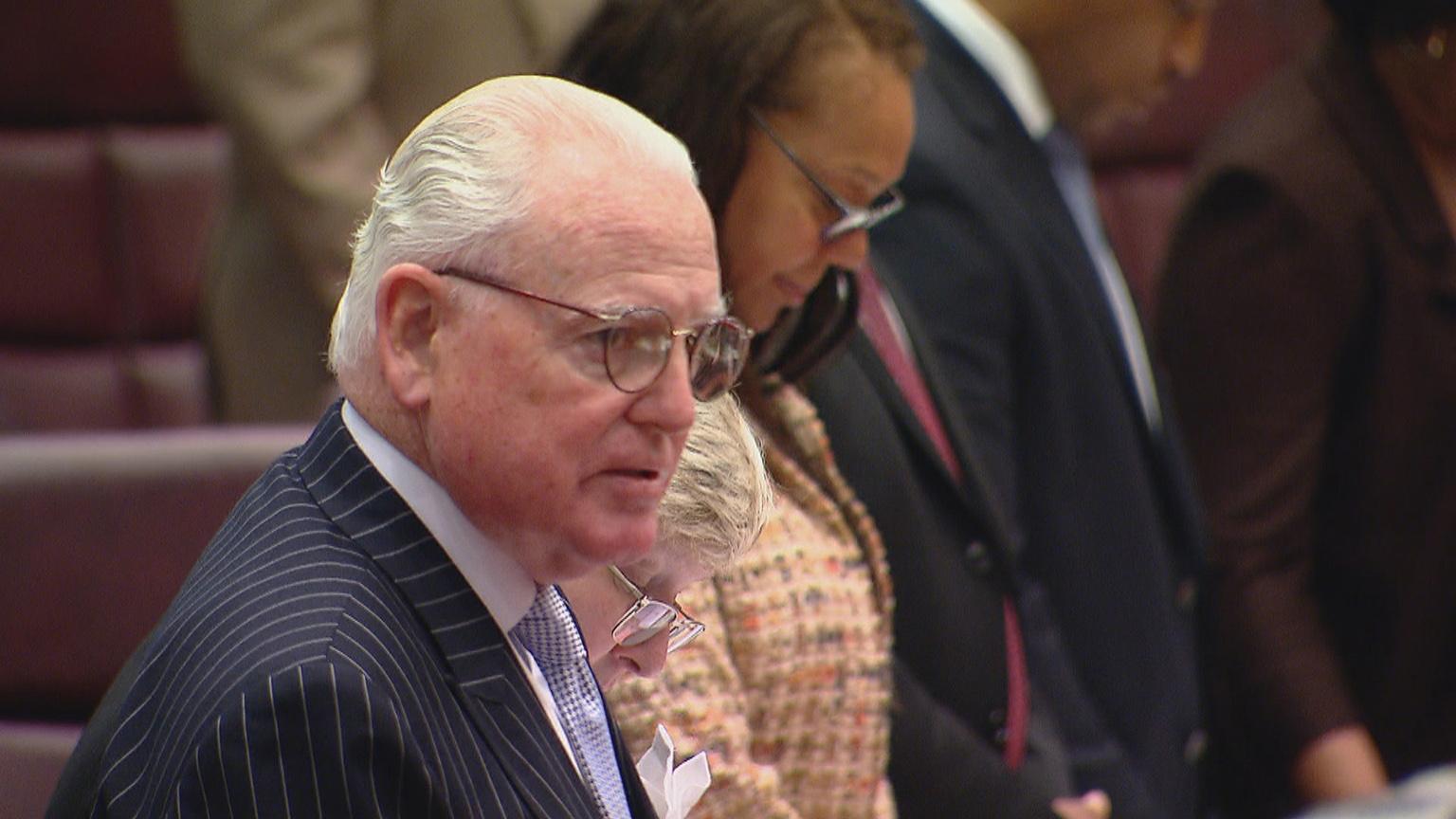 Ald. Ed Burke is pictured in a file photo. (WTTW News)
Indicted Ald. Ed Burke (14th Ward) — deemed "thoroughly corrupt" by federal prosecutors — will not run for a 15th term representing parts of Chicago's Southwest Side, ending an era of Chicago politics that stretched for more than half a century.
Burke, 78, faces a November 2023 trial on racketeering, bribery and extortion charges centered on allegations that he repeatedly — and brazenly — used his powerful position at City Hall to force those doing business with the city to hire his private law firm by the Department of Justice. Racketeering charges — usually brought against members of the mob or street gangs — allege a pattern of corruption unknown to its victims.
Burke, who pleaded not guilty, saw his case stall because of delays caused by the COVID-19 pandemic as well as the massive amount of evidence federal investigators amassed against the powerful politician, who once ruled Chicago City Hall with an iron fist.
Burke was the subject of "the longest wiretap in the United States that concluded in 2018," according to prosecutors. In all, investigators intercepted 9,101 calls made by Burke or answered by him during the investigation, according to court records.
Burke's palatial City Hall offices were raided on Nov. 29, 2018, exactly four years and one day ago, the first public indication that the U.S. Attorney's Office for the Northern District of Illinois had Chicago's longest serving alderperson and the chair of the City Council's Finance Committee in their sights.
In January 2019, Burke was charged with extortion, as prosecutors alleged he tried to steer real estate tax work to his law firm by holding up remodeling permits and a driveway permit for a Burger King in his Southwest Side ward.
But that criminal charge — although it cost Burke his position as Finance Committee chair — did not stop him from winning a 14th term on the Chicago City Council with 54% of the vote. 
Three months later — after the corruption allegations had completely reshuffled Chicago politics, helping a little-known Lori Lightfoot win the race for mayor —federal prosecutors hit Burke with a 14-count indictment, outlining a scheme to "land the tuna" by forcing the firm redeveloping the Old Post Office to hire his private law firm in return for an $18 million subsidy and a tax break worth $100 million.
Former Ald. Danny Solis (25th Ward) is expected to testify against Burke. Solis entered into deferred prosecution agreement with federal prosecutors that will likely mean he will avoid prison and keep his city pension despite Solis' admission he took bribes while chair of the City Council's Zoning Committee.
The indictment also alleges that Burke threatened to derail a proposed $2-per-person increase in admission fees sought by Field Museum in September 2017 because they would not hire the daughter of a friend as an intern.
Charged alongside Burke was his longtime aide Peter J. Andrews and Portage Park businessman Charles Cui. Andrews and Cui also pleaded not guilty.
Burke has ignored repeated calls from Lightfoot to step down, even after federal prosecutors revealed that he had been recorded making antisemitic statements.
The 14th Ward, which includes Gage Park, Archer Heights, Chicago Lawn, West Elsdon and parts of Brighton Park, was significantly redrawn by Burke's City Council colleagues after the results of the 2020 census. 
That meant that a bid by Burke for a 15th term would be perhaps his most difficult yet, with much of his voter base moved to adjacent wards. The ward is now more than 88% Latino.
Jeylu Gutierrez, an aide to Cook County Commissioner Alma Anaya, is running to replace Burke with the backing of U.S. Rep. Jesús "Chuy" García, who is also running for mayor. Also running is Raul Reyes, who has ties to Burke's political operation, and works for the city clerk's office.
Burke has been a member of the Chicago City Council since March 14, 1969, after winning a special election called to fill the 14th Ward seat left vacant after the death of his father, Joseph Burke, in May 1968. Burke, just 24, was the youngest person ever elected to the City Council.
When former Mayor Harold Washington was elected in 1983, Burke led a block of white aldermen who thwarted initiatives from the city's first Black mayor at every turn.
As a member of the City Council, Burke crusaded against cigarettes and tobacco, which he blamed for his father's death from cancer.
Illinois Supreme Court Justice Anne Burke, who is married to Ald. Burke, will retire from the state's highest court on Wednesday, bringing an end to a judicial career that included 16 years on the state's top court.
Contact Heather Cherone: @HeatherCherone | (773) 569-1863 | [email protected]