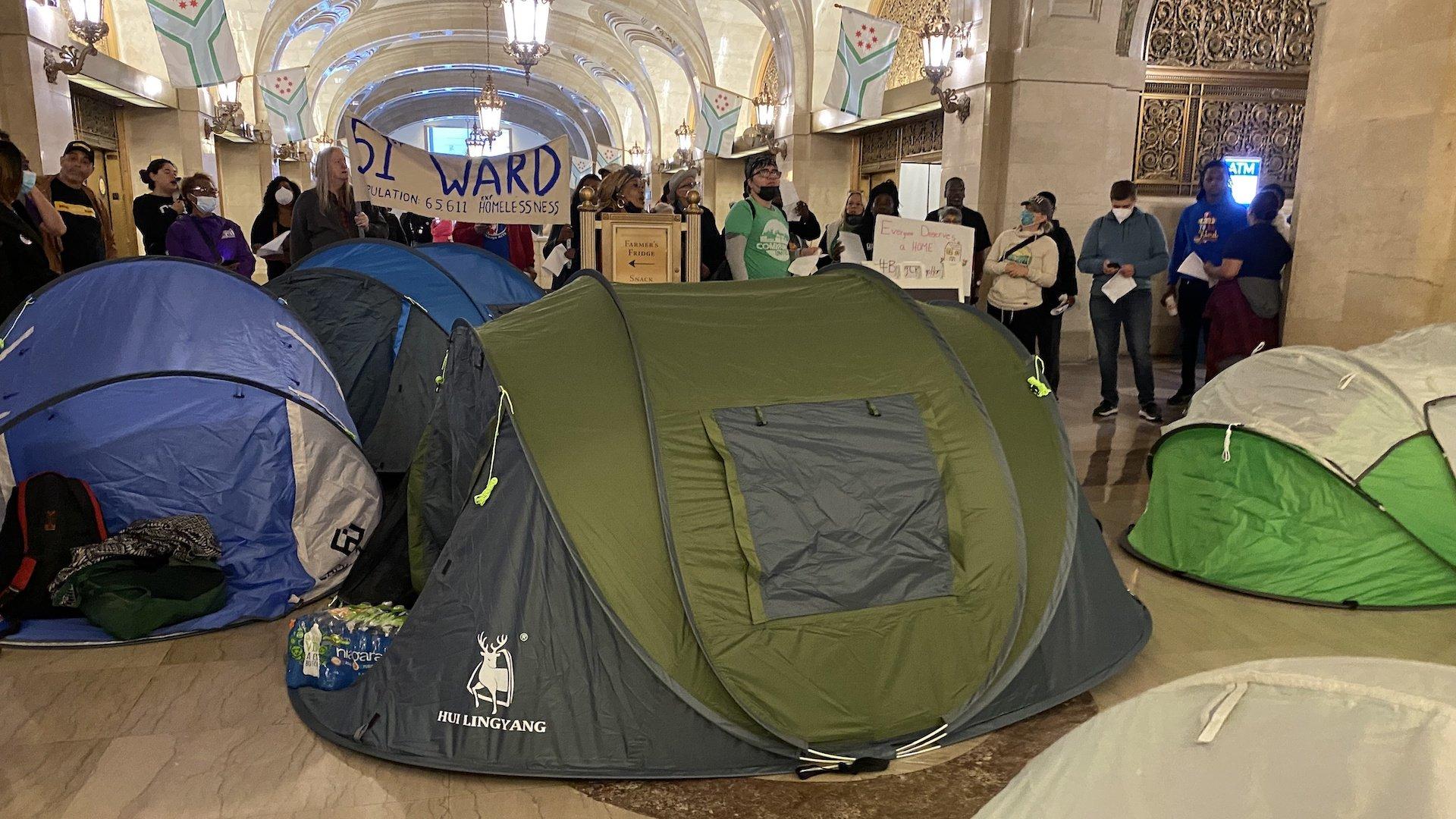 Advocates staged a tent city in the lobby of City Hall during Mayor Lori Lightfoot's budget address on Monday, Oct. 3, 2022, calling on Chicago to provide a dedicated stream of funding to tackle the problem of homelessness. (Nick Blumberg / WTTW News)
Supporters of a proposal to ask voters during the February election to hike taxes on the sales of properties worth $1 million or more to reduce homelessness in Chicago have vowed to fight on, despite suffering a stinging defeat.
But as the deadline for final action looms, the push faces two massive obstacles: the implacable opposition of Mayor Lori Lightfoot and the fact that supporters are attempting to do something nearly unprecedented in Chicago's political history.
As supporters' paths to the ballot have been closed off, they have begun shifting the fight to the 2023 campaign for mayor and City Council, hoping to make homelessness — and the city's approach to helping those living on Chicago's streets and doubled up with friends and relatives — a key issue in the election.
Cook County Commissioner Brandon Johnson said Thursday he backs the push to raise taxes on the sales of properties worth $1 million or more to generate approximately $160 million annually to help the 65,000 unhoused Chicagoans.
Not only did Johnson back the measure known as Bring Chicago Home and commit to raising the city's real estate transfer tax, he said he would work to make housing affordable across the city while expanding access to public housing.
"This administration has failed miserably, but the hope is with us today," Johnson said Thursday alongside members of United Working Families, a political organization closely aligned with the Chicago Teachers Union, which has backed 18 candidates for the City Council.
United Working Families has long supported efforts to hike the city's real estate transfer tax to fund programs to reduce homelessness, including during the 2019 election, when Lightfoot, a candidate, made it part of her campaign platform.
Even after Lightfoot's decision to ask her allies not to attend a public hearing Nov. 14 that would have allowed the City Council to vote to put the proposal on the Feb. 28 ballot generated howls of outrage, the mayor showed no sign of altering course.
"None of God's children should be living on the street, period," Lightfoot said, while touting her efforts to reduce the number of unhoused Chicagoans with a combination of city funds and federal COVID-19 grant funds. 
But the cause of homelessness is complex, and the "practical realities" of Chicago's real estate market make the proposed hike in the transfer tax risky, Lightfoot said, tossing cold water on calls for her to negotiate a revised proposal.
"I did not hear a call to meet and compromise, I heard a call to meet and agree to what they wanted," Lightfoot said.
That means supporters of the proposal would have to call another special meeting of the City Council over Lightfoot's objections — and convince at least 26 members to show up. Then, the City Council would have to call a third special meeting to vote to put the question before voters.
The deadline for both of those requirements to be met is Dec. 11, 79 days before the Feb. 28 election, officials said. Under state law, that is the deadline for no more than three questions to be added to the ballot.
The next regular City Council meeting is scheduled for Dec. 14.
Even if supporters of the proposal managed to hold those meetings and win those votes, the effort to change the city's real estate transfer tax would just be beginning, since passing a binding citywide referendum is easier said than done, officials said.
It would likely draw fierce opposition from groups like the Chicago Association of Realtors, which has signaled it would hurt Chicago's ability to attract new corporate headquarters.
"We are in competition for investment with every city now," according to an April statement from the association. "We should be rolling out the welcome mat, not making it more expensive to live and relocate business here."
If the referendum passed, the City Council would have to vote on whether to levy and collect the tax.
Unprecedented Effort to Ask Voters to Amend Tax
The last time Chicago voters passed a binding referendum that applied to the entire city was 1885, according to city records. 
At the time, Chicago was made up of townships — not wards — and each township voted to create the Chicago Board of Election Commissioners to administer citywide elections after a new state law allowed the switch to consolidated election administration. 
That meant that advocates for the measure to increase the real estate transfer tax face a double challenge: winning support for the policy while explaining the process to their colleagues.
That made a difficult task nearly impossible, supporters said.
Most Chicago elections have asked voters — both citywide and in specific wards — to weigh in on issues facing the city, like an elected school board and the call for the city to reopen shuttered mental health clinics. Known as advisory referenda, those measures do not have the force of law.
No more than three questions can appear on each ballot, under state law.
Lightfoot and her allies were prepared to put three innocuous questions on the Feb. 28 ballot, which will also feature contests for mayor, clerk, treasurer, all 50 alderpeople and 66 police district council members.
That could have blocked the measure to increase the real estate transfer tax from the ballot, even if it passed the City Council.
In 2018, former Gov. Pat Quinn collected more than 86,000 signatures to ask voters to approve a measure limiting Chicago mayors to two, four-year terms in office and to create an elected consumer advocate position.
However, voters never got a chance to vote on those referenda, after elections officials tossed out Quinn's effort, saying he erred when he collected signatures for both measures on the same petitions.
Since then, dozens of Chicago precincts have voted every year on what officials call local option referenda to allow — or ban — the sale of alcohol, a vestige of laws put in place after Prohibition was ended in 1933.
---