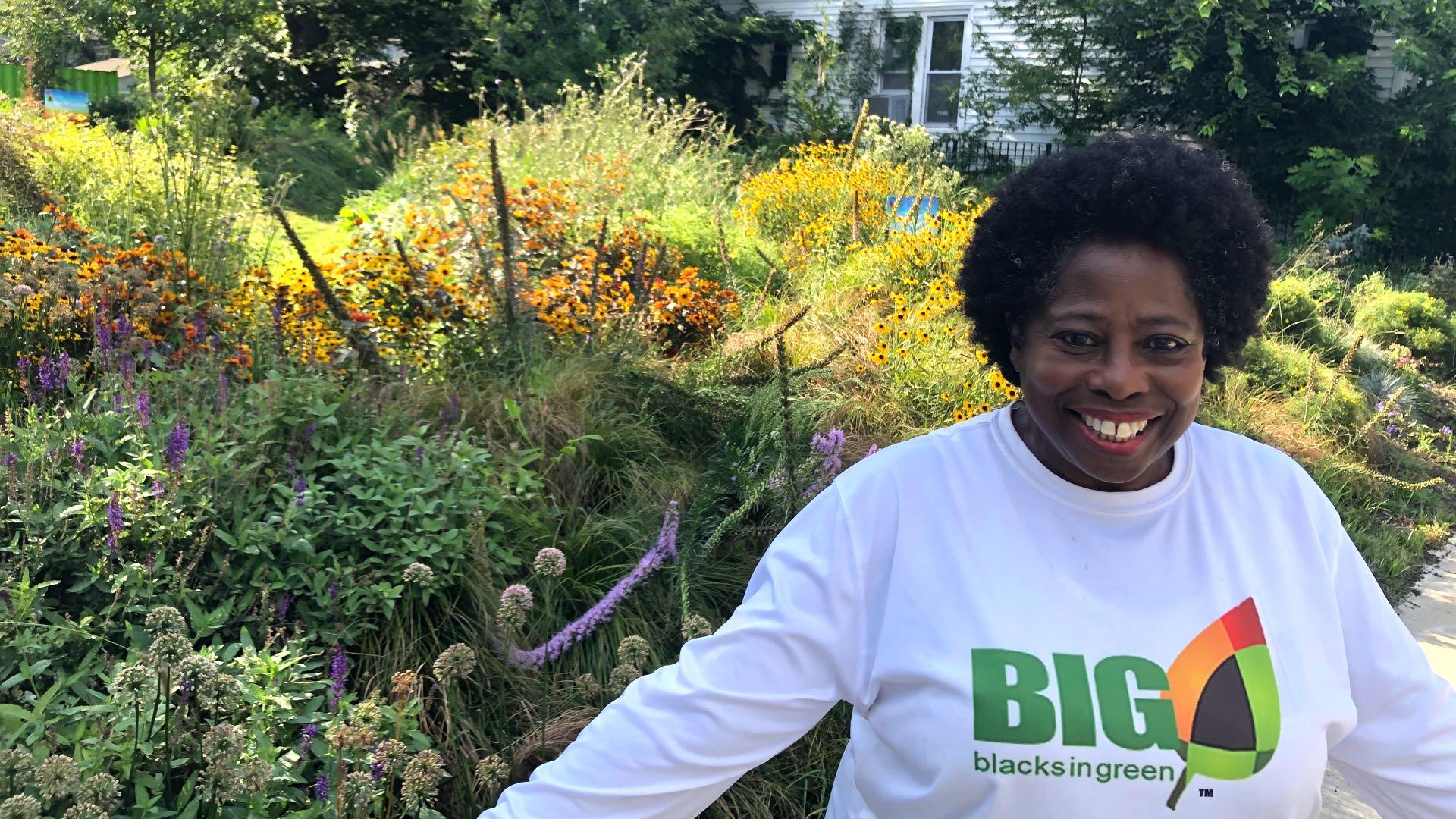 Naomi Davis, founder and CEO of Blacks in Green, at the Mamie Till-Mobley Forgiveness Garden in West Woodlawn. (Patty Wetli / WTTW News)
When Blacks in Green, an environmental justice and economic development nonprofit, purchased the Emmett Till and Mamie Till-Mobley House in 2020, Naomi Davis took over a property in need of substantial repairs.
It will take millions of dollars to address building code violations and the home's general state of decline, as Blacks in Green converts the house, at 6427 S. St. Lawrence Ave., into a museum and exhibit space devoted to the Tills and the broader story of the Great Migration. 
Davis, the founder and CEO of Blacks in Green, isn't operating with the kind of budget that will allow for an overnight transformation. But she wanted the community to witness a visible change, even while she works behind the scenes on all the policy, grant writing and strategizing it will take to turn the house into a cultural destination. 
To send a signal to her West Woodlawn neighbors that the house is now in loving hands, Davis did what she always does.
She built a garden.
With an assist from landscaping pros Annamaria Leon and Roy Diblik, who are longtime supporters of Blacks in Green, a metamorphosis took place. Gone are the weeds and chain-link fence, in their place is a thoughtfully designed landscape of native grasses and perennials. 
The space doesn't just look better, it feels better.
Gardens tend to have that kind of uplifting effect on people's emotions or psyches, Davis said, but she's also banking on what she's dubbed "garden-oriented development" to lift the community's physical and economic health as well.
From encouraging neighbors to grow their own food to making plans for a garden center and nursery on nearby Cottage Grove, Blacks in Green is focused on creating a sustainable square mile in Woodlawn — a green village, if you will. Davis envisions the area as one that's teeming with biodiversity, is resilient in the face of climate change and is capable of supporting a local workforce employed in green business such as horticulture or composting. 
"It's walk to work, walk to shop, walk to learn, walk to play — where Black families own the land and live the conservation lifestyle," Davis said. "If we get it right, we can transform Black America using the green economy as the fulcrum."
The work is slow-going, Davis admitted, with that sustainable square mile she sees in her mind's eye maybe 5% activated. 
There's much work to be done, but she keeps sowing seeds.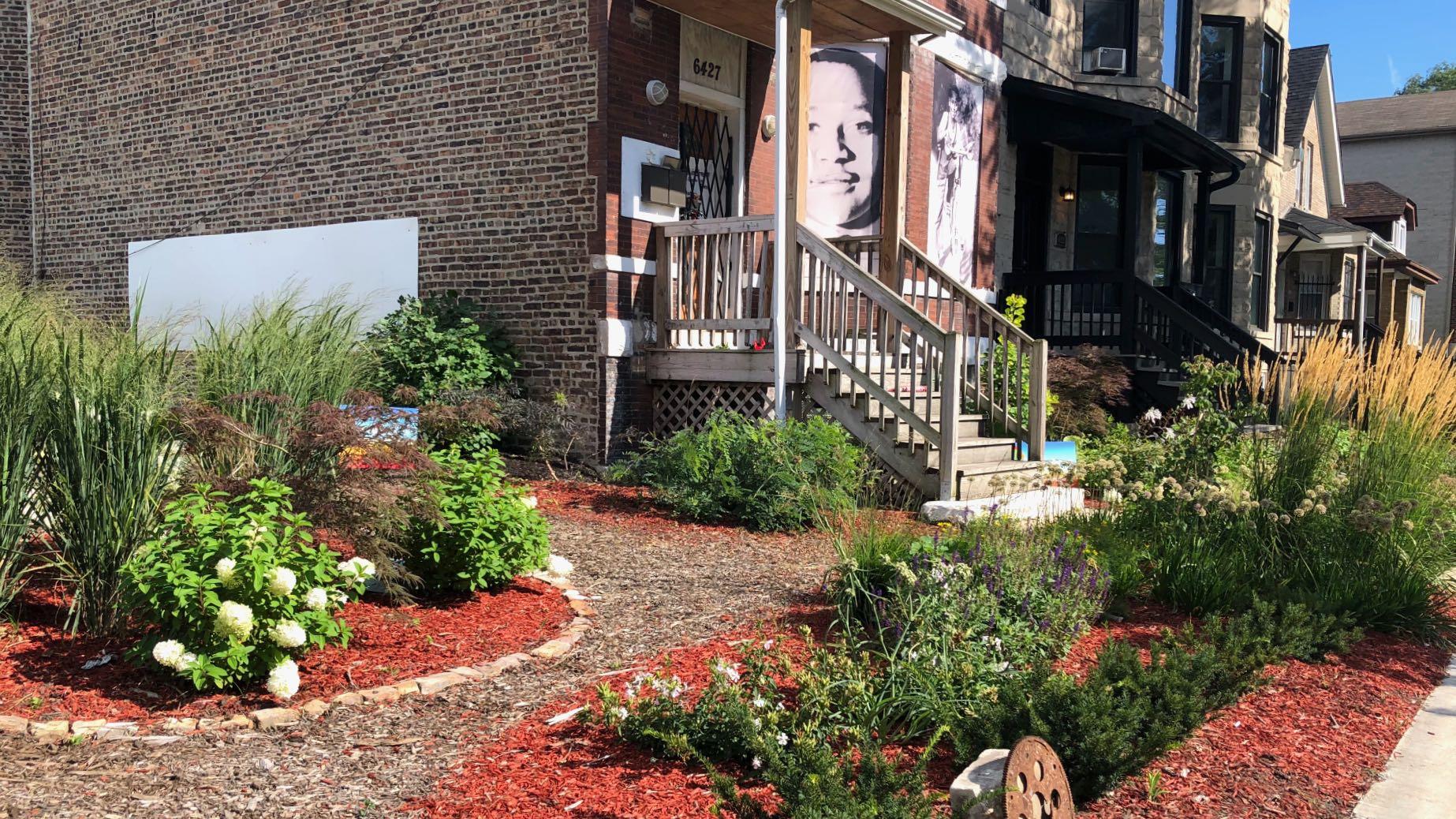 Fresh landscaping at the Emmett Till and Mamie Till-Mobley House. (Patty Wetli / WTTW News)
From the Till-Mobley house, it's just a short walk on St. Lawrence Avenue to the Mamie Till-Mobley Forgiveness Garden, which Davis developed into a neighborhood oasis.
"It's designed to be a place to sit and reflect, to counteract the dehumanizing trauma of hate by embracing forgiveness," she said.
It's also designed to show neighbors what's possible and offer inspiration. Picture a future, Davis said, where tourists visit the Till-Mobley House museum and stick around to wander the streets, map in hand of neighborhood gardens.  
During the height of summer, when WTTW News paid a visit, the garden was awash in the colorful blooms of native plants, abuzz with bees and butterflies. Davis pointed to the vacant lot directly across the street: "Do you want that? Or this?"
The question isn't entirely rhetorical. Davis was among the gardeners who fought the city after receiving a $600 fine in 2018 for violating the weed ordinance — the "weeds" in question being the native plants at the Mamie Till-Mobley Forgiveness Garden. 
Davis was furious and helped lead the push for a native garden registry, which eventually received City Council approval. But the memory of the fine still stings.
"Why do we have to work so hard to make the city a better place?" Davis asks. 
VIDEO: Naomi Davis of Blacks in Green makes the case for gardens. (Patty Wetli / WTTW News)
This summer, timed with Juneteenth, Davis unveiled her latest project: the addition of the Prairie Rainwater Parkway Garden at the Forgiveness Garden.
Turf grass was removed, and soil was loosened and augmented with compost and mulch to aid with stormwater absorption. Low-maintenance, drought-tolerant native or adapted plants were installed, complementing trees planted in 2021. (In the past decade, Blacks in Green has spearheaded the planting of 400 trees in West Woodlawn.) 
The result of the parkway makeover is both attractive and practical, a demonstration of the kind of green infrastructure needed to created resilient communities, Davis said.
With climate change, "everything is being disrupted," she said. "You're going to want rainwater management. You're going to want shade. We need to help Mother Nature help us."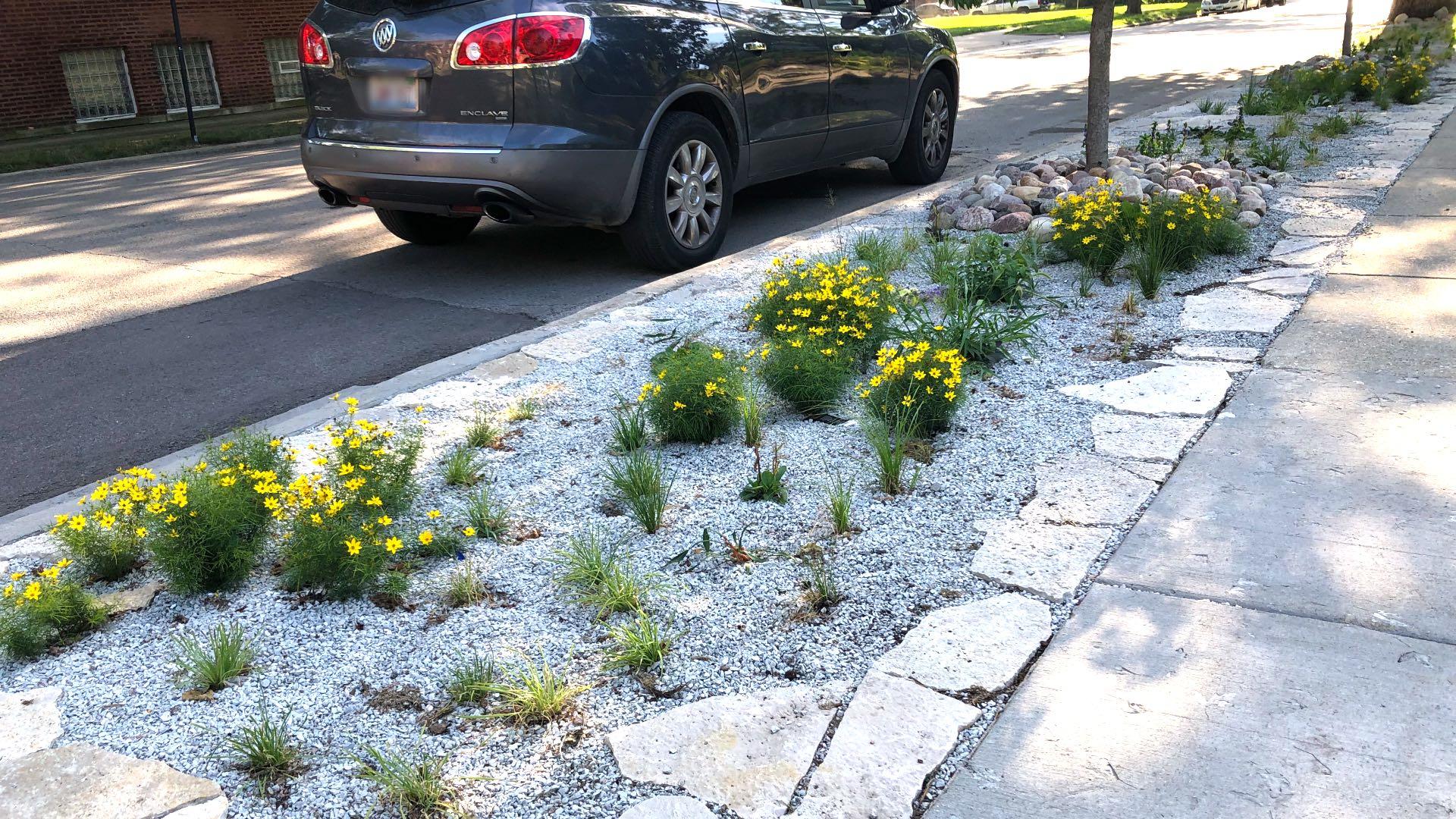 Blacks in Green's Prairie Rainwater Parkway Garden in West Woodlawn. (Patty Wetli / WTTW News)
In February, Blacks in Green purchased a building at 6431 S. Cottage Grove Ave. to serve as its headquarters and community hub, and a cafe and a garden center. After all, Davis doesn't make small plans.
Where some may see blight, Davis sees the "good bones" of a once thriving community that just needs to be reminded of its flourishing past: the genius, the hard work and the energy Black migrants brought to Chicago, building neighborhoods bustling with shops, arts and culture.
"We have something to be so proud of," Davis said. "We have a whole narrative of triumph. We are triumphant — repeat, repeat, repeat. Say it a thousand different ways."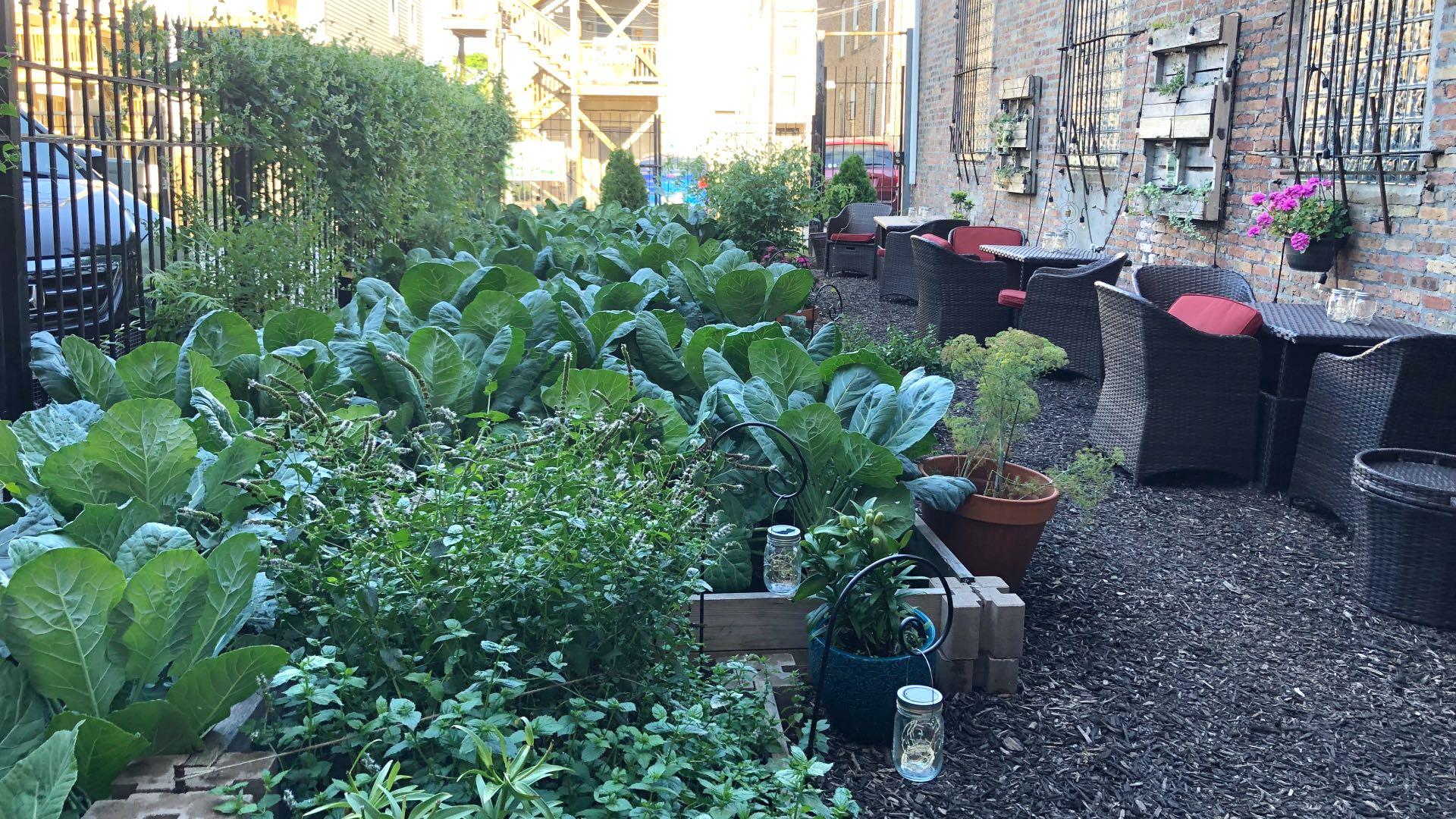 Blacks in Green's new headquarters in West Woodlawn will also serve as a cafe and garden center. (Patty Wetli / WTTW News)
Contact Patty Wetli: @pattywetli | (773) 509-5623 |  [email protected]
---