The Field Museum renovated its Native North America Hall and drastically shifted its focus. The new approach emphasizes story-telling and contemporary art – as well as historical items from the collection. The exhibition space is called "Native Truths: Our Voices, Our Stories."
TRANSCRIPT
Marc Vitali: There is a new focus on the land, on contemporary art, and on storytelling.
The new Native North America Hall has a very different vibe than the old, outdated hall. It might make you look – and think – twice.          
Brian Vallo, Advisor: I am from Acoma Pueblo in New Mexico.
I'm an advisory committee member. I've been [on] since the inception of this project, and it's been quite a humbling experience working with the other advisors and the museum staff.
Alaka Wali, Field Museum: We started reaching out to different artists and communities, so in the end we worked with more than 150 community members from all across this country and Canada.           
Our role was basically to facilitate telling the story, helping them to select things from our collection or talking about what a visitor might feel. It was a dialogue between us, but it's really their stories that you're going to hear.   
Vallo: We see each of these items as living items, they are created through prayer and song and rooted in a deep family and community history and culture.   
It was very important for us to tell our own stories in our own voice, not only the advisors but engaging other of our Native American brothers and sisters in this process.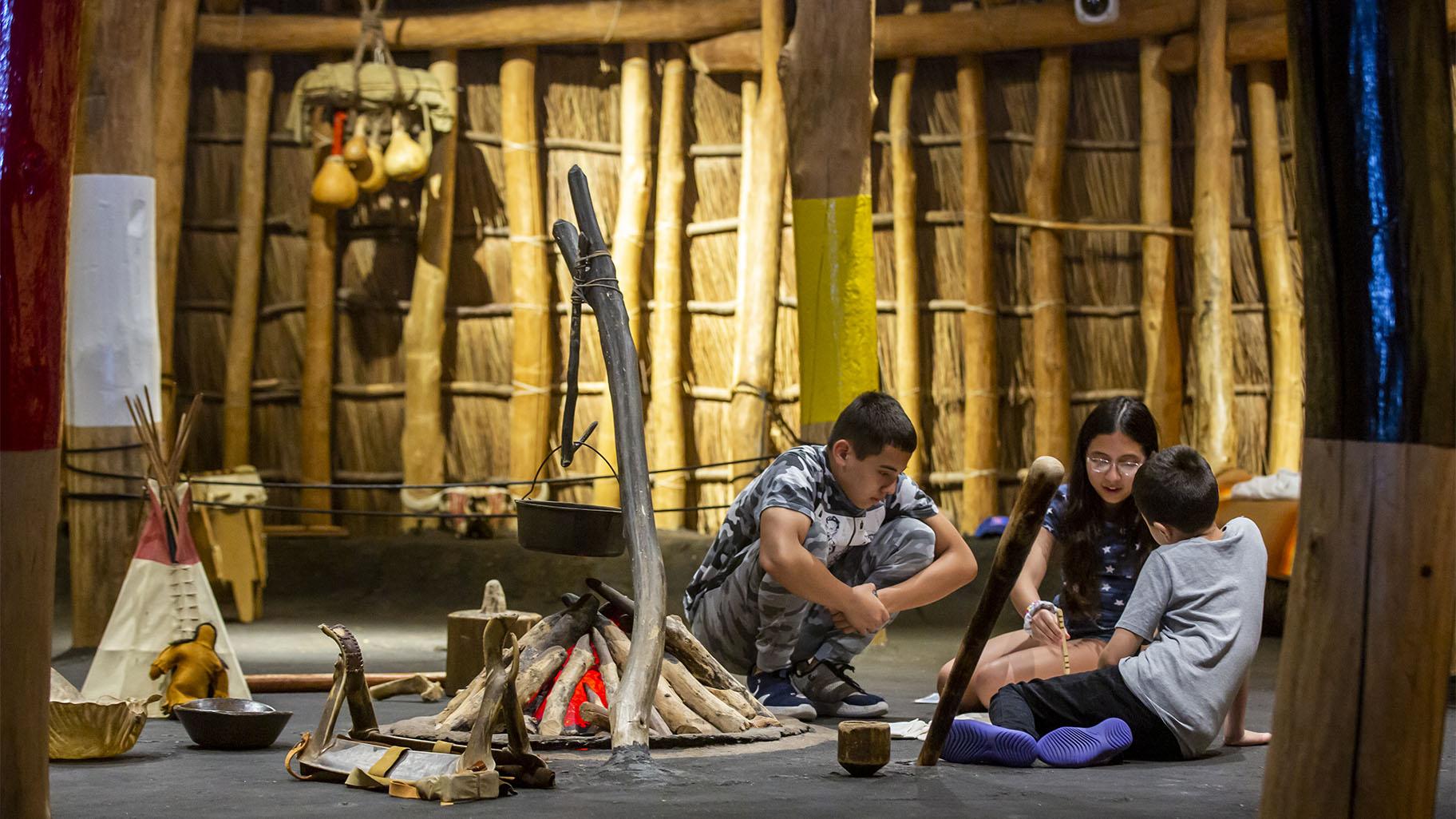 (Credit: Jay Young)
Vitali: The exhibition is permanent, with one section devoted to the Native community in Chicago.
But some galleries will rotate, giving space for the depth of experiences and creativity of Indigenous people.
All of it is meant to correct the original exhibit, which opened in the 1950s.
Wali: At that time, the curators and anthropologists had this perspective that because of all the trauma that Native peoples had gone through — and they were confined to these reservations — that the assumption on the part of the anthropologists was that that 'oh, their cultures are going to disappear," and so we better accumulate all the material culture that we can to "preserve" that way of life and showcase it in our museum.      
And it was really a lack of understanding of how strong and resilient Native peoples have been and that they were not going to disappear. They resisted from the very beginning.      
Vallo: That's one of the important outcomes of all this is to let America know and let the world know that Native people, Indigenous people, are still here. You are on Native land. We are on Native land. We are on the land of the Creator. It's a beautiful place and it is sacred to us.         
There's more work ahead and I'm hopeful that the museum will continue to work with native communities in developing more programming and more opportunities for engagement, allowing and providing access to tribal communities so that they can see the collections and they can repatriate those items that need to go back to our respective tribal communities. 
Upcoming Field Museum Events for Native American Heritage Month
Story Time in Pawnee Earth Lodge, Nov. 9, 10-11 a.m.
Free admission day. In partnership with the Chicago Public Library, a hybrid virtual and in-person story time will feature "Powwow Day" by Traci Sorell and "Berry Song" by Michaela Goade.
Native American Month Celebration, Nov. 12, 11 a.m. – 1:30 p.m.
Visitors can enjoy cultural celebration that includes storytellers, dance performances, artists and a special menu at the museum café.
Note: This article was originally published May 24, 2022, and updated with new events Nov. 7, 2022.
---