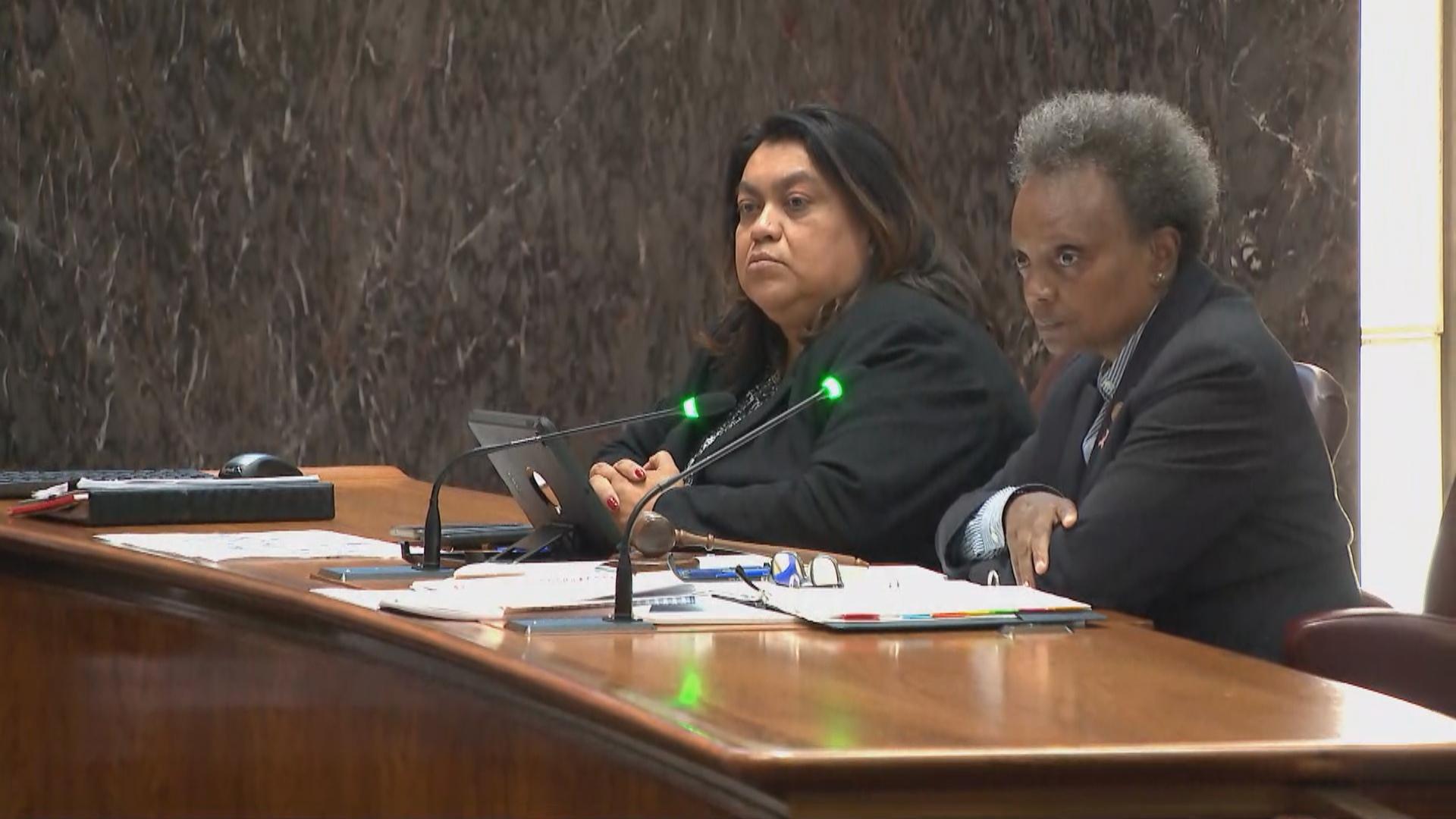 Mayor Lori Lightfoot listens during the Oct. 26, 2022, Chicago City council meeting. (WTTW News)
Mayor Lori Lightfoot on Wednesday defended a proposal included in her 2023 spending plan that would tie the salaries of the mayor, city clerk and treasurer to inflation — but cap the annual pay hikes at no more than 5%.
Lightfoot told WTTW News after Wednesday's City Council meeting that it made sense to put the salaries of Chicago's three executive officers "in line with (alderpeople) regarding a cost-of-living increase."
However, the mayor said the proposal should not be considered a salary increase, even though it would increase the elected officials' salaries.
The last time the salary paid to Chicago's mayor changed was in 2006, under former Mayor Richard M. Daley. Former Mayor Rahm Emanuel was paid $216,210 in each of the eight years he served as mayor, and Lightfoot will be paid the same through her first term in office.
If approved as part of Chicago's $16.4 billion budget, the bumps proposed by Lightfoot would not take effect until 2024, after officials elected in February 2023 have taken office.
All three elected officials would have to decide each year whether to accept the pay raise, which would track the federal government's determination of any increase in the consumer price index — but not exceed more than 5% annually, according to the proposal.
That is the same process that alderpeople follow every year — but their pay raises are not capped.  
That means 35 alderpeople will see their paychecks grow 9.6% in 2023, because of the spike in inflation. Fifteen alderpeople rejected the pay hike. The highest paid alderperson will make $142,780 next year, city records show.
Lightfoot's original budget proposal included a 20.5% pay hike for City Clerk Anna Valencia and Treasurer Melissa Conyears-Ervin, who are set to see their salaries increase from $133,545 to $161,016.
Both Conyears Ervin and Valencia defended the pay hike during their department's annual budget hearing earlier this month.
Without the bump, Conyears Ervin said five of her employees would make more than she does.
Contact Heather Cherone: @HeatherCherone | (773) 569-1863 | [email protected]
---