Día de Muertos – the Day of the Dead – is the traditional Mexican holiday that remembers loved ones who are no longer with us.
For the 36th year, the National Museum of Mexican Art in Pilsen is presenting an ever-changing art exhibit that celebrates love and loss.
One installation is an ofrenda – an offering and tribute to early movies from Mexico. It honors the films, their stars and the widespread influence of Mexican cinema throughout the Americas.
Puerto Rican artist Antonio Martorell, who moved the massive artwork off the island on the last flight before the hurricane, made the installation.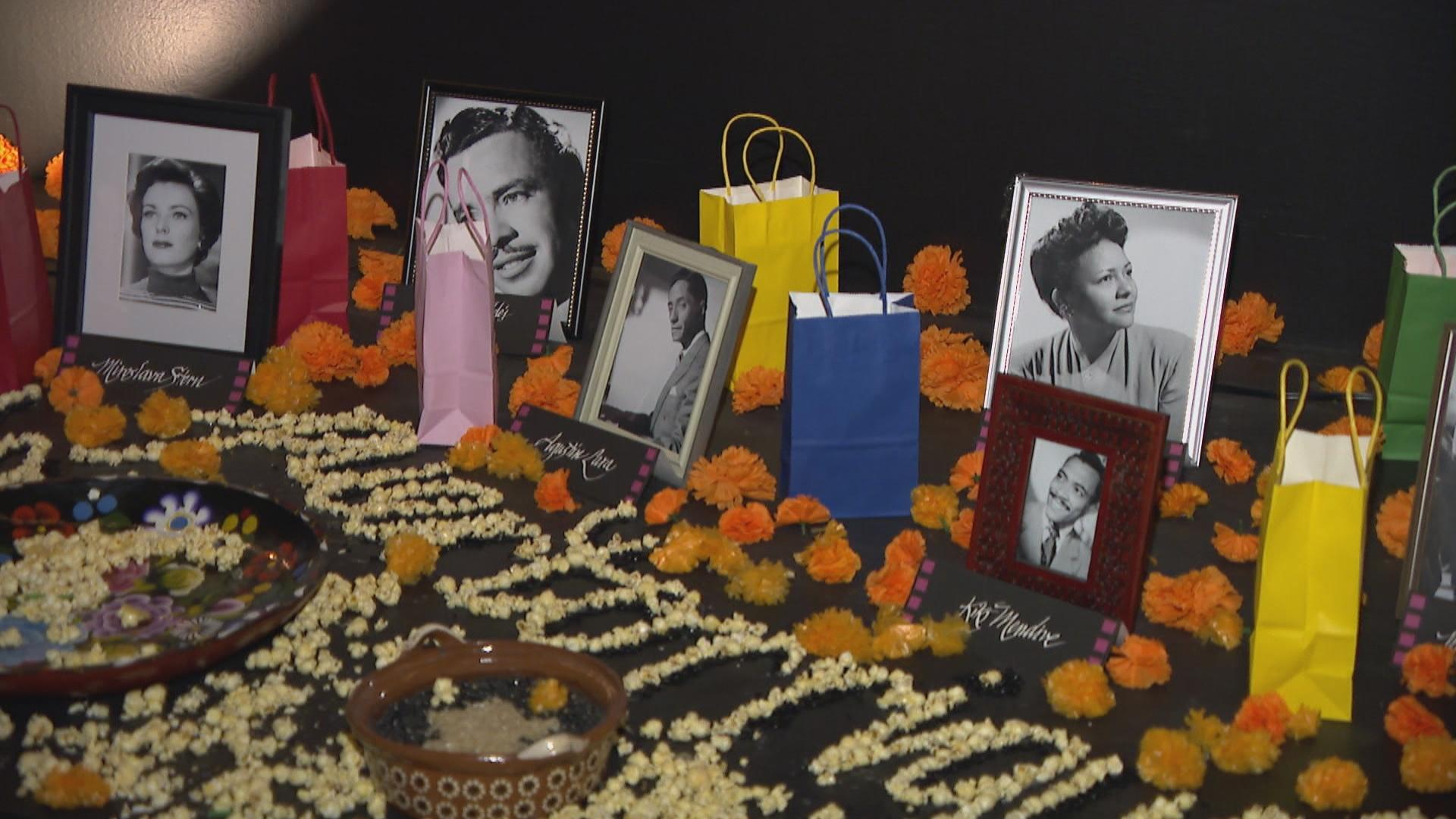 This year's Día de Muertos exhibit at the National Museum of Mexican Art is titled "Memories & Offerings." (WTTW News)
This year's Day of the Dead exhibition blends the contemporary with the traditional. Its somber tone is meant to be a reflection of the world at large.
"Every year the exhibition is unique. The artists oftentimes create work that responds to the events of that year," said Cesáreo Moreno, chief curator at the National Museum of Mexican Art. "Whatever's happening in Chicago or the country or the world, artists create pieces that deal with those events."
Moreno says he sees the gallery's walls as a reflection of the community.
"Where we can see ourselves, where our celebrations and our joys appear as well as our struggles and the things that we're being challenged with, whether it's political or cultural," Moreno said. "Oftentimes, in Pilsen, what you hear being spoken about in cafes or churches or bars ends up as the subject matter in works of art on our walls."
One installation comes from Chicago's Ukrainian Institute of Modern Art – it's a remembrance of those who've died in the Ukraine-Russia war.
"It's time to do something. It's time to stop being passive or quiet or politically correct or whatever you want to call it, and it's time to start protesting what is happening in our country, what's happening in communities across the US," Moreno said. "Those feelings of anger and helplessness really floated to the surface in curating this year's exhibition."
Other parts of the exhibit includes a large amount of Mexican folk art.
"The traditional artists of Mexico always celebrate Day of the Dead in a way that is linked to the past," Moreno said. "Photography shows what's happening in Mexico today, how people are celebrating it, whether it's LA or somewhere in Oaxaca."
This year's Día de Muertos exhibit at the National Museum of Mexican Art is titled "Memories & Offerings." (WTTW News)
Also included are ofrendas, which commemorate those who are no longer here.
"[They] really look with hope to a life after death, whether it be a Christian view or an ancient indigenous view," Moreno said. "It's this understanding of the universal, an embracing of the fact that life continues and those who are no longer with us, continue with us."
One altar, for instance, is an homage to Nieves Orozco, an artist's model to the great Mexican painter, Diego Rivera.
Much has changed since the museum first presented the exhibition in the 1980s.
"Thirty-six years ago when we first started displaying the Day of the Dead and celebrating it here in Pilsen, a lot of people did not understand what it was. We'd get a lot of phone calls of people wondering if it was something evil. Was it Satanic? It has the word 'dead' in it and that's not a very popular word in this country, in this society," Moreno said. "I think people now realize that it's actually life that we're celebrating on an annual basis here, and without a doubt this museum has really helped educate people and make the Day of the Dead celebration a part of Chicago's traditions.
This year's Dia de Muertos exhibition is called "Memories & Offerings" and runs through Dec. 11. The Day of the Dead holiday is celebrated on Nov. 1 and 2.
The museum is located at 1852 W. 19th St. For more information visit nationalmuseumofmexicanart.org.
Note: This story will be updated with video. 
---