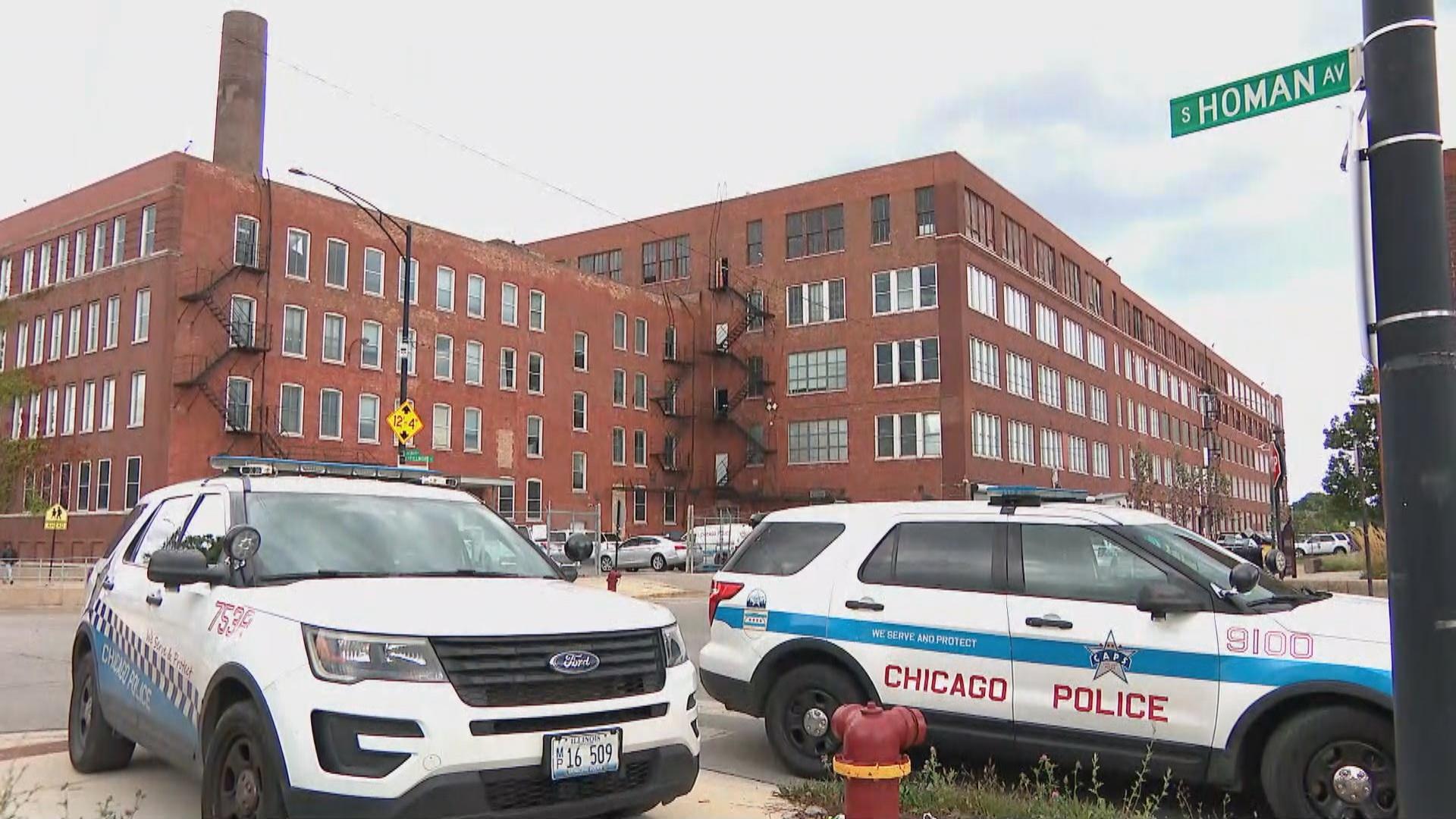 Police vehicles sit outside the Chicago Police Department's Homan Square facility on Sept. 26, 2022. (WTTW News)
A Chicago police officer shot a man who allegedly used an exterior fire escape to climb up into the fifth floor of a West Side police department facility, where he grabbed firearms and pointed them at officers, police said.
During a press conference Monday afternoon, Police Superintendent David Brown said the man was hospitalized with non-life-threatening injuries after he was shot inside the department's Homan Square facility Monday morning.
According to Brown, the man was seen on video approaching a guard outside the facility — which handles various evidence processing — around 11:30 a.m. Monday and asking where he needed to go to recover some of his property.
Instead of going where he was told, Brown said the man walked around the building and found a fire escape, which he accessed and climbed to the fifth-floor where a door had been propped open during an ongoing SWAT training inside.
The man entered and located a table with firearms that were being used in the training, and according to Brown, he grabbed at least two of those firearms and pointed them at officers. Officers in the room weren't immediately sure if the man was part of the training, but once they realized he was not, they notified other armed officers who responded to the room.
"The offender points those guns at officers, and is fired upon and struck by one of the officers," Brown said. "The offender is in the hospital recovering from non-life threatening injuries."
No officers were shot, but one officer sprained an ankle. According to Brown, the guns the man grabbed did not contain live rounds, but may have contained other simulated ammunition.
Brown couldn't say if the man pulled the trigger on either firearm.
Brown said police believe the man is from Waukegan and has a "lengthy" criminal record. The superintendent wouldn't say where the man had been shot.
The Civilian Office of Police Accountability, which investigates police shootings and misconduct, said it has investigators on the scene Monday of an "officer involved shooting."
This is a developing story. Check back for details.
Contact Matt Masterson: @ByMattMasterson | [email protected] | (773) 509-5431
---