Many city employees and people of Polish descent call the community of Dunning home, as do veterans, who at long last are beginning to move into Chicago's newest veterans' home.
Back in the late 19th century, Dunning was thought of as a scary place.
"Parents used to threaten their children that if you didn't behave, if you didn't eat breakfast, they'd send you to Dunning," said history buff and longtime area resident Dan Pogorzelski of the Northwest Chicago Historical Society.
That's because Dunning was the site of an asylum for those believed to be insane.
Individuals weren't treated well and there are references to it as the "tomb for the living," and also what was known as a poor house: a farm for people in poverty to grow food to eat.
Swatches of Dunning were used as a "potter's field," or burial ground for the indigent.
"Park Avenue was recently worked on where excavation crews literally had to change where sewers were under the road because of the fact that there were caskets that folks needed to avoid, whether it's here at [Wilbur] Wright College, even at the local shopping center," Pogorzelski said. "People could count 40,000 to 50,000 people buried here."
Pogorzelski said that's given rise to a lot of ghost stories. 
Interactive map: More from our community reporting series
Nonetheless, there's attempts to reckon with that cruel past. There's the Red Dunning Memorial Park honoring those who more than a century ago were buried without any recognition.
Pogorzelski said there's so much more to Dunning than macabre past, like the City Colleges of Chicago campus, Wilbur Wright College.
Chicago born and raised architect Bertrand Goldberg may best be known for his Marina City design. But he's also the vision for the complex at Wilbur Wright with its striking, soaring pyramid.
Pogorzelski said Dunning may not be known as chic, but he likes to bring attention to those stories so people can take pride in their neighborhood.
The asylum is long gone. Today, those with severe mental health issues may live at the state-run Chicago-Read Mental Health Center.
Local resident Jim Alm is a nurse there and said the job is tough these days because of a staffing shortage.
He said it was an issue before the pandemic, but it got worse during COVID, when people got sick or quit.
"We are forced to do mandatory overtime," Alm said. "After two or three long stressful shifts, the last thing you want to hear an hour before you go home is someone saying, 'Hey you need to stay for another eight hours.' It's very stressful, a lot of people are missing downtime, hobbies and relaxation."
A spokesperson for the Illinois Department of Human Services said Chicago-Read is having a hard time with hiring, as are hospitals everywhere. 
An IDHS spokesperson said in a statement its Division of Mental Health "is working diligently to address these challenges through initiatives such as loan forgiveness, scholarships, and the creation of a Behavioral Health Workforce Education Center. The dedicated staff of the Chicago Read Mental Health Center care for some of our state's most vulnerable persons. DMH is committed to supporting this vital work by addressing the challenges that we face today, and preparing for those that may emerge tomorrow."
Located on Chicago-Read's campus is the Dunning Read Conservation Area, which has been used as a form of therapy for patients in the past.
It has long been cared for by volunteers in the area, after conservation efforts of the land in 2007, but will soon be operated by the Chicago Park District.
Video: Watch our full interview with Mary Joyce-Cahill, director of the Dunning Read Conservation Area Board.
---
"They're going to help clean it up and show what a wonderful resource area it is and make it more accessible to the community," said Mary Joyce-Cahill, director of the Dunning Read Conservation Area Board. "Right now the invasive species have taken over. Over the years, community groups, the board, many people have maintained the trails just with their own tools, their sweat. There were trails that walked through the area … the goal is to make it more accessible."
Meanwhile, nurses in the area shared staffing shortages are also an issue at the nearby Illinois Veterans' Home along Oak Park Avenue.
Members of the Illinois Nurses Association recently held a protest to bring attention to staff issues.
The first residents just moved into the Veterans' Home in Dunning this past January, eight years after the groundbreaking. That's due to political, financial, and then construction issues brought on by COVID.
Director Terry Prince of the state's Veterans Affairs Department said they're working to hire licensed practical nurses, and that more than 100 people staff the facility and its 24 current residents.
"One can look at just the numbers and say we're good to go, but I'm not accepting of that," Prince said. "We look at things like social services, activities, trips, family visits, volunteerism … to ensure that it isn't just, 'Hey we've got this many hours of care, you're good to go.' No, are you having a great experience at this veterans' home. None of our veterans want to live in a nursing home, and so we do everything we can to make sure it isn't a nursing home. It's a home."
Dunning is not only home to two state facilities, but also Chicago's iconic sweet treat: Eli's Cheesecake Factory.
Presidents Bill Clinton and Barack Obama indulged in the famous Chicago dessert, and Frank Sinatra was such a fan that he gifted founder Eli Shulman with a Cartier watch that his son Marc wears every day.
What makes this cheesecake special and different? For starters, it comes in some 200 flavors.
"We're Chicago. It's a different texture," said president of Eli's, Marc Schulman. "I think my dad, Eli, wanted to create this unique cake. That was really in the '70s before Taste of Chicago, really working in getting that right cake … It's a faster bake. A lot of cheesecakes are made with a water bath, we use sour cream, so it has a little bit of a different flavor."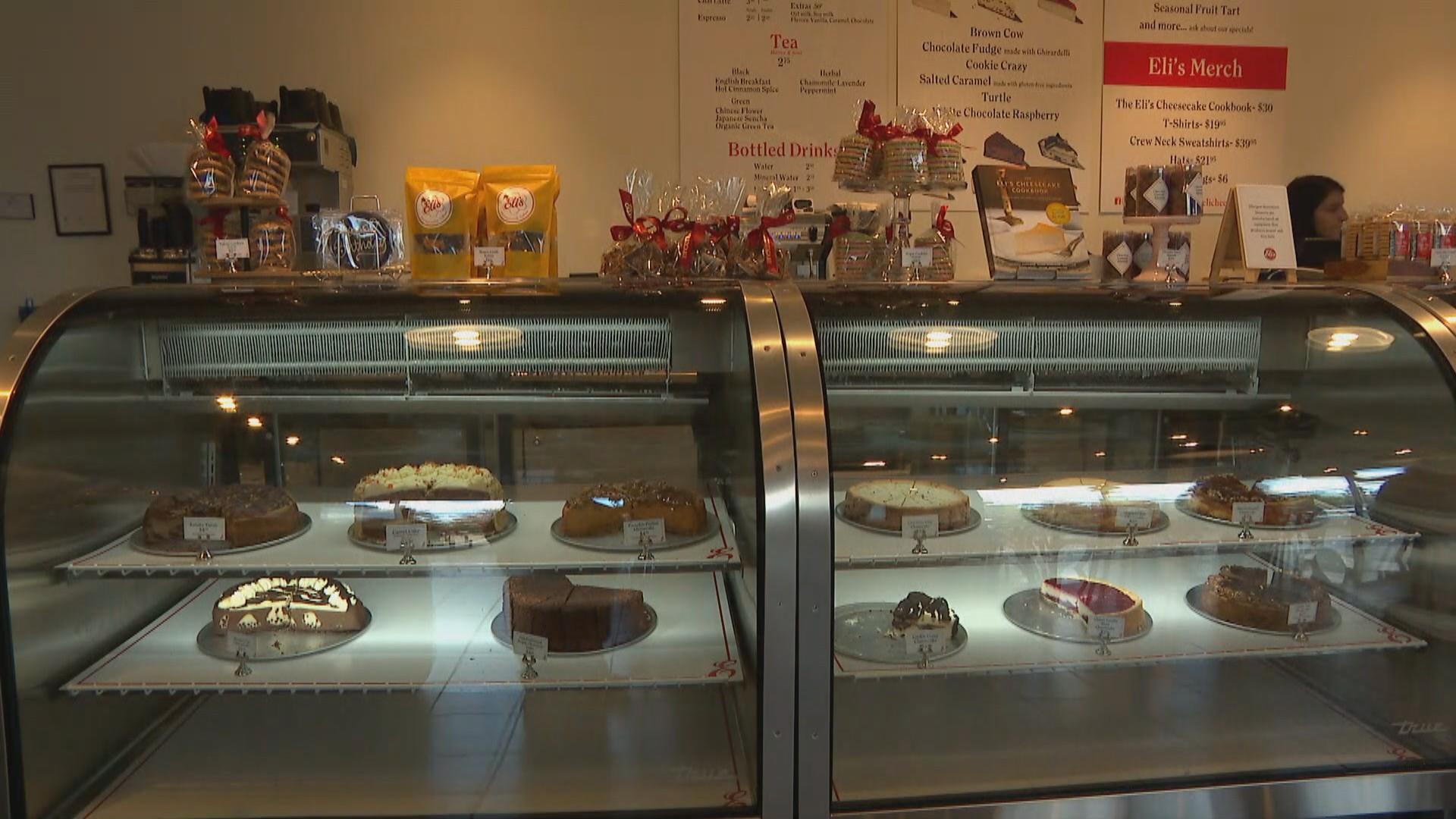 The Eli's Cheescake Factory store in the Dunning community. (WTTW News)
Eli's has been in Dunning since 1984. The first bakery was a half a mile south, but in 1996 it moved to this location.
Business has gone so well that Eli's is currently expanding, adding another 42,000 feet and about 35 more jobs.
Eli's collaborates with Wilbur Wright College and a South Side high school. 
According to Shulman, partnerships include ESL classes, and hiring refugees and individuals with disabilities.
---
Community Reporting Series
"Chicago Tonight" is expanding its community reporting. We're hitting the streets to speak with your neighbors, local businesses, agencies and leaders about COVID-19, the economy, racial justice, education and more. See where we've been and what we've learned by using the map below. Or select a community using the drop-down menu. Points in red represent our series COVID-19 Across Chicago; blue marks our series "Chicago Tonight" in Your Neighborhood.
---