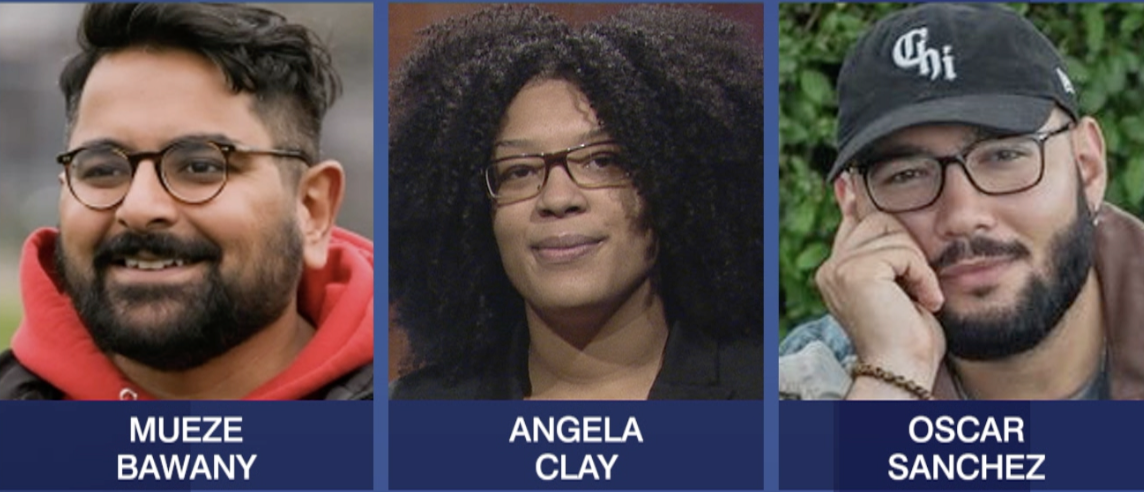 (WTTW News)
The Chicago chapter of the Democratic Socialists of America endorsed three challengers running for the Chicago City Council in 2023 amid the group's push to expand its power at City Hall.
The group, which has more than 3,000 members, endorsed Uptown resident Angela Clay, who is running to represent the 46th Ward, West Ridge resident Mueze Bawany, who is running to unseat Ald. Debra Silverstein in the 50th Ward and Oscar Sanchez, a resident of the Southeast Side who is running for 10th Ward alderperson.
Ald. James Cappleman (46th Ward) and Ald. Susan Sadlowski Garza (10th Ward) are two of the 13 members of the Chicago City Council who are not running for re-election in 2023, an unprecedented exodus at City Hall.
Chicago's Democratic Socialists of America, known as DSA, has now made two sets of endorsements, an indication that group leaders see February's elections as an opportunity to expand the City Council's now five-member Democratic Socialist Caucus significantly.
There are already more Democratic Socialists on Chicago's City Council than anywhere else in the United States.
The first set of endorsements from Chicago's DSA included Ald. Carlos Ramirez Rosa (35th Ward), Ald. Daniel La Spata (1st Ward), Ald. Jeanette Taylor (20th Ward) and Ald. Rossana Rodriguez-Sanchez (33rd Ward), all members of Chicago's DSA chapter who were endorsed by the group in 2019. Ramirez Rosa, LaSpata and Rodriguez-Sanchez have already drawn challengers.
The group also endorsed Nick Ward, a community organizer, who said he waited tables while performing in artistic productions around Chicago, in the 48th Ward race. Edgewater Ald. Harry Osterman (48th Ward) will not run for re-election in 2023, along with more than a quarter of his current colleagues on the City Council.
The group will consider endorsing Pilsen Ald. Byron Sigcho-Lopez (25th Ward) at their general chapter meeting, which is scheduled for Oct. 16, group leaders said. Sigcho-Lopez is the only member of the City Council's Socialist Caucus who has not yet been endorsed by Chicago's DSA.
The sixth City Council member who also belongs to Chicago's DSA chapter is Lincoln Square Ald. Andre Vasquez (40th Ward) — but Vasquez said he will not seek the group's endorsement and is not a member of the City Council's Democratic Socialist Caucus.
The Democratic Socialist members of the City Council have consistently championed efforts to decrease the police department's budget in order to strengthen the city's social safety net, increase oversight of the beleaguered Chicago Police Department and fight gentrification. That has put them on a collision course most of the time with Mayor Lori Lightfoot, who has frequently criticized and clashed with them — sometimes in very personal terms.
If the Socialist Caucus does expand after the 2023 elections, it will have a long list of unrealized policy goals to advance, including efforts to give a newly launched Chicago Police oversight board the power to hire and fire the top cop and to expand programs that send social workers and paramedics to help Chicagoans who call 911 while experiencing a mental health crisis. So far, Lightfoot has only endorsed testing that system in a small portion of the city.
Contact Heather Cherone: @HeatherCherone | (773) 569-1863 | [email protected]
---