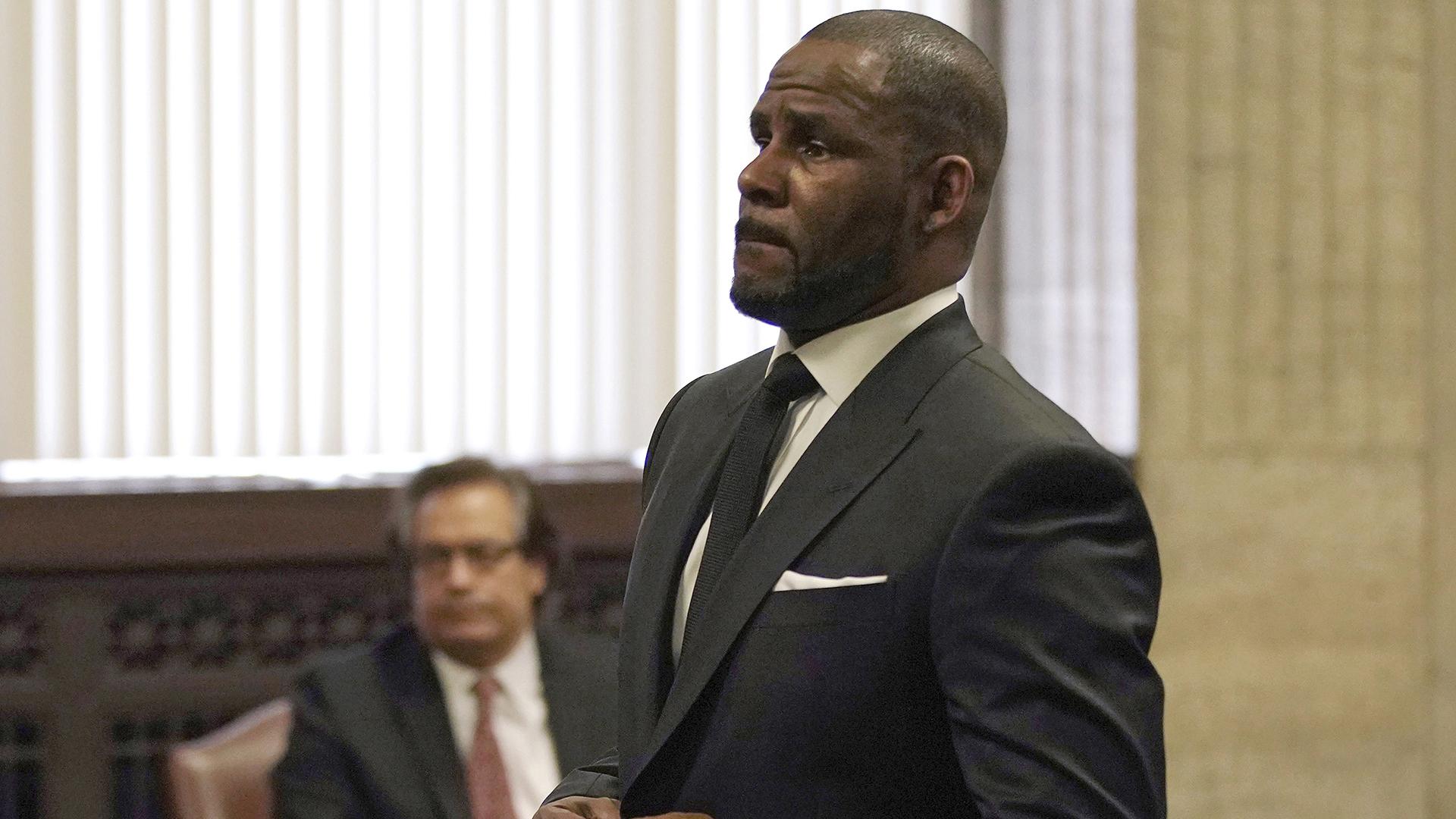 R. Kelly appears for a hearing at the Leighton Criminal Court Building on Friday, March 22, 2019 in Chicago. (E. Jason Wambsgans / Chicago Tribune via AP, Pool)
Defense attorneys for R. Kelly and his two co-defendants began calling witnesses during their federal child pornography and conspiracy trial, but the R&B singer said he will not be taking the stand.
Kelly told U.S. District Judge Harry Leinenweber on Thursday that he would not be testifying in his own defense as his second federal trial in as many years winds toward a conclusion. One of Kelly's co-defendants, Milton "June" Brown, similarly said he won't testify, but a third defendant, Derrel McDavid, is planning to do so.
Kelly was charged in 2019 on allegations that he sexually abused multiple minor girls and recorded some of those acts on video. McDavid and Brown, two of Kelly's former employees, are also charged with conspiring to conceal evidence to obstruct law enforcement.
Prosecutors wrapped up their case Tuesday after calling more than 20 witnesses over the course of two-plus weeks. Those witnesses included four women who testified under pseudonyms and who claimed that Kelly had sexually abused them while they were minors.
One of those accusers, "Tracy," told jurors earlier this week that she and Kelly met in 1999 when she was 16 years old. She testified Kelly gave her his phone number during an expo in Chicago that year, and claimed the sexual abuse began soon after.
But defense witness Merry Green, who organized at that expo in the late 1990s and early 2000s, said she didn't recall Kelly being at the 1999 expo. Instead, she testified, he was promoted as being a guest the following year in 2000 — which is when Kelly's defense team has argued "Tracy" actually met Kelly, when she would no longer be a minor.
Also on Thursday, McDavid's attorneys called Ronald Winters, a private investigator who previously worked as a personal assistant for high-profile attorney Edward Genson, who represented Kelly during his 2008 trial.
Winters testified that on six or seven occasions, one of Genson's private investigators brought in tapes to Genson's office that depicted Kelly and women having sex, but he claimed none of the participants in those videos appeared to be minors.
On another occasion in the spring of 2007, Winters said McDavid brought in another tape that showed Kelly with two women. He testified one of those women appeared to be Kelly's wife.
In attempting to show that this was a different tape than the one that allegedly showed Kelly with an underage girl referred to as "Jane" and another woman, prosecutors asked Winters about where the sex scene in the video he viewed took place He replied: "It's a sex tape, I'm not paying attention to the scenery."
Before testimony began Thursday morning, Leinenweber rejected defense motions seeking acquittals on the charges against all three defendants. The motions are typical after the prosecution rests its case, and are rarely granted.
Testimony concluded Thursday afternoon and will not resume until next Tuesday after the Labor Day holiday. It's possible jury deliberations begin sometime next week.
A federal jury in New York convicted Kelly last year in a separate sex trafficking case. He has since been sentenced to 30 years in prison.
Contact Matt Masterson: @ByMattMasterson | [email protected] | (773) 509-5431
---