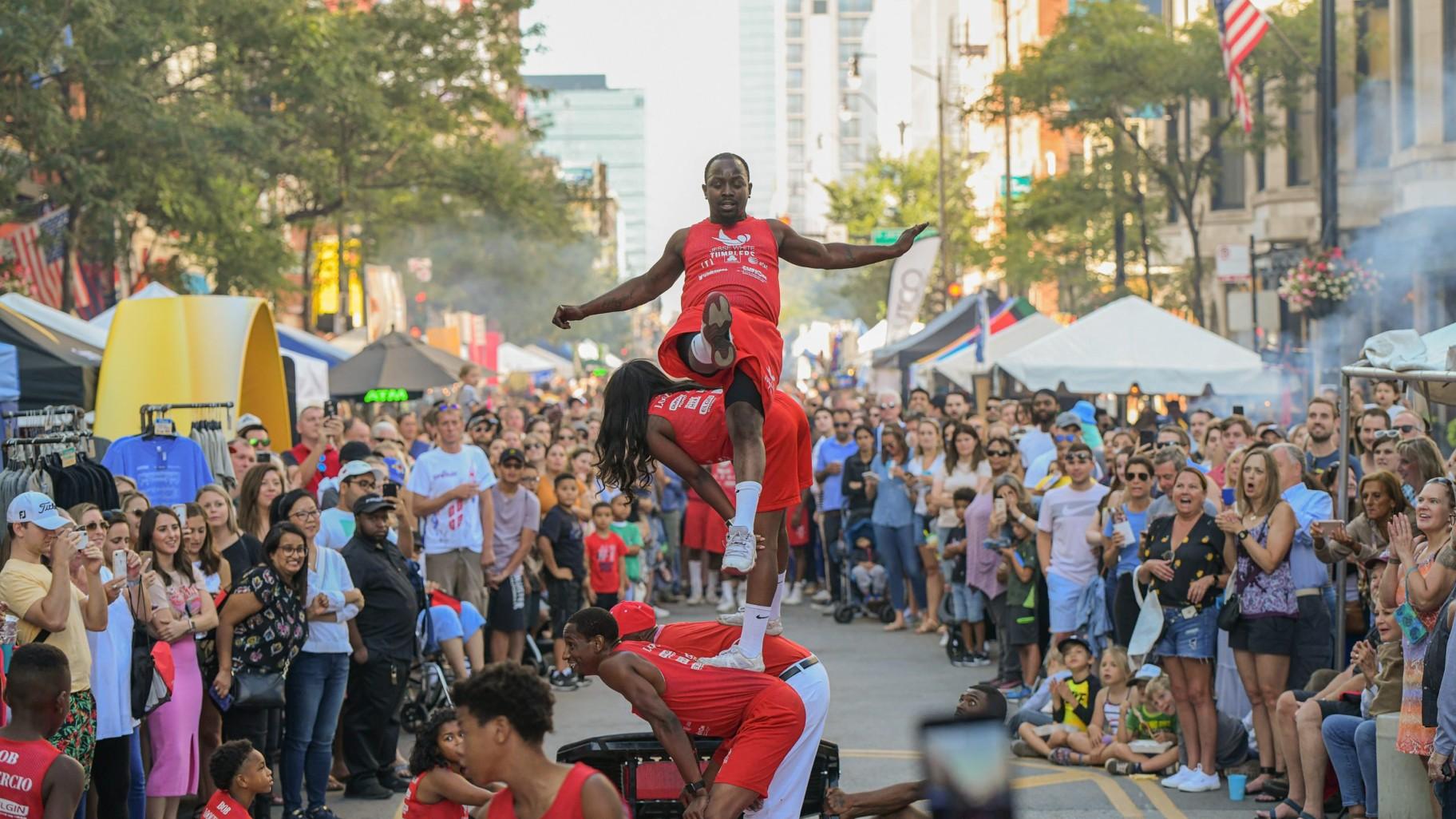 (Courtesy Taste of Greektown)
1. Strum
Dozens of music workshops. Panel discussions on guitar collecting and construction. Live music from musicians like Julian Lage, Molly Tuttle, Courtney Hartman and more. Meet some of the guitar world's innovators and virtuosos and share your love of guitars at Fretboard Summit.
Details: Times vary Thursday-Saturday at the Old Town School of Folk Music, 4544 N. Lincoln Avenue. $100 all-access pass, $500 3-day all-access pass / MAP
---
Find more fests: 2022 Summer Festival Guide
---
2. Browse
A host of local artists will be on display at the Bucktown Art Fest, a fixture in the neighborhood since the early '80s. The all-volunteer fest helps fund local arts education and features almost 200 artists, two music stages, craft beers and sangria.
Details: 11 a.m. - 7 p.m. Saturday and Sunday at Holstein Park, 2200 N. Oakley Ave. Free admission / MAP 
---
3. Screen
The Film Noir Foundation is coming to the beloved Music Box Theatre to celebrate film noir with Noir City: Chicago 2022. This weeklong festival will feature 35mm screenings presented by Eddie Muller, FNF founder, and Alan K. Rode, an FNF board member.
Details: Times vary Friday, Aug. 26 - Thursday, Sept. 1 at Music Box Theatre, 3733 N Southport Ave. $90 general admission festival pass / MAP 
---
4. Chow Down
For its 31st year, Taste of Greektown is coming back to the city's popular West Loop to let its Hellenic pride take center stage and show off Chicago's acclaimed Greek restaurants, blending Old World traditions with a 21st-century freshness. There will be live entertainment from Greek bands and games for everyone.
Details: 4-10 p.m. Friday; Noon-10 p.m. Saturday-Sunday on Halsted between Van Buren and Adams St. Free admission / MAP
---
5. Dash
Do you love running, whether it's outdoors or indoors? Do you love doughnuts? And most importantly, do you love Stan's Donuts? Well, you're in luck! The Stan's Donut Race is coming to Soldier Field, consisting of a kids dash, 5K and virtual options to run on your home treadmill or any path of your choosing. Once you finish, you're able to pick up a tasty free doughnut at any of Stan's Donuts locations. 
Details: 8 a.m. 5K Dash Wave and 9:30 a.m. Kids Dash Saturday at Soldier Field, 1410 Special Olympics Drive. $49.99 for 5K Dash and $25 for Kids / MAP
---
6. Showcase
North Central College is hosting a grand opening reception for the newest art exhibit, "Mid-Century Modern at North College," which will showcase mid-century modern architecture and how it not only shaped the college's campus but the city of Naperville and beyond. The grand opening reception will include a free trolley tour throughout Naperville that highlights modern homes and buildings in the area. 
Details: 1-5 p.m. Friday North Central College's Schoenherr Gallery, 171 E Chicago Ave., Naperville. / 1400 W Morse Ave. Free / MAP
---
7. Party
Thalia Hall is bringing live entertainment from outside their venue for the first Thalia Hall Block Party, full of local vendors and live music from a variety of genres that will get you on your feet. Artists lined up to perform include La Academia, Loona Dae, E. Woods, Agua de Rosas and more.
Details: 2 p.m. Saturday at Thalia Hall, 1807 S Allport St. Free admission, $5 suggested donation / MAP
---
8. Draw
Chicago's very own chalk art festival Chalk Howard Street will be making its first full outdoors and in-person debut since 2019, featuring national and local street artists and art lovers transforming Howard Street in Rogers Park into their own personal canvas. The event showcases art from internationally-renowned 3-D street artists and local 2-D chalk artists while encouraging children and families to participate in the action.
Details:  11 a.m.-8 p.m. Saturday located just east of the Howard Red Line 'L' stop between Paulina St. and Ashland Ave. Free admission / MAP
(Photo courtesy of Nate Baranowski)
---
9. Taste
Twenty-three vendors. Three live bands. And 100,000 delicious calories eaten. The Food Festival 2022 is in town and Chicagoans are in luck for some finger-licking good treats and live music.
Details: 4-8 p.m. Saturday at Downtown West Chicago, near West Chicago Museum, 132 Main St., West Chicago. Free admission / MAP
---
10. Experience
An ensemble of female-identifying, nonbinary and trans artists will showcase original, hilarious and heartfelt short plays and the annual BECHDEL FEST. This award-winning festival takes the rubric of the Bechdel-Wallace Test and gives audiences entertainment free of non-cismale characters talking about anything other than, you guessed it, men.
Details: 7 p.m. Sunday, Aug. 28 to Wednesday, Aug. 31 at The Den Theatre, 1331 N. Milwaukee Ave. Pay what you can / MAP
---
Events listed are subject to change. We recommend double-checking times and locations before you head out the door. Want to share your upcoming events with us for consideration in a future roundup? Send us an email.
---