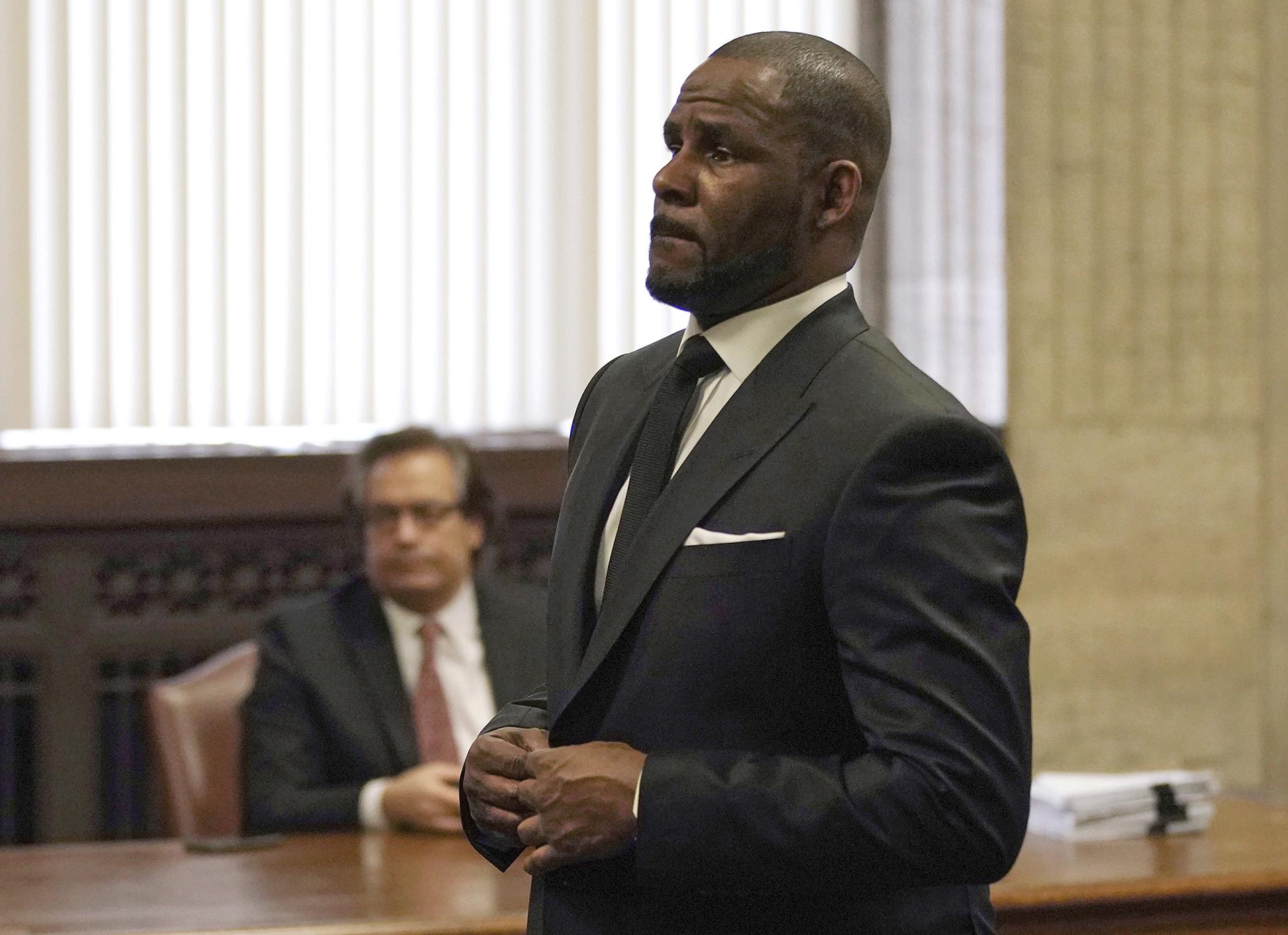 R. Kelly appears for a hearing at the Leighton Criminal Court Building on Friday, March 22, 2019 in Chicago. (E. Jason Wambsgans / Chicago Tribune via AP, Pool)
The alleged victim at the heart of two separate R. Kelly child pornography trials testified Thursday that the R&B superstar began pushing for a sexual relationship with her just weeks after she became his goddaughter when she was just 13 years old. 
The woman — now 37 and identified in court only under the pseudonym "Jane" — is one of the main witnesses at the center of the government's latest case against Kelly. She testified that she is the 14-year-old girl who appeared in child pornography videos Kelly allegedly produced that led both to his 2008 trial in Cook County and his current trial at the Dirksen Federal Building in downtown Chicago.
On Thursday, "Jane" recounted how she first met Kelly, how their relationship grew and how he allegedly sexually abused her "hundreds" of times while she was a minor.
"Jane" told jurors she was in a musical group with her cousins in the mid-1990s and first met Kelly during a gospel concert in her church when she was 12 or 13 years old.
"I was excited," she said. "I knew who he was as an artist, I knew his level of success … I was just excited like every other fan in the room."
Kelly and "Jane" continued seeing each other in the ensuing months, in meetups coordinated by the girl's aunt, who was in a relationship with Kelly. That aunt eventually encouraged her when she was 13 years old to ask Kelly to be her godfather by sitting in his lap and "rubbing his head."
"Jane" testified that she did, and he agreed.
"He was just a person I looked up to," she said. "I thought it was a good idea at the time."
But within weeks, Kelly allegedly began pushing for a sexual relationship with the girl. This began with phone sex, "Jane" testified, but later expanded into physical sexual abuse when she was 14 and 15 years old.
Kelly also allegedly encouraged "Jane" to recruit her other underage friends, identified under the pseudonyms "Pinky" and "Brittany," to engage in sexual encounters with him.
Asked how many sexual encounters she had with Kelly while she was between the ages of 15 and 18, "Jane" first said the number was "uncountable," but then estimated the total was in the "hundreds."
"Jane" wiped away tears as she described three separate video recordings she reviewed before trial, which she said depict her and Kelly engaging in sex acts inside Kelly's former George Street home while "Jane" was a minor.
"Did Mr. Kelly ever record you two engaged in sexual activity?" Assistant U.S. Attorney Jeannice Appenteng asked her.
"Yes," she replied.
When asked when that began, "Jane" said it was when she was 14 years old.
"Jane" admitted that she later lied to investigators, both from the Department of Children and Family Services and the Chicago Police Department about her relationship with Kelly, stating that she was scared of what could happen to her or Kelly if that information went public.
"Again, I just, it was embedded in me that this could never come out," she testified.
She also testified that she lied about her sexual relationship with Kelly while under oath when questioned about it before a Cook County grand jury in 2002, denying that she'd had sex with Kelly or that she was involved in any videos.
When asked why, "Jane" responded: "Because I was afraid to expose Robert. Because I was afraid of what might happen to my parents. I also did not want that person (on the video) to be me. … I was ashamed."
"Jane" admitted she was testifying in the current trial under an immunity deal with the government to avoid being prosecuted with perjury.
Federal prosecutors have said "Jane" didn't testify at that 2008 trial because Kelly and his associates hid her and her family away from law enforcement. Kelly was ultimately acquitted in that case. "Jane's" testimony and the illicit videos in which she allegedly appeared are expected to be key parts of the government's case against Kelly in his current trial.
Kelly was charged in 2019 on allegations that he sexually abused five separate minors and recorded some of those acts on video. A superseding indictment filed the following year added a sixth alleged victim.
Two former employees of the singer's music business, Derrel McDavid and Milton Brown, are also charged with conspiring to conceal evidence to obstruct law enforcement during the investigation that preceded Kelly's 2008 child porn trial in Cook County. He was acquitted in that case.
According to prosecutors, Kelly and McDavid paid an acquaintance hundreds of thousands of dollars beginning in 2001 to collect those videos and cover up their existence. When that acquaintance later planned to hold a news conference to announce he had the videos, Kelly, McDavid and others allegedly paid him approximately $170,000 to cancel the event.
Prosecutors further allege Kelly and McDavid paid one of the minors and another individual to help recover and return the videos.
Kelly's attorney Jennifer Bonjean has called her client's accusers "liars" and "extortionists" and said in her opening statements that "Jane" and her parents for years denied that she had any illicit sexual relationship with Kelly. 
Retired Chicago police Detective Daniel Everett kicked off the testimony Thursday morning, where he discussed interviewing "Jane" and her parents in late 2000 following an anonymous allegation that Kelly was sexually abusing her.
On cross-examination, Everett testified that "Jane" stated repeatedly that no such relationship existed.
"She denied it completely, right?" McDavid's attorney Beau Brindley asked.
"That's correct," Everett responded.
Everett said he received a videotape from reporter Jim DeRogatis that purportedly showed illegal sexual activity between Kelly and "Jane," portions of which he reviewed this week. Brindley questioned whether that video and the one he reviewed this week were actually the same, noting that the original was on a VHS tape, while the other video was played on a disc.
A second witness testified he bought a Lakeview home in 2001 that Kelly had previously owned. He said he found a camera disguised inside a non-functioning smoke detector and a locking bedroom door that required a button to be pressed in order to open it.
"Jane" is expected to continue testifying Friday when the case resumes.
Contact Matt Masterson: @ByMattMasterson | [email protected] | (773) 509-5431
---