Located along the shores of Lake Michigan, Waukegan is about 30 miles north of downtown Chicago. It's recently become a hub for Planned Parenthood doctors traveling from Wisconsin to treat their patients since that state halted abortions after the Supreme Court overturned Roe v. Wade.
Interactive map: More from our community reporting series
Dr. Allison Linton has been traveling once a week to Waukegan to treat her patients, who, she says, cross the state line for various health services throughout the day.
Linton said the past month has been tough but she is grateful for the partnership between Planned Parenthood of Illinois and Wisconsin to provide abortion access.
"We focus so much on the patients that are traveling from the restricted states and that's certainly important when I think about the patients having to cross state borders for health care. At the same time this impacts all patients," Linton said. "This is impacting patients in Illinois as well. Patients who previously had access to abortion in their own state those services are scare because there's more people coming out of state and utilizing those services." 
Waukegan Mayor Ann Taylor said Illinois is, and will continue to be, a pro-choice state, with Waukegan following in those footsteps. 
"Having that option for women to come here and to have whatever procedure they need to have done is very important," Taylor said. "Planned Parenthood is a very big part of our neighborhood in terms of other educational programs as well."
Taylor is the first female mayor of Waukegan and hopes to be an example for other women.
"I want women to come out and follow in my footsteps in the future and to understand that we're important in politics. Our voices matter," Taylor said. "I'm so proud to be the first woman [mayor] of this city."
Video: Watch our full interview with Ann Taylor
---
Waukegan is about 20% African-American and about 52% Latino, with many community organizations for its residents.
HACES is a nonprofit organization in the area providing immigration services primarily to Spanish speakers. 
According to founder Maria Elena Jonas, years ago, people had to travel to Chicago to find services. Now HACES is assisting residents in the community with citizenship, legal services, and a variety of educational classes.
Over the years, Jonas said the Latino community has become more involved, especially the younger generation.
"Two of my workers here – they just graduated from college and for the first time ever I heard, 'I want to do more... I want to learn more, to do more for my community,'" Jonas said. "I'm like 'yes come, let's talk and we'll give you the resources you need to give you more knowledge.'"
There's also a big push for healthier food options in the pockets of Waukegan that are considered to be food deserts.
Greentown Grows is a grassroots organization where residents come together to tend to the Madeline Fuqua Garden, which provides fresh vegetables to the community. Area businesses and organizations have teamed up with the organization, with one program helping families build a garden in their own backyards.
"We take referrals from area organizations and we work with families," said Linda Belles, executive director of Greentown Grows. "We install a garden and we have someone who will mentor you along the way…we have had that mentorship going on for three years now."
Further down Grand Avenue, Waukegan to College is helping first-generation students attend college. Founded in 2099, the organization assists students whose parents didn't get the opportunity to attend college and helps students and families navigate the school system from fifth- to 12th-grade.
"This year 100% of our high school seniors in our class of 2022 were admitted to college and almost all of them have full financial aid," said Lauren Jilles-Johnson, chair of Waukegan to College. 
Aliyah Plummer is the first member of her family to attend college and said she started the program in high school. She now attends the University of Illinois-Springfield.
"I don't know where I'd be without this program. I don't know if I would've attended college and dropped out," Plummer said. "I would say this program is absolutely essential because they provide you with the resources that you never thought were there, how to be independent, and how to use where you grew up from and your own culture to be successful in your careers." 
There's also been a new wave of developments coming to Waukegan. Locals say they're pushing for new entrepreneurship and business opportunities.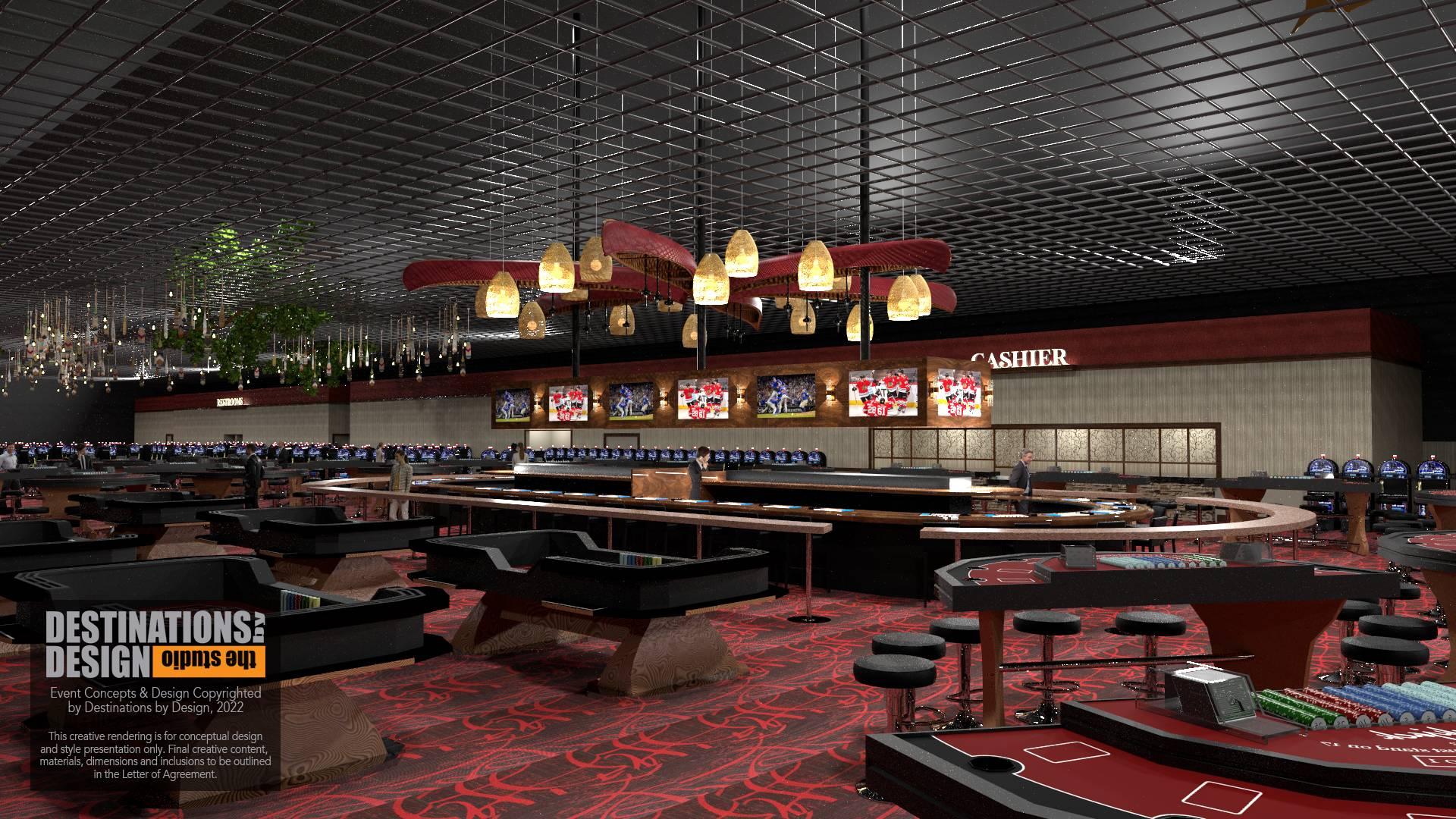 The Temporary by American Place Casino is expected to open by mid-November. (Courtesy: Destinations by Design)
Construction for The Temporary by American Place is already underway with plans to open this fall, while the permanent casino is expected to open by the end of 2025.
Chief Operating Officer John Ferrucci of Full House Resorts says they expect to provide up to 1,000 jobs, while working with the community.
"We're having a career fair where we are introducing ourselves to people in the community who are looking for careers with the company that is just getting started," Ferrucci said. "They can come with us to be on the ground floor and grow with us as we grow and so of that 800 people we hired 100 this week. Just by telling people to come in and talk to us."
The job fair runs through Saturday along White Oak Drive.
Elizabeth Thielen, senior director of Nicasa Behavioral Health Services, says that anytime there's an expansion of gambling in the community, it's important for people to raise the questions: "What does this mean for me, for us?"
"If we're looking to maximize the benefits, the only way to do that is to minimize problem gambling." Thielen said. "We've been the only treatment provider in Lake County since 2002 and have individual, family, as well as group counseling."
Thielen shares that there's always been a need for gambling services in the community, even without a casino. 
"(Gambling) is all around us, it's even on our phones," Thielen said. "If somebody does choose to gamble, it's important they can look at their own risk factors and decide 'Is this for me?' If they choose to do it, to ask how they can be safe … (and) more importantly, to know where they can turn for help.'"
Video: Watch our full interview with Elizabeth Thielen
---
Community Reporting Series
"Chicago Tonight" is expanding its community reporting. We're hitting the streets to speak with your neighbors, local businesses, agencies and leaders about COVID-19, the economy, racial justice, education and more. See where we've been and what we've learned by using the map below. Or select a community using the drop-down menu. Points in red represent our series COVID-19 Across Chicago; blue marks our series "Chicago Tonight" in Your Neighborhood.
---