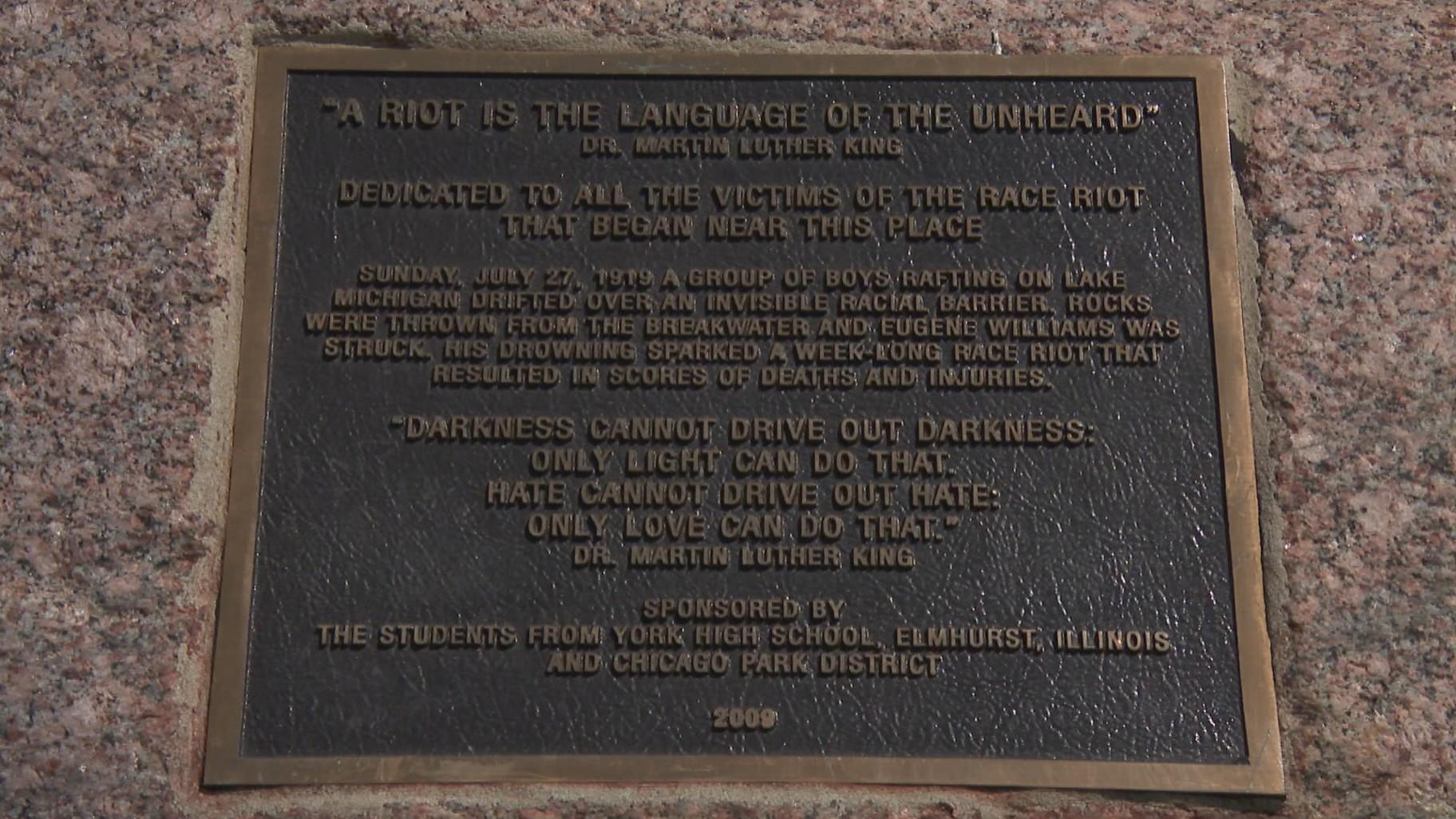 The Eugene Williams memorial marker at 31st Street beach. (WTTW News)
On July 27, 1919, 17-year old Eugene Williams was stoned to death by a White man named George Stauber after unintentionally swimming over to the "Whites only" section of Lake Michigan at 31st Street.
His death sparked outrage across the city, leaving 38 dead, 537 injured and 2,000 displaced after one week of riots. This public outrage marked what is now known as the Chicago Race Riot of 1919, or the Red Summer of 1919.
This Wednesday, the Lookingglass Theatre Company will honor Eugene Williams at 31st Street Beach with an artistic ritual.
"We have this group of remarkable artists that will come together here at the Eugene Williams Memorial Marker at 31st Street Beach," said J. Nicole Brooks, Mellon Playwright in Residence. "As the sun is going down, a selection of artists will pay tribute to Eugene Williams, and all of the Black lives that were affected during the 1919 race riots. So this is a chance for the community to come out and lay a flower and to breathe and to dance and to beat back the spirits."
Brooks said people from every neighborhood are welcome.
"Yes the event affected Black lives, but defeating White supremacy is not a Black and White issue," Brooks said.
Brooks' tribute to the life of Eugene Williams extends beyond this annual commemoration. In 2020, she and Kareem Bandealy, artistic producer of new work at the Lookingglass Theatre Company, created a short film at Williams' memorial marker to bring awareness to what she describes as one of the most tragic American stories. 
"At the time, we couldn't gather in person because of the pandemic, so we decided to make a short film," Brooks said. 
"We made it at the marker because we wanted to get the message out about this important part of Chicago history. At the time, were experiencing the uprisings and unrests from the George Floyd's murder," Brooks said. "At that point I pledged as an artist, as a Chicagoan, as a writer, that each year of my life, I wanted to make a piece of art commemorating the 1919 Race Riots, while also uplifting a community that has survived decades of segregation. Whether it was here at Lake Michigan or inland in terms of how we all live. So we made this short film called 'Sunset 1919,' and the next summer we gathered in person." 
That free annual gathering will continue this Wednesday, July 27, at sundown.
Performances include spoken word from artist avery r. young, movement by choreographer Cristal Sabbagh and music by DJ Lady D and Composer Edward Wilkerson Jr.
"Sunset 1919" can be viewed on YouTube.
---