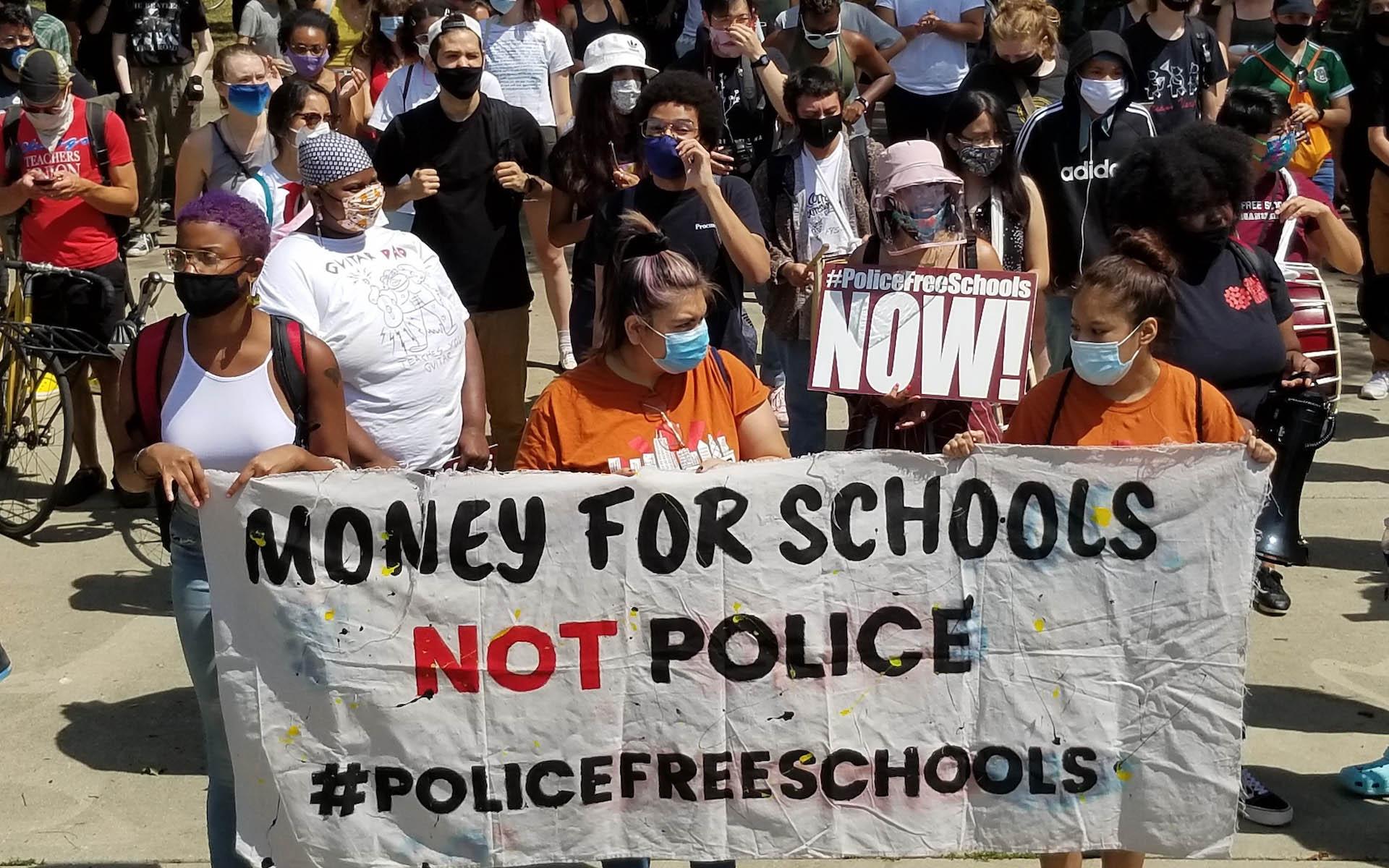 Youth activists organized a peaceful march to Mayor Lori Lightfoot's home on Aug. 13, 2020 to demand the removal of resource officers from Chicago Public Schools. (Matt Masterson / WTTW News)
Education officials this week will once again decide whether some of Chicago's public high schools can keep resource officers in their buildings for the upcoming school year.
The city's Board of Education on Wednesday will vote on a one-year, $10 million contract renewal with the Chicago Police Department that would allow it to provide school resource officers (SROs) in several Chicago high schools.
"SROs will maintain a visible presence in and around the designated schools and have positive student interactions," an item on the board's monthly agenda states.
If approved, the intergovernmental agreement would run from Sept. 1 until Aug. 31, 2023.
The school district's SRO program has become increasingly contentious in recent years, particularly as many in Chicago and across the country began rethinking policing strategies following the murder of George Floyd by Minneapolis police in 2020.
Since then, several local school councils have voted to pull the SROs from their buildings. According to CPS, 17 high schools voted to keep both their SROs for the upcoming school year. That represents 36 total officers due to the two campuses at Taft High School. The district said 23 other schools voted to keep one SRO while one school voted to remove both SROs.
"Chicago Public Schools prioritizes the safety of its students and staff and CPS remains fully committed to ensuring that all students have access to safe and supportive learning environments, while also reducing the school-to-prison pipeline and engaging in restorative practices that better support students," a district spokesperson said in a statement Monday.
As a result of those declines, the cost of the contract has repeatedly dropped, falling from $33 million in 2019 to $11 million in 2021 and now just over $10 million this year.
While the board has approved similar contracts in recent years, it has done so through split votes, with some members ​​citing concerns over the school-to-prison pipeline and a disproportionate negative impact SROs can have on Black students and those with disabilities.
CPS has retooled those agreements to better define an SRO's responsibilities and to give school leaders more control over the officers in their buildings.
For instance, while CPS recommends candidates for placement at a school, principals can interview and ultimately reject those candidates. SROs also must undergo training on numerous issues including: youth development, disability and special education issues, implicit racial bias and how to interact with various student groups.
The contract forbids SROs from getting involved in routine school disciplinary actions, and only allows them to transport students in CPD vehicles when the student is under arrest or if "some other emergency circumstances exist." SROs will also be prohibited from entering any student information into the CPD's Criminal Enterprise Information System, previously known as the gang database.
Wednesday's board meeting is scheduled to begin at 10:30 a.m.
Contact Matt Masterson: @ByMattMasterson | [email protected] | (773) 509-5431
---