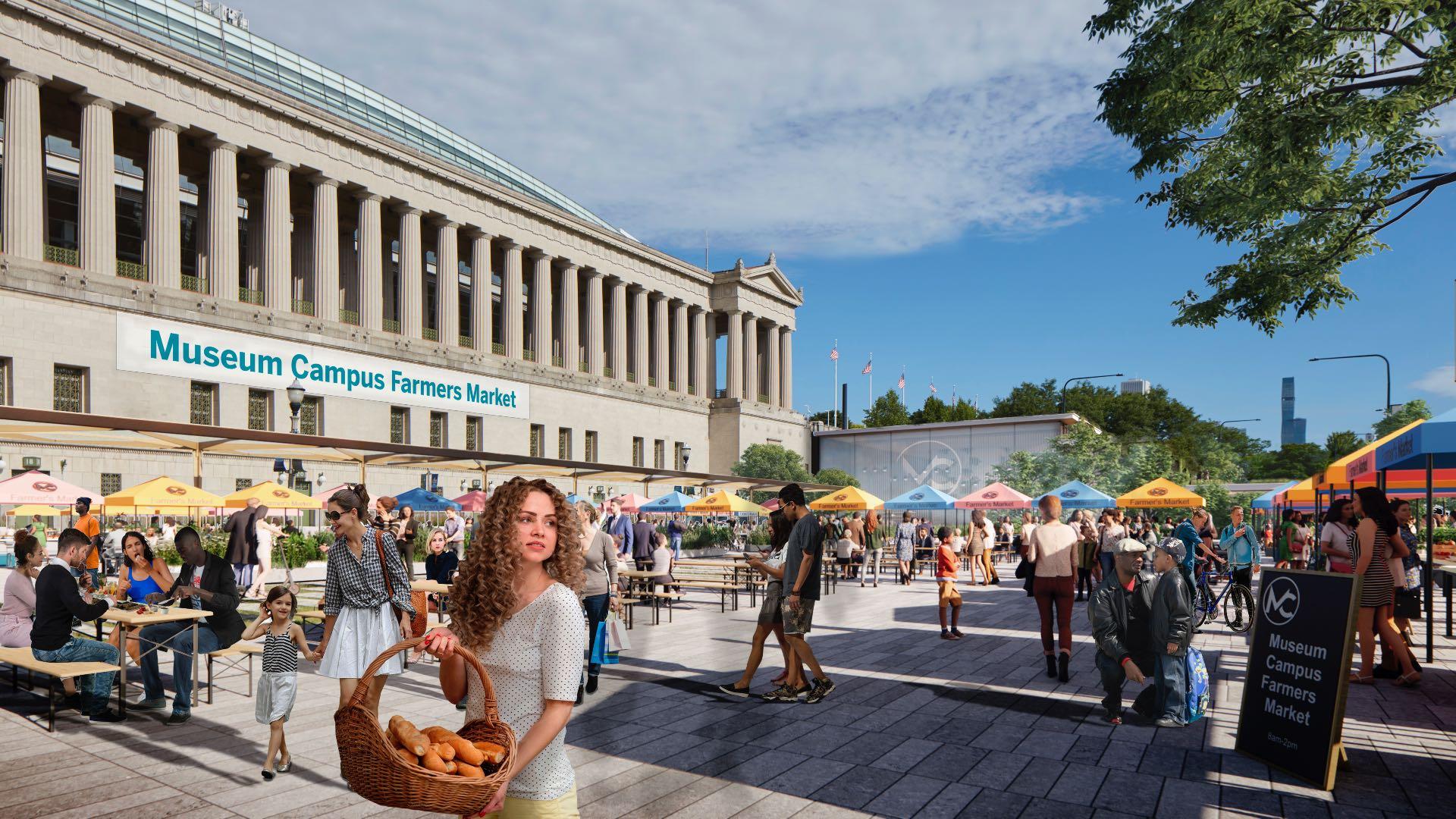 Finding uses for Soldier Field's plazas beyond gameday was one recommendation from the Museum Campus working group. (City of Chicago)
Chicago's Museum Campus is often referred to as the city's crown jewel.
There are, to be sure, individual gems within the campus, said Jerry Adelmann, CEO of Openlands, but as a whole, the site is fragmented, lacks a cohesive story, can be difficult to navigate and in some of the more neglected areas isn't particularly attractive.
Which is why, in February, Mayor Lori Lightfoot convened a working group to analyze the campus' flaws and assets and propose a vision for the future, one that would burnish the site's reputation as an essential destination for tourists and a hub for residents. Now, five months later, the group has released its report, "Where Worlds Connect."
Recommendations include bringing elements of the museum experience outdoors; adding amenities like a seasonal skating rink; developing non-gameday uses for Soldier Field's plazas, including a farmers market; improving transit connections for buses, trains, bikes and pedestrians; increasing signage and creating distinctive north and south gateways; and exploring an on-campus shuttle (or "circulator") to move people between far-flung locations on the 300-acre site.  
Though the report's suggestion that the city should consider conducting a study into the feasibility of popping a dome atop Soldier Field has grabbed the most attention, the real headline, Adelmann said, should be the way nature was centered within the plan.
There are, for starters, no new structures included in the report due to the advocacy of Adelmann and Juanita Irizarry, executive director of Friends of the Parks and fellow working group member.
"We had to remind people about the public trust doctrine quite a lot," Irizarry said, referencing a law that bans any new construction east of DuSable Lake Shore Drive unless it's for public, not private, benefit. 
"Certainly, there were interests that would have created new structures. We reminded people about our willingness to sue," said Irizarry.
Instead, the working group threw its support behind the notion of the campus as an "urban nature retreat," which was one of five overarching themes contained within the report.
Key recommendations include restoring native ecosystems, developing a Great Lakes Climate Lab, "greening" or incorporating nature into impermeable surfaces, and finally fulfilling the original vision for Northerly Island.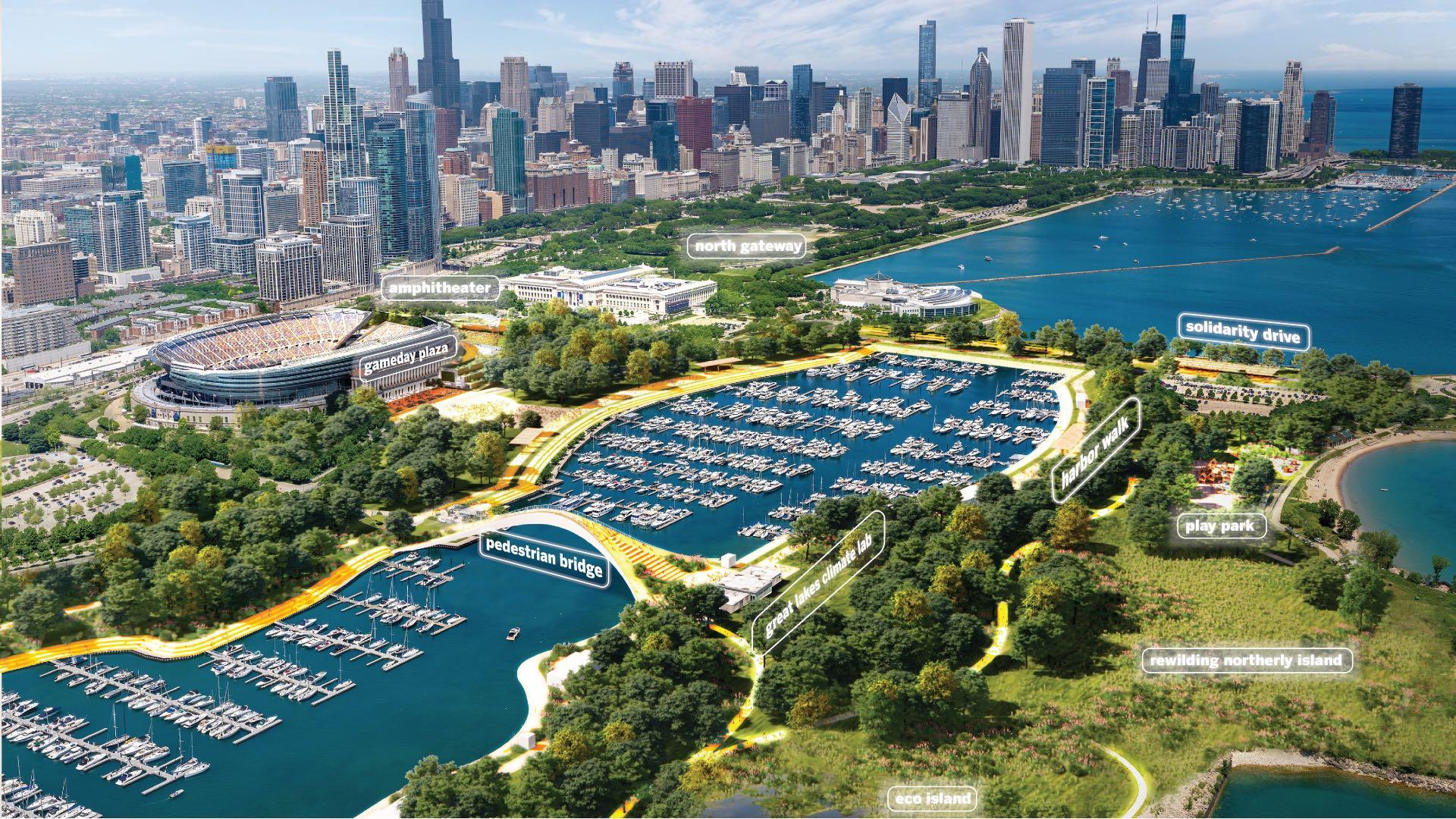 A proposed pedestrian bridge would improve access to Northerly Island. (City of Chicago)
Northerly Island is a manmade spit of land originally envisioned as a nature haven in Daniel Burnham's 1909 "Plan of Chicago." But for 50 years, the island was home to Meigs Field airport, and though it was returned to parkland in 2003, the island has struggled to realize its potential as a lakefront oasis.
The working group addressed issues of accessibility by proposing a pedestrian bridge and also recommended relocating Huntington Pavilion, a "temporary" concert venue at the north end of the island. The report cites the need "to resolve the contradictions in Northerly Island's use as both a concert and nature destination," with the pavilion obstructing visits to the more natural areas of the park.  
To prevent ongoing erosion, which has significantly damaged the island's eastern edge, the working group also recommended follow-through on a 2011 solution developed by Studio Gang: construction of barrier reef islands in Lake Michigan. The reef would lessen the force of destructive waves, while also having the added benefit of creating a lagoon for kayaking and snorkeling. 
The working group even envisioned a way to put Northerly Island's past life as an airfield to good use. The former Meigs Field terminal could be adapted into a Great Lakes Climate Lab.
Picture an environmental learning center, Adelmann said, where the public could attend programs, study plants and birds, stargaze at night and check out experiments on sustainability. It would also provide a space, he said, where Museum Campus institutions could come together to collaborate not only with each other but also with other academic and advocacy organizations on conservation projects.
"It would reposition Chicago as a leader, globally, in addressing climate change," he said.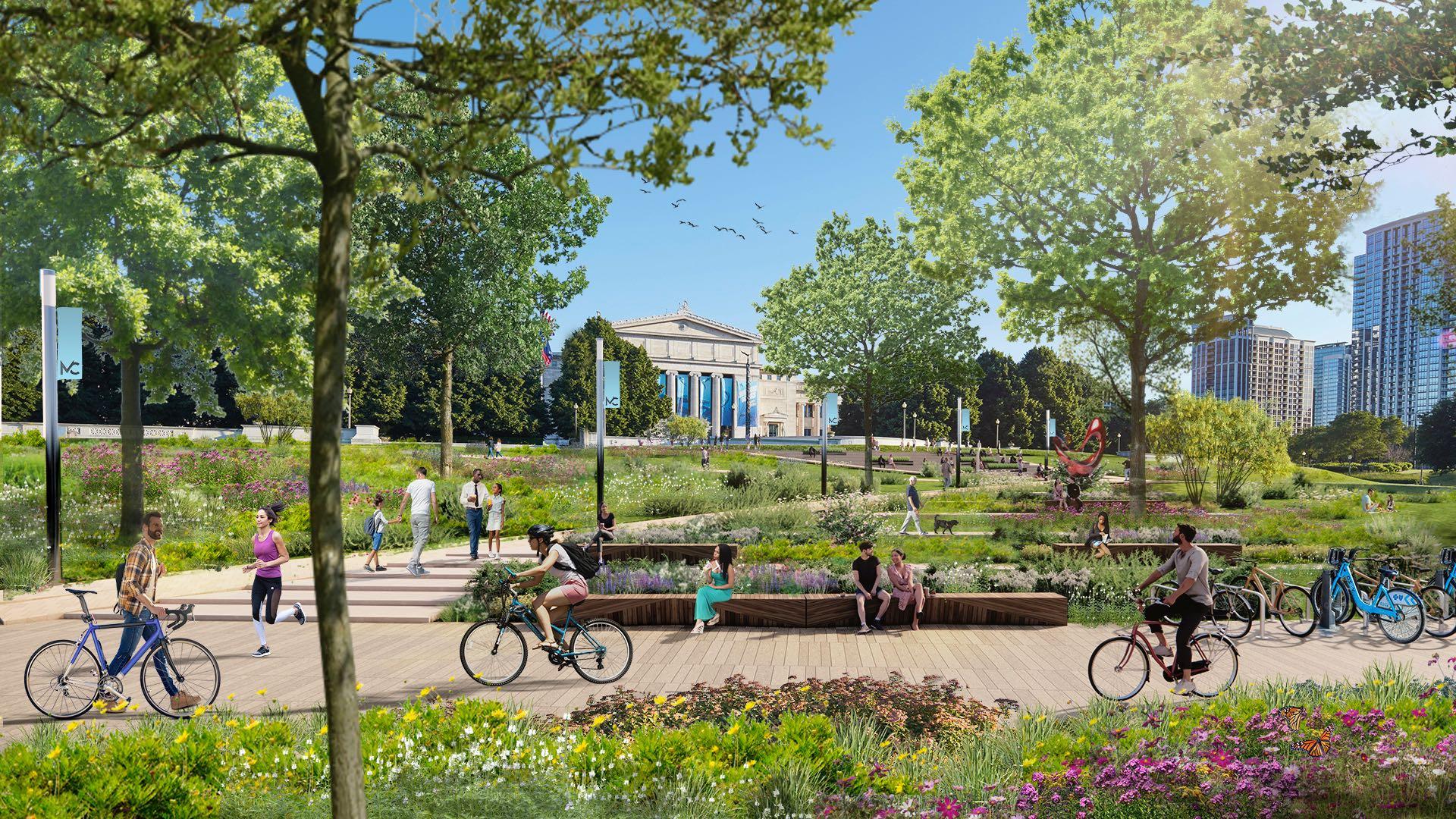 Native plantings would unify the Museum Campus, as seen in this vision of a proposed northern gateway. (City of Chicago)
The 300-acre area considered by the working group encompasses entities from the Field Museum to McCormick Place Lakeside Center, Burnham Harbor to Adler Planetarium, and Shedd Aquarium to Soldier Field, each with its own distinct footprint.
The working group proposes connecting all these disjointed sites through a unifying landscape of native vegetation, termed "rewilding" by Adelmann for lack of a better word.
"Not to the exclusion of grass," Adelmann said, adding there will still be spaces for people to toss a Frisbee disc or to sit and enjoy a picnic. "But everywhere that it's appropriate, we'll replace grass and concrete with native plants. It's an extraordinary opportunity to bring nature back to our city."
The Field Museum has already been moving in that direction with the landscaping on its grounds, and the Shedd Aquarium is following suit, Adelmann said. What "Where Worlds Connect" calls for is a more coordinated approach among campus institutions and the Chicago Park District.
While by no means inexpensive, converting grass to natives could be a relatively simple, affordable and high-impact improvement compared with some of the report's larger-scale, longer-term infrastructure recommendations, he said.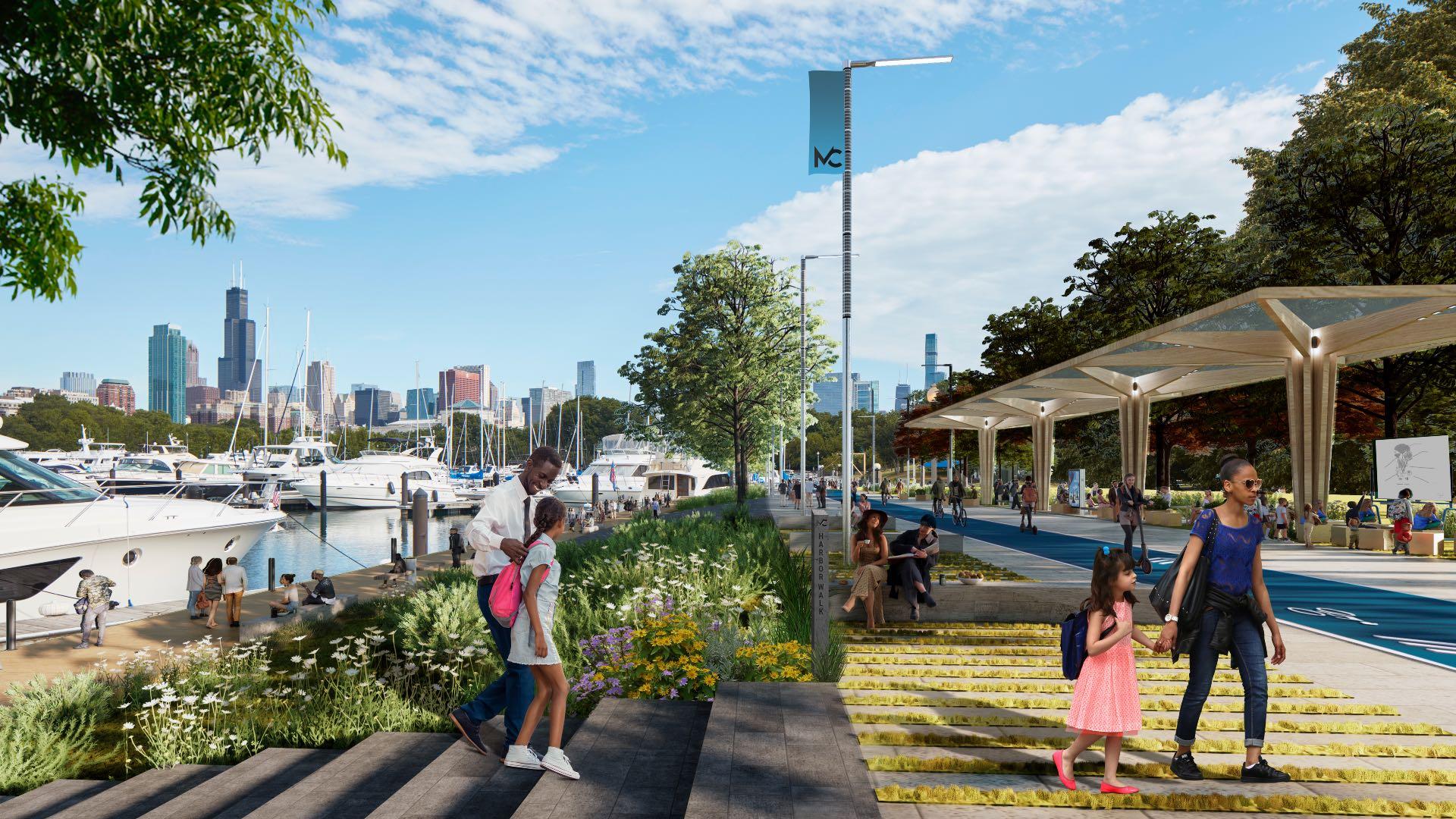 A rendering of a proposed walkway at Burnham Harbor demonstrates permeable pavement options. (City of Chicago)
The working group also tackled what's sure to be a contentious issue: parking.
For most people zooming past the campus in their cars on DuSable Lake Shore Drive, it's easy to miss how much of the site is devoted to surface parking lots. 
But Irizarry knows it's there. All that pavement is a sticking point for Friends of the Parks, a reminder of a broken promise from Mayor Richard M. Daley that the Chicago Bears lot would be moved west of the drive as part of a 1998 reconfiguration of the campus. 
Irizarry is particularly excited that the "greening" of Museum Campus parking areas and the minimizing of surface parking were included among the working group's goals.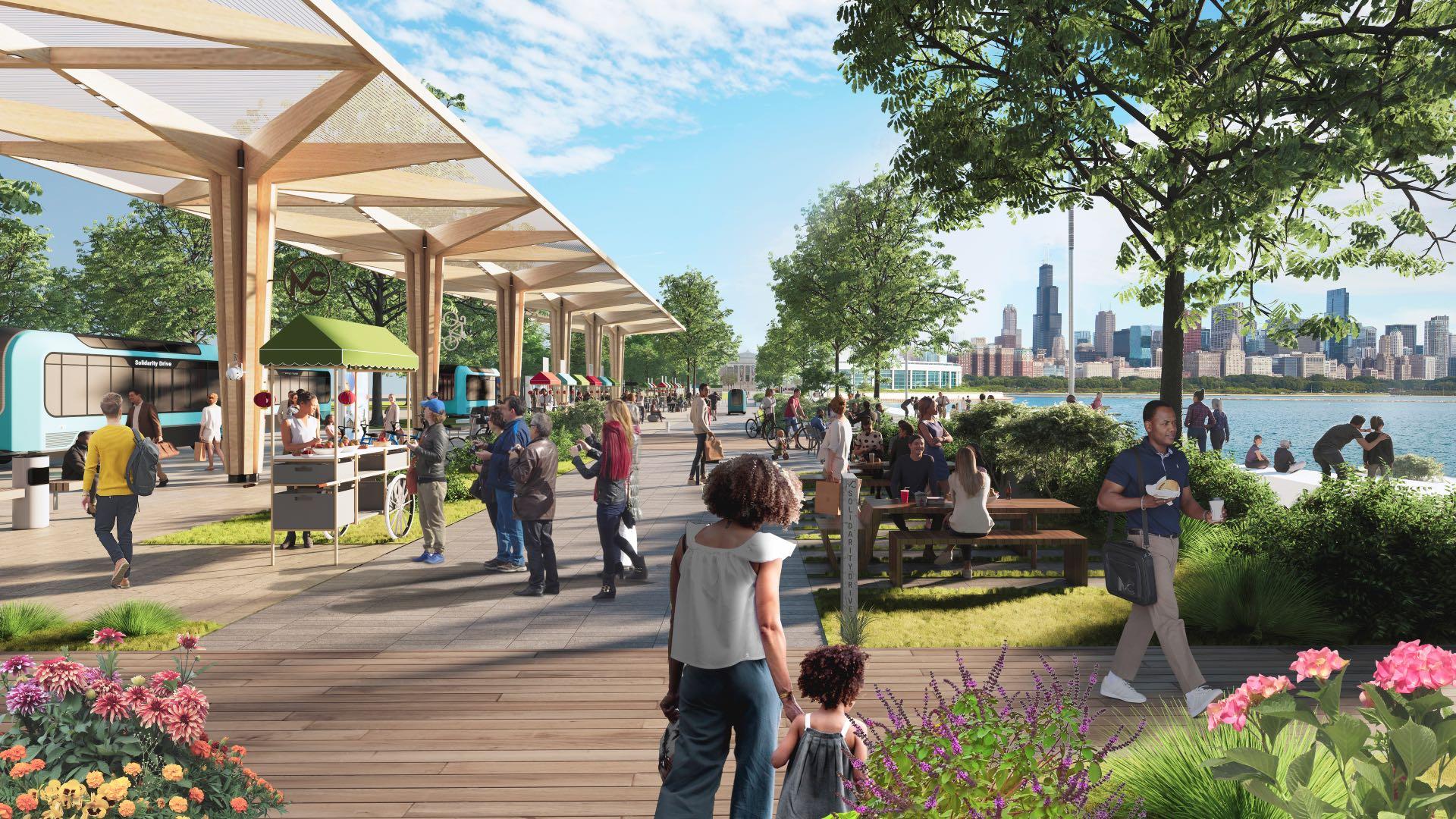 Solidarity Drive runs between the Field Museum and Adler Planetarium. It boasts some of the most stunning views of the Chicago skyline, but currently serves as little more than a traffic turn-around. The Museum Campus working group envisions a far more attractive, pedestrian-friendly alternative. (City of Chicago)
As the report noted, half of the Museum Campus area is occupied by non-permeable surfaces — parking, roads, paths and sidewalks. "This presents an ecological challenge by raising the amount and rate of stormwater runoff, interrupting the natural flow of local water sources and soil absorption, and thus increasing pollution," the report states. "While parking capacity on-campus is fully utilized during large sporting events, day-to-day utilization is much lower for most of the year."
Conversations about rethinking parking needs have already begun, according to Irizarry. Solutions could be to create remote lots and run free shuttles to the campus, or to better configure parking needed for major events.
What parking does remain should be resurfaced with more permeable options, a recommendation from the working group that "makes us sing," Irizarry said.
As for that much talked-about dome on Soldier Field, Irizarry said Friends of the Parks only signed off on the working group report because the document's wording referenced a "study" of the dome. If it had recommended a dome outright, the organization would have balked, she said.
"Who's going to pay for that?" she asked. If it's public dollars, that's money the city should be spending on repairing park facilities on the South and West sides, according to Irizarry. "Things in the plan that call for further study, we will be there to keep talking."
The Museum Campus lacks signage or other indicators of the site as a distinct destination. Gateways on the north as south (depicted) would create a greater sense of place. (City of Chicago)
Contact Patty Wetli: @pattywetli | (773) 509-5623 |  [email protected]
---