Should McCormick Place East be transformed into a casino, or demolished and replaced with a nature sanctuary? Does Soldier Field need to be relieved of its "space ship" addition and returned to its original state, or upgraded with a retractable roof and more VIP amenities? 
When it comes to reimagining Chicago's 57-acre Museum Campus, a task now assigned to a working group appointed by Mayor Lori Lightfoot, these are just some of the questions likely to come under consideration.
With the process barely underway, anything and everything is on the table at this point. Everything except new buildings.
Jerry Adelmann, CEO and executive director of Openlands, and Juanita Irizarry, executive director of Friends of the Parks, are among the working group's 23 members, representing the interests of green space advocates. The pair are in agreement that the group's north star needs to be the Lakefront Protection Ordinance.
The law, which has been on the books since 1973 — not, as many commonly believe, since the days of Montgomery Ward — largely prohibits new building construction east of DuSable Lake Shore Drive. Not even George Lucas could clear the bar the ordinance sets for new development on the lakefront.
"Our bottom line is there absolutely cannot be any construction east of DuSable Lake Shore Drive," said Irizarry. "If it's east, we will make sure the public trust doctrine is called upon. It has to be in the public interest over private benefit."
Adelmann, who was tapped by the mayor's team to lead the working group's subcommittee on open space and recreation, said he was up front about his stance before accepting the position. 
"If the consensus is 'new this and new that,' I'm not endorsing something against our (Openlands) mission," Adelmann said. "Proposals might have merit, but you've got to draw the line."
Apart from that not insignificant caveat, Adelmann and Irizarry said they are excited to see where the process leads. There's great potential, they said, to enhance habitat, increase accessibility and strike a balance between economic and conservation interests.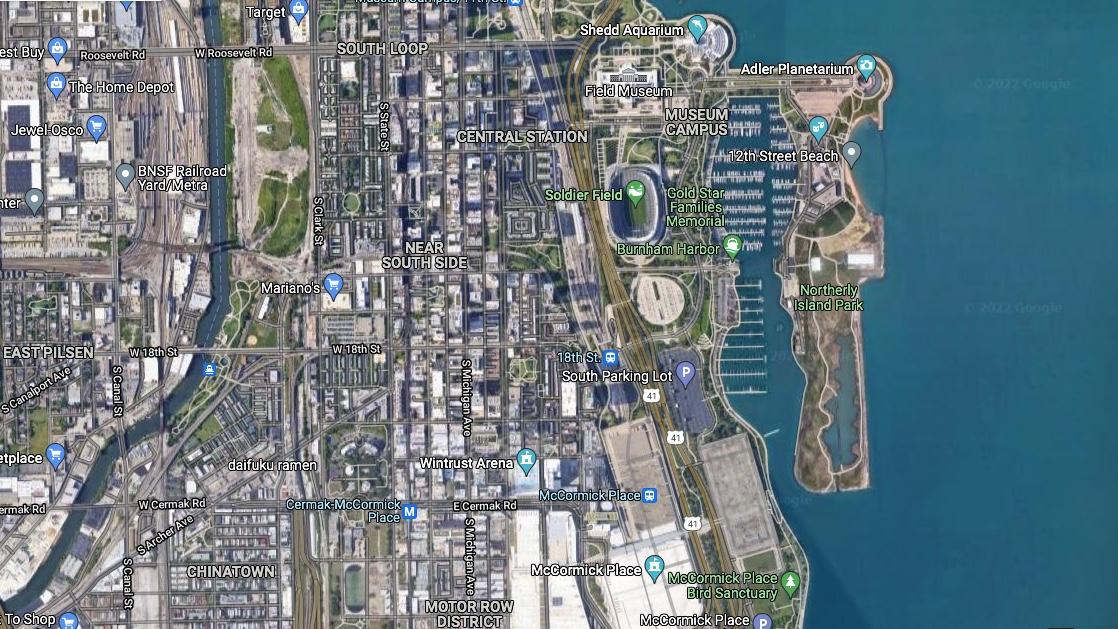 The current configuration of the Museum Campus dates to 1998. (Google)
Chicago has been reimagining its lakefront for as long as the city has existed. Seemingly every era brings a fresh search for new ways to make the most of what's arguably Chicago's greatest asset. 
The Museum Campus, for example, took its present shape in 1998, when DuSable Lake Shore Drive was reconfigured to unite the Field Museum with the Shedd Aquarium and Adler Planetarium.
A promise unfulfilled at that time was an agreement made by then-Mayor Richard M. Daley to move the Chicago Bears parking lot west of the drive and develop a more park-like area in its place.
"Clearly, we do not see grass there," said Irizarry. "That part of the plan was never realized and this is a good time to revisit that conversation."
Daley's fingerprints can be seen on another area of the campus that's problematic for a different reason: In this case, he added green space that the design hadn't anticipated when, in 2003, the former Meigs Field was bulldozed and later transformed into Northerly Island Park.
"It remains difficult to access," Irizarry said of the park, a problem, she noted, that's largely due to the fact Meigs was never intended to be a public attraction. Integrating Northerly Island with the rest of the campus, as well as improving transportation overall, not just to the park, are issues the working group is well positioned to tackle, she said.
From Adelmann's perspective, there are further lessons to be learned from Northerly Island. Namely that the spot, as challenging as it can be to reach, has become a magnet for birders. 
An estimated 60 million Americans take part in bird watching, making it one of the country's biggest recreational activities, he said, and they stay in hotels and eat in restaurants just like every other tourist. So when new "amenities" are being considered for the Museum Campus, nature itself as a draw should be at the top of the list, a unique lure that shouldn't be discounted, Adelmann said.
"What other city has at its front door the best bird watching?" he said. 
The trick will be meeting the working group's charge to "activate" the campus year-round while also accommodating people who head to the lakefront to escape the frenzy of an urban setting, Adelmann said, and consideration needs to be given to wildlife who rely on the lakefront for habitat, as well. The museums have already stepped up on that front, reworking their landscaping to incorporate native plants friendlier to pollinators.
This tension, between the "active" and "passive" recreation camps is nothing new, Irizarry said, and it will be up to the working group to mediate between the two.
"Certainly tourism does not have to mean that there's a carnival on the lakefront," she said.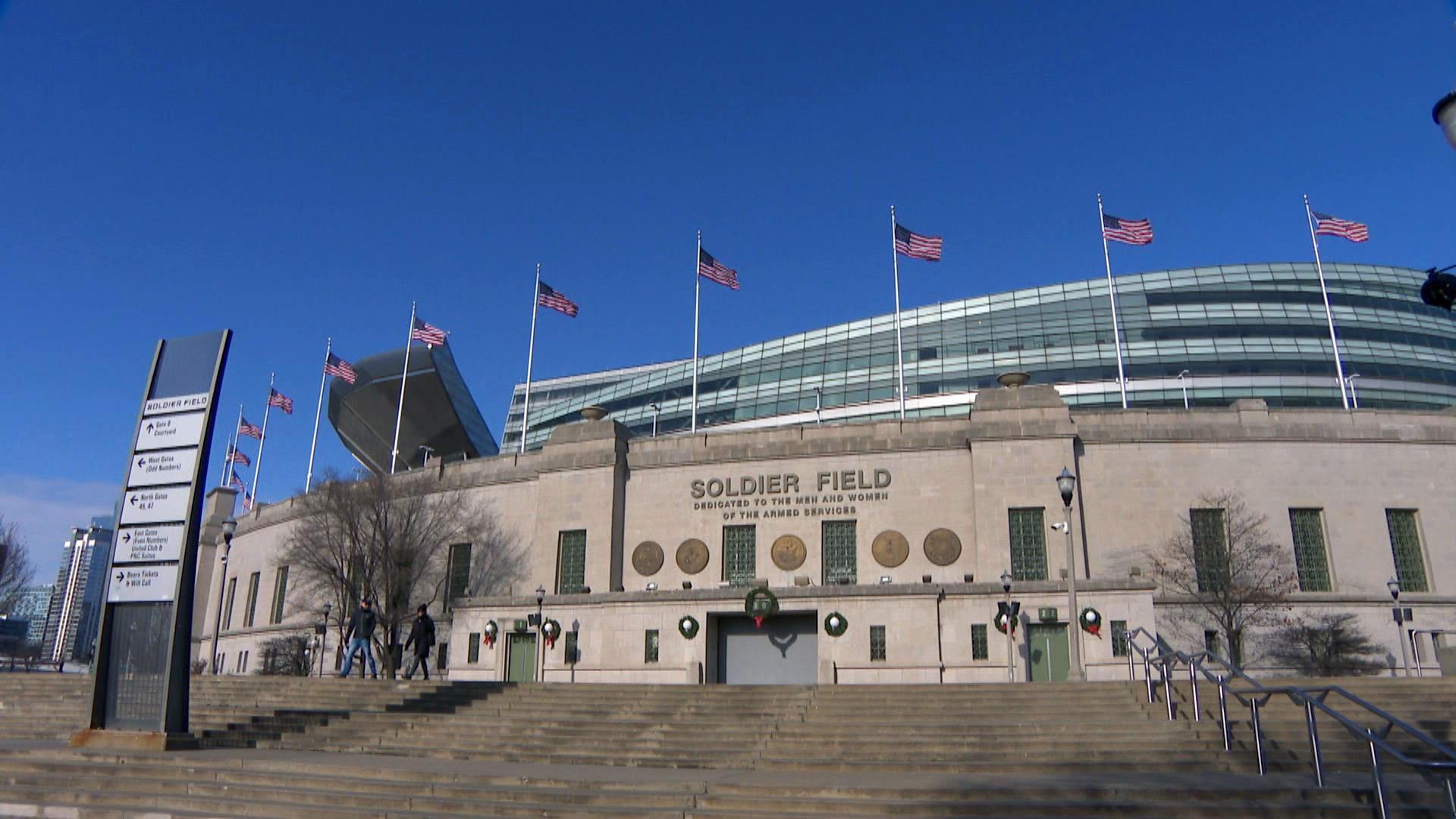 The Bears parking lot was to have moved west back in 1998, and replaced with green space. The new Museum Campus working group could revisit that conversation. (WTTW News)
Of the many task forces, commissions and committees convened over the years to create a vision for the lakefront, the current working group faces one variable its predecessors didn't.
Climate change.
It's the topic that should underpin every one of the working group's conversations, Adelmann said.
"It's huge," he said. "We've got to understand those dynamics."
Rising and falling lake levels, as well as an increase in the number and intensity of severe storms prompted the Army Corps of Engineers to recently announce funding for a comprehensive study of Chicago's lakefront and how best to prevent future erosion and property damage. 
Any discussions about the Museum Campus have to take those issues into account, said Adelmann, whether it's questioning how close to the water any given feature should be situated to creating benchmarks proposals need to meet in terms of sustainability and resiliency.
"You've got to connect those dots," he said.
Contact Patty Wetli: @pattywetli | (773) 509-5623 |  [email protected]
---