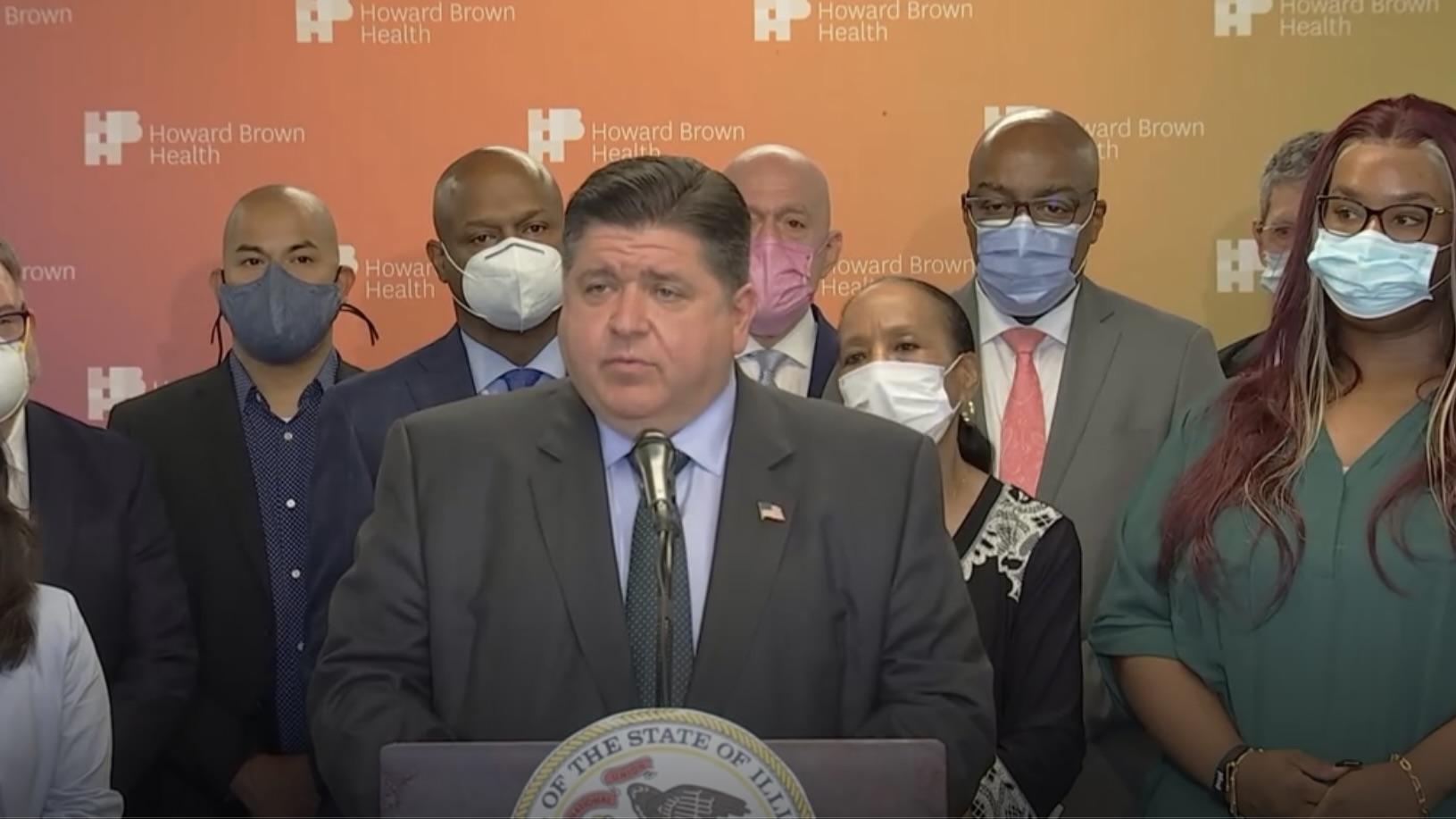 Gov. J.B. Pritzker condemns the decision by the Supreme Court to overturn Roe v. Wade on Friday, June 24, 2022. (WTTW News)
A special session of the Illinois General Assembly called by Gov. J.B. Pritzker after the Supreme Court overturned Roe v. Wade, ending constitutional protections for abortion, will be delayed, officials announced Tuesday.
Abortion remains legal in Illinois, thanks to a law signed by former Gov. Bruce Rauner in 2017 that rolled back a measure that would have automatically banned abortion in Illinois if Roe v. Wade, decided in 1973, was overturned. 
The special session had initially been planned for July, but will instead take place in the "coming months," officials said.
After the Supreme Court acted on June 24, Pritzker said that he and other state leaders were "committed to taking swift action to further enshrine our commitment to reproductive health care rights and protections."
But in a joint statement on Tuesday, Pritzker, House Speaker Emanuel "Chris" Welch and Senate President Don Harmon said they need additional time to get "an acute sense of our needs and how Illinois can play an even more vital role in standing up for reproductive freedom."
During the remainder of the summer, officials will meet "to assess every possibility of what we can do and convene a special session in the coming months," according to the statement.
Likely on the agenda when the special session is eventually held will be bills designed to strengthen protections for abortion care, and to provide resources for people traveling to Illinois from states that have banned abortion. 
Lawmakers could also take up a bill that passed the Illinois House but not the Senate during the spring session that prevents state officials from disciplining doctors and nurses for providing abortion care to ensure there are enough health care professionals to handle the coming wave.
After vowing during the 2018 campaign to make Illinois a safe haven for women seeking reproductive health care, Pritzker signed a bill in 2019 declaring women have a "fundamental" right to abortion in Illinois and required health insurers to cover the medical procedure.  In 2021, Pritzker signed a bill repealing a measure that required minors seeking an abortion to notify their parents or get permission from a judge.
Illinois and Minnesota are likely to be the only states in the Midwest where abortion is legal, and health care providers are preparing for a deluge of patients from other states seeking reproductive health care.
Ed Yohnka, a spokesman for the ACLU of Illinois, said the organization urged Illinois lawmakers to take a "careful, deliberate approach" to the state's abortion laws.
The goal of the special session should be to "put in protections that are holistic, well-researched, include the voices of providers and advocates and can withstand the inevitable challenge of anti-abortion foes in Illinois," Yohnka said.
Contact Heather Cherone: @HeatherCherone | (773) 569-1863 | [email protected]
---