One of Chicago's leading art galleries has joined forces with one of the city's top rappers.
Victor Kwesi Mensah, better known as Vic Mensa, is the founder of the hip-hop collective Savemoney, which includes Chance the Rapper and Joey Purp.
Vic Mensa curated an art show in the West Loop now running at the Kavi Gupta gallery.
"Music is what's taken me around the world and it's my passion but I'm also not limited to only one form of expression," Mensa said.
His latest expression is a show called "Skin and Masks." It was inspired by Frantz Fanon, the influential 20th century thinker and author of "Black Skin, White Masks."
"It's his seminal text, and he's dissecting the psychological ramifications of colonialism and white supremacy and imperialism and all of those things, and I felt that that concept could relate well to an art show," Mensa said.
Mensa invited old friends like Hebru Brantley to contribute work.
Included in the show is a portrait of a young Emmett Till and his father, Louis Till, sourced from old photographs.
Other works chosen by Mensa reflect his interest in getting more representation on gallery walls.
"A lot of his ideology aligns with the gallery's ideology of really making things more accessible and reaching back into the community and making sure everyone's voices are heard and that everyone's individual visions are amplified,"
 said Chanelle Lacy of Kavi Gupta.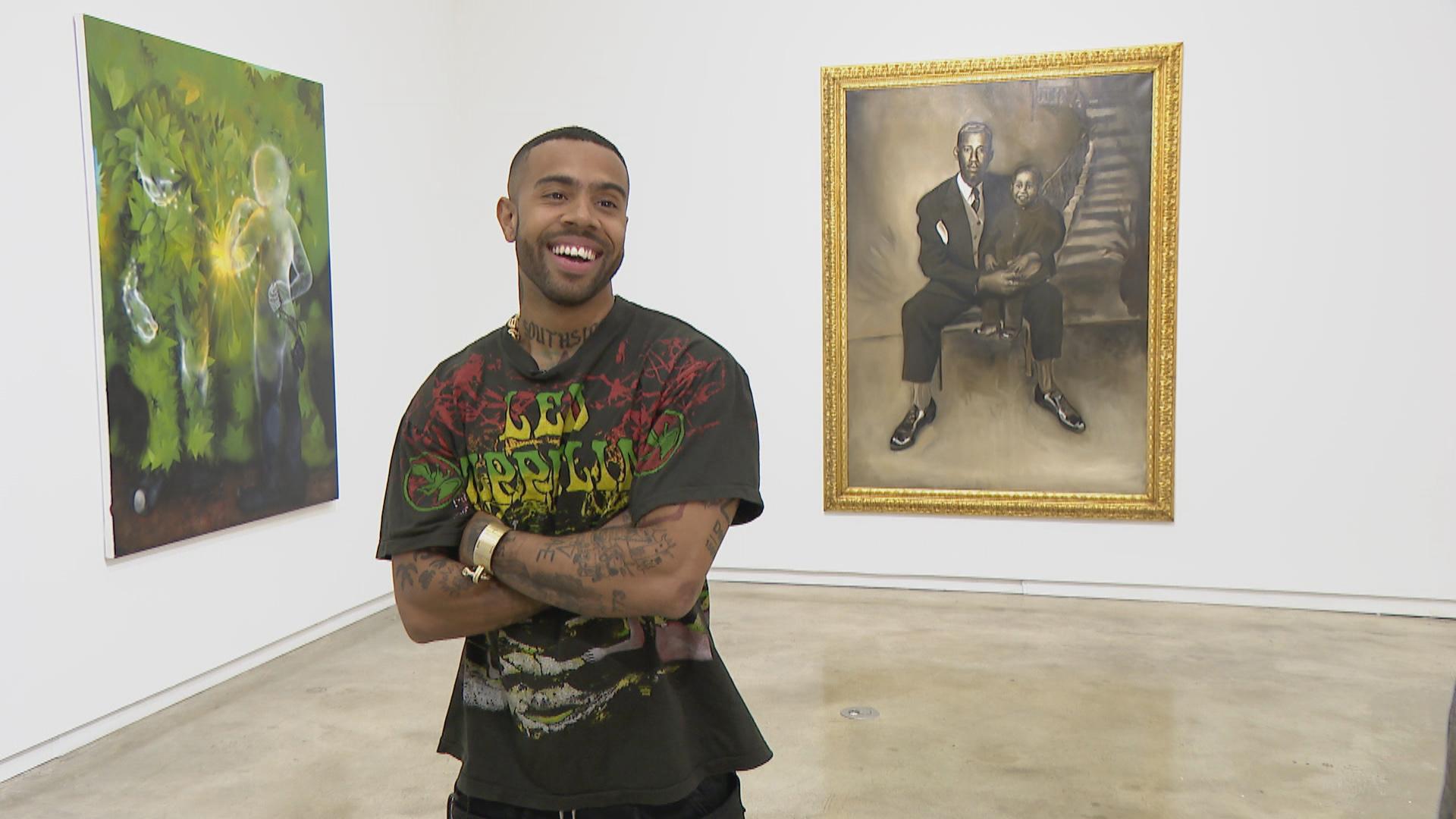 Rapper Vic Mensa curated an art show at Kavi Gupta in the West Loop. (WTTW News)
Mensa's voice was first amplified when he was a teenager performing with the group Kids These Days.
More recently, the Hyde Park native collaborated with Chance the Rapper. He also started a foundation, SameMoneySaveLife, that aims to help people from Chicago and the Republic of Ghana in West Africa.
"A quote by James Baldwin moves me, and that is, 'Know from whence you came. That way there are no limitations to where you can go,' and I believe that's the ethos of what we're creating in Ghana right now," he said.
Lacy said it has been refreshing for the gallery to work with someone outside of the traditional art world ecosystem.
"I want people to take away that the youth has something to say, you know, that we have ideas about imagination, about the future," Mensa said. "We have perspectives influenced by, but not limited to, the past and that in this moment of, whoa, sometimes it feels like a culmination of society's ills and America's melting pot of wrongdoing coming to a boil, that it's, it's art and it's poetry and it's film that will be carrying the bastion of revolution and will be the ones imagining and dreaming of solutions to the things that we're facing."
"Skin and Masks" at the Kavi Gupta Gallery, 219 N. Elizabeth St., runs through Aug. 13. For more information visit kavigupta.com.
---