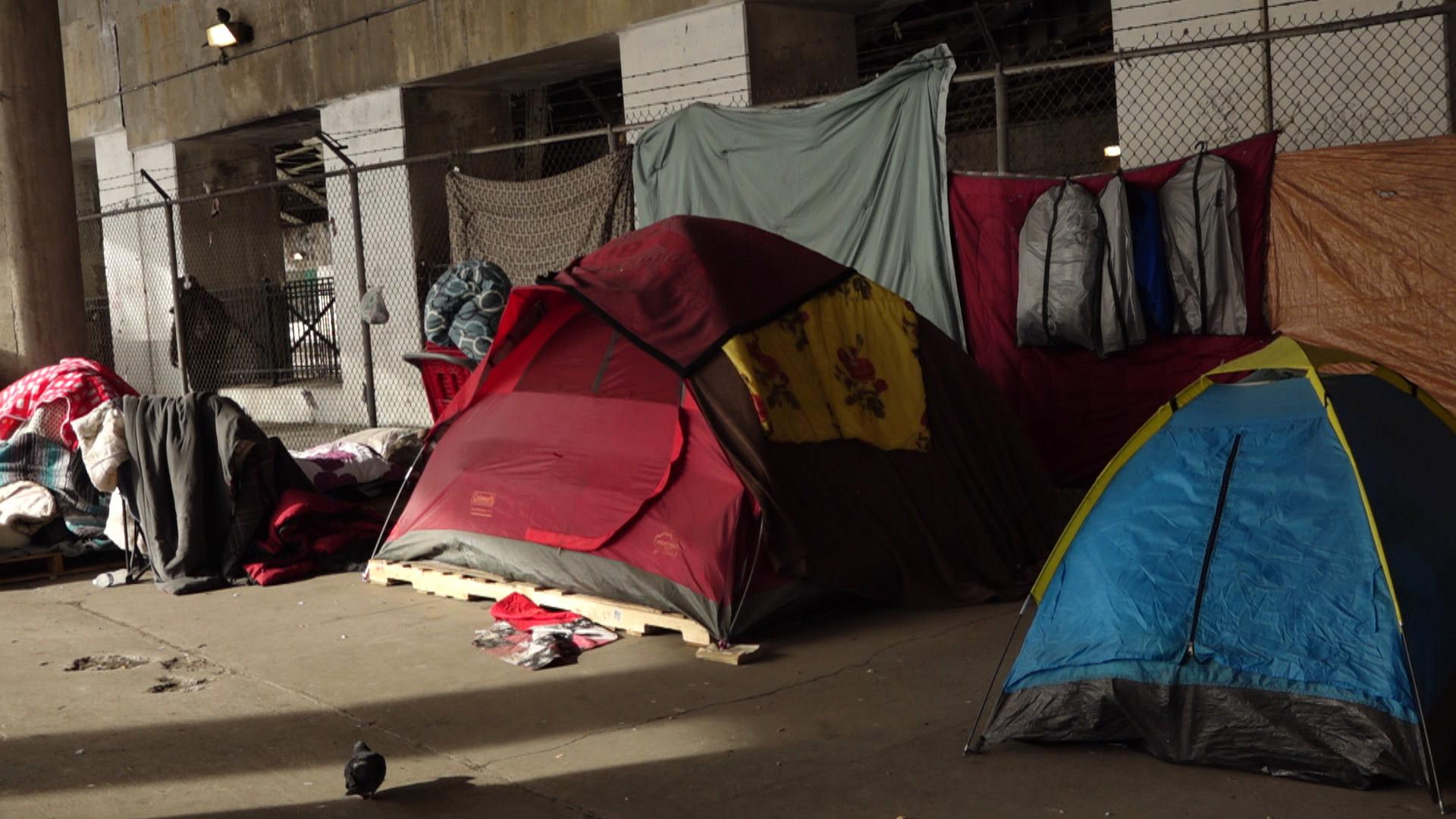 A homeless encampment in Chicago. (WTTW News)
The Bring Chicago Home Coalition is calling on Mayor Lori Lightfoot to set up a dedicated revenue source to address homelessness in the city after giving the mayor failing grades in a report card issued Wednesday assessing her progress on the issue during her first three years in office.
This is the first time the coalition has issued such a report card, according to Harry Williams, a grassroots leader with the Bring Chicago Home Coalition, a grassroots movement that seeks to end homelessness in Chicago and includes the Chicago Coalition for the Homeless, Jewish Council on Urban Affairs, ONE Northside, SEIU Healthcare Illinois and Indiana, and United Working families.
"When you're in school you get a progress report to see how you're doing," he said in an interview with WTTW News. "It's time to see where she stands on things and where there's room for improvement."
Advocates say while Lightfoot has made one-time investments in permanent housing, she's failed to establish a dedicated local funding source for permanent housing with supportive services to help the 58,000 Chicagoans experiencing homelesness.
One-time investments won't solve the city's homelessness problem, according to Williams, who compared the situation to an often-quoted proverb. "If you give a man a fish, you feed him for a day. If you teach a man to fish, you feed him for a lifetime," he said. "We don't want to eat for just a day. We want to eat for a lifetime as citizens of Chicago. … Housing is a human right."
The coalition is pushing for an increase on the city's real estate transfer tax by 1.9 percentage points on properties over $1 million to create a dedicated revenue stream to address homelessness.
Advocates are seeking to have the public weigh in via a referendum question in the Nov. 8 general election. A proposal to put the question on the ballot currently has 17 aldermanic sponsors, according to the coalition.
"Right now, we don't have a dedicated funding source," said Williams. "This could be a major change for the city and could set the standard for other cities."
A spokesperson for Lightfoot did not address WTTW News questions about whether the mayor supports increasing the real estate transfer tax to fund permanent housing services or if she supports a referendum question on the November ballot.
"Mayor Lightfoot has been committed to addressing homelessness since day one. The 2022 budget included $202 million to address the needs of persons experiencing homelessness, and the City of Chicago is investing across the continuum of prevention and response supports, including shelter services, shelter infrastructure, outreach, prevention, rapid rehousing, wraparound services, and permanent supportive housing," a spokesperson said in a statement. "These investments include a focus on equity and support increases in operational funding for shelters to create an equitable baseline which provide new resources that build staffing capacity, and allow hiring more staff and higher pay rates."
Advocates say they are open to other ideas for funding sources – they just want a seat at the table.
"We need to sit down and talk about this," Williams said. "Let's figure out something together because citizens are in need."
Contact Kristen Thometz: @kristenthometz | (773) 509-5452 |  [email protected]
---