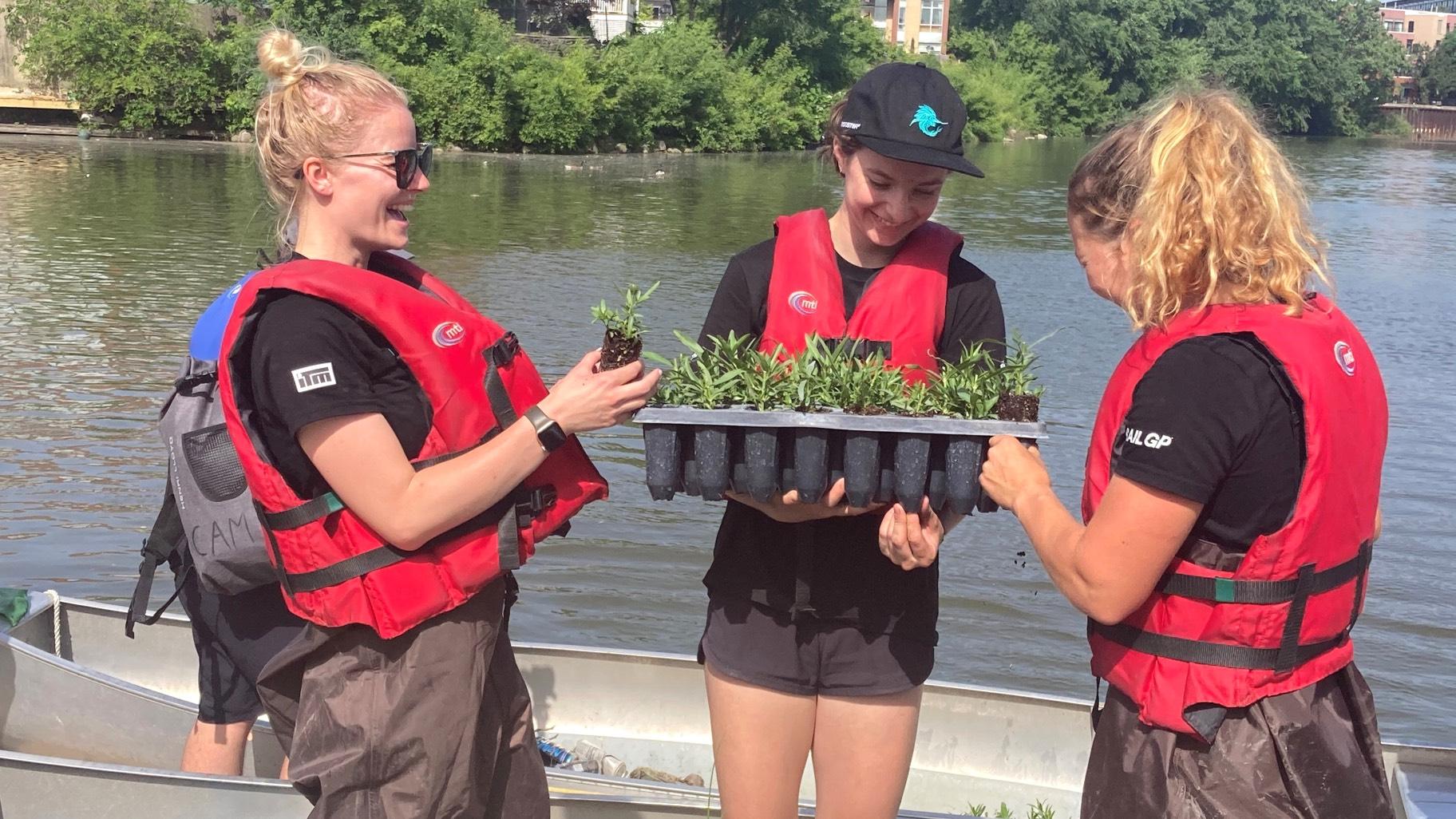 Crew members from SailGP prepare to install native aquatic plants in the Chicago River. (Friends of the Chicago River)
Members of the SailGP international yacht racing league have converged on Chicago for an upcoming competition, but before taking their catamarans onto Lake Michigan this weekend, the athletes piled into canoes and paddled the Chicago River on Wednesday morning.
It wasn't a training exercise or a tourist excursion. The crews were there to help install native aquatic plants along the riverbank.
Since 2017, Friends of the Chicago River and the Shedd Aquarium have been planting great bulrush and water willow at select locations on the Little Calumet River and the North Shore Channel — some 9,700 plants in total — to provide habitat for wildlife, control erosion and improve water quality.
SailGP donated enough money to support the purchase of 5,000 additional plants, with the athletes on hand to put the first of them in the waterway. The donation should carry the project through all of 2022 and 2023, said John Quail, director of policy and conservation for Friends of the Chicago River.
"That can make a program like this sustainable," said Quail.
The sailing league, co-founded in 2018 by Oracle Corp.'s Larry Ellison, has sustainability built into its mission. Along with win-loss standings, the league maintains a separate ranking of teams' actions to reduce their carbon footprint.
"Part of that is connecting with local impact projects and making sure we can be involved in any way we can," said Rosie Hamilton, SailGP Sustainability event operations manager, in a statement. "We thought Friends of the Chicago River was the perfect group for us to collaborate with in Chicago."
For as much time as they spend on the water, the crew members — hailing from New Zealand, Canada, Denmark, Switzerland and Great Britain — were amazed by Lake Michigan and the Chicago River, Quail said.
"The team from New Zealand, they had never seen the Great Lakes. They said it didn't seem like a lake — it took them 15 minutes to fly over (Lake Michigan)," said Quail. "And none of them realized the river had been reversed. They were astonished."
Better sport Better planet

Honored to work with @chicagoriver to help restore native vegetation to the Chicago river today

Learn more https://t.co/pGYkmPgSVJ#SailGP #UnitedStatesSGP #RacefortheFuture pic.twitter.com/WQWV52BTKV

— SailGP (@SailGP) June 15, 2022
---
Friends of the Chicago River will be back on the water later in the summer to install more plants. Maggie Jones, the organization's manager of conservation programs, typically does advance scouting with Shedd scientists to identify spots where the plants are not only needed but have the best chance of taking root and forming colonies. 
"We'll put in a dozen plants, and the next year we'll go back and there will be 20. And the next year, there will be 40," said Quail, who credited the Illinois Department of Natural Resources for discovering which plants could thrive in the river.
Sourcing the plants, in such a high volume, proved trickier.
"People aren't putting water willow in their gardens," said Quail. Country Road Greenhouses, in Rochelle, stepped up to the challenge, he said, and now does a tidy business in aquatic natives.
For information on how to participate in upcoming plantings or other conservation activities, visit Friends of the Chicago River's website.
Contact Patty Wetli: @pattywetli | (773) 509-5623 |  [email protected]
---