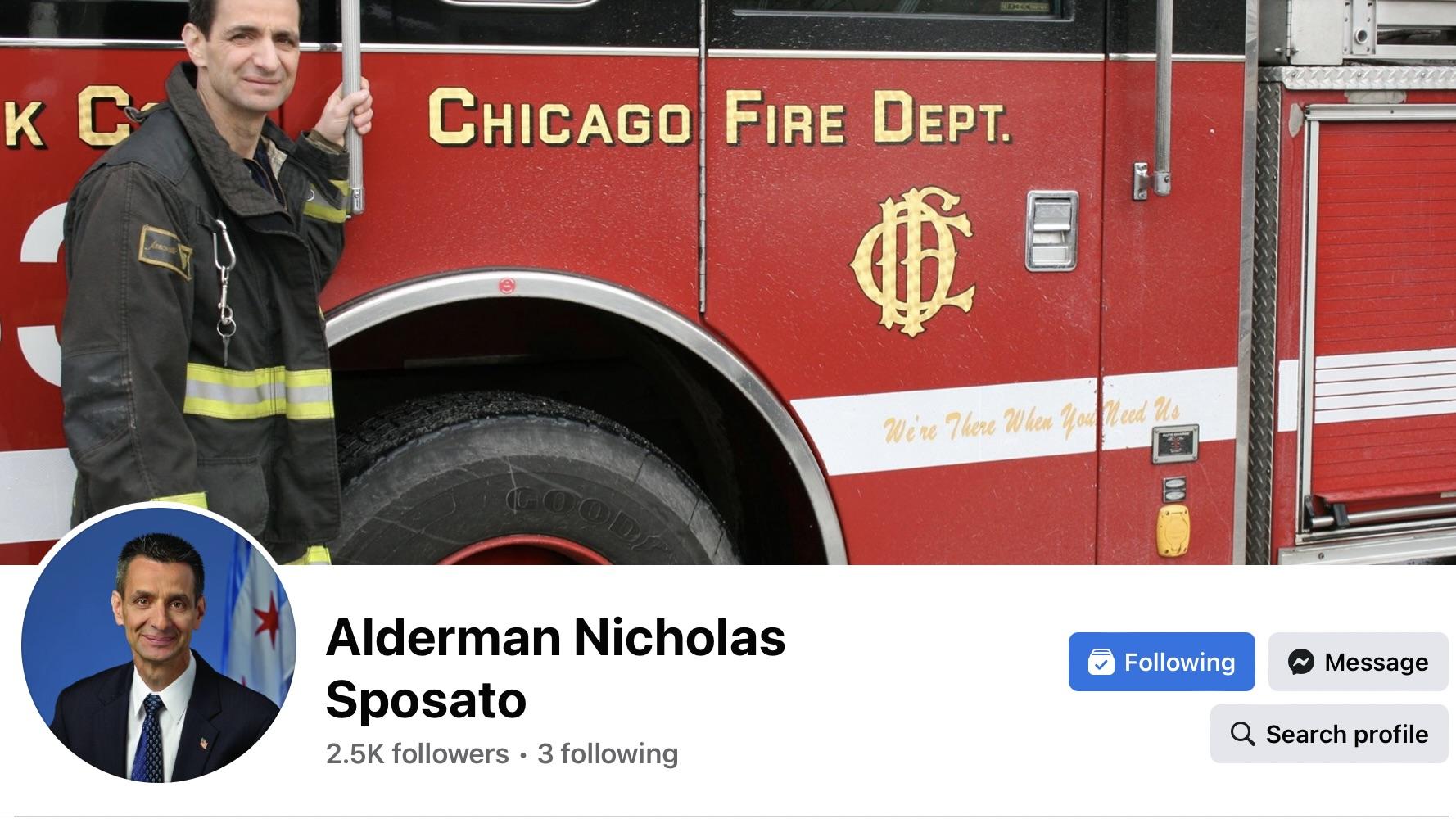 The Chicago Board of Ethics found probable cause that Ald. Nicholas Sposato violated the city's Governmental Ethics Ordinance by posting this photo on his Facebook page. (Facebook)
The Chicago Board of Ethics will not punish Ald. Nicholas Sposato (38th Ward) for violating the city's Governmental Ethics Ordinance by appearing in photographs used on his social media page on city property.
Sposato appeared in person at the board's Monday meeting to object to the board's April determination that there was probable cause to conclude that he violated the ethics ordinance, which could have triggered fines of up to $5,000 per violation. 
The board did not name Sposato in keeping with its rules of procedures. Sposato declined to comment on Tuesday to WTTW News.
Before the board discussed the issue, Sposato said he followed all city rules and had been targeted by "total liars" because he is a "conservative."
After a discussion that took place in closed session, as provided by the rules that govern the board, members voted unanimously to continue the case against Sposato "provided that the official work with the board to ensure the official's social media pages and official website comply with the ordinance, and to retain appropriate technical assistance if needed to properly maintain social media sites."
If Sposato does not fulfill that commitment, the board will reconsider the complaint and consider imposing fines, according to its decision.
The Ethics Board acted after Jefferson Park resident Pete Czosnyka filed a complaint with the Office of the Inspector General. The complaint that the Ethics Board considered was referred to it from the inspector general. 
Czosnyka's complaint, filed in February, alleges that Sposato, a former firefighter, violated the city's Governmental Ethics Ordinance by appearing in a photo dressed in a firefighter's turnout coat while gripping the handle of a Chicago Fire Department fire engine with the department's official logo clearly visible.
The city's Governmental Ethics Ordinance prohibits city leaders from using city resources for non-official purposes.
Those rules require elected city officials to keep accounts designed to promote their bids for re-election or personal accounts separate from those designed to inform the public about their official duties. That is designed to eliminate the possibility that "non-city business is being sponsored or endorsed by the city," according to the board's opinion signed by Chair William Conlon.
After the Ethics Board determined that there was probable cause to conclude that Sposato violated the ethics ordinance, Sposato deleted two of three Facebook pages he operated, leaving only his personal page active.
Czosnyka told the board on Monday that Sposato had begun to use that Facebook page to post a combination of personal, political and official information, in violation of the board's rules governing the use of social media by elected officials.
Czosnyka told WTTW News he was disappointed but not surprised that the board decided not to punish Sposato, but said he was glad the Far Northwest Side alderperson "had been embarrassed."
"It always seems that the Board of Ethics does a little bit less than you'd like," Czosnyka said. "You have to take the long view."
In other action Tuesday, the Board of Ethics unanimously found that there was probable cause to conclude that another elected official violated the city's ethics ordinance by including "campaign-related content in an official ward newsletter, emailed from a cityofchicago.org email address, contrary to clear board guidance on the improper mixing of political and official content in newsletters and websites that was sent to all city elected officials in January 2020."
That action was prompted by a citizen complaint. The elected official, who was not named, will have a chance to challenge the board's determination, which could result in fines of up to $5,000 per violation.
Ald. Derrick Curtis (18th Ward), a supporter of Mayor Lori Lightfoot, sent an email on June 2 to residents of his Far South Side ward that included an advertisement for the mayor's re-election kickoff event at the Starlight Restaurant on June 8. That newsletter included an image that invited 100 residents to reserve a spot at a "supporter breakfast" by contacting Curtis' ward office on a first-come, first-served basis.
The newsletter also included information about official ward events, including community meetings and how to obtain help paying utilities.
Curtis told WTTW News Monday that the email was sent from his personal email account and was not an official ward communication. Curtis could not be immediately reached on Tuesday after WTTW News shared a copy of the email that came from his city email account that included the information about the mayor's political event. The email was first reported by Greg Pratt of the Chicago Tribune.
Curtis also told WTTW News that he closed his ward office during the mayor's event to allow his staff to attend it, which they did, wearing T-shirts embroidered with the 18th Ward logo.
"It was their choice," Curtis said, adding that his staff did not start their city-paid work day until 10:30 a.m. June 8 — after the mayor's event.
A spokesperson for Lightfoot's campaign did not respond to a request for comment from WTTW News.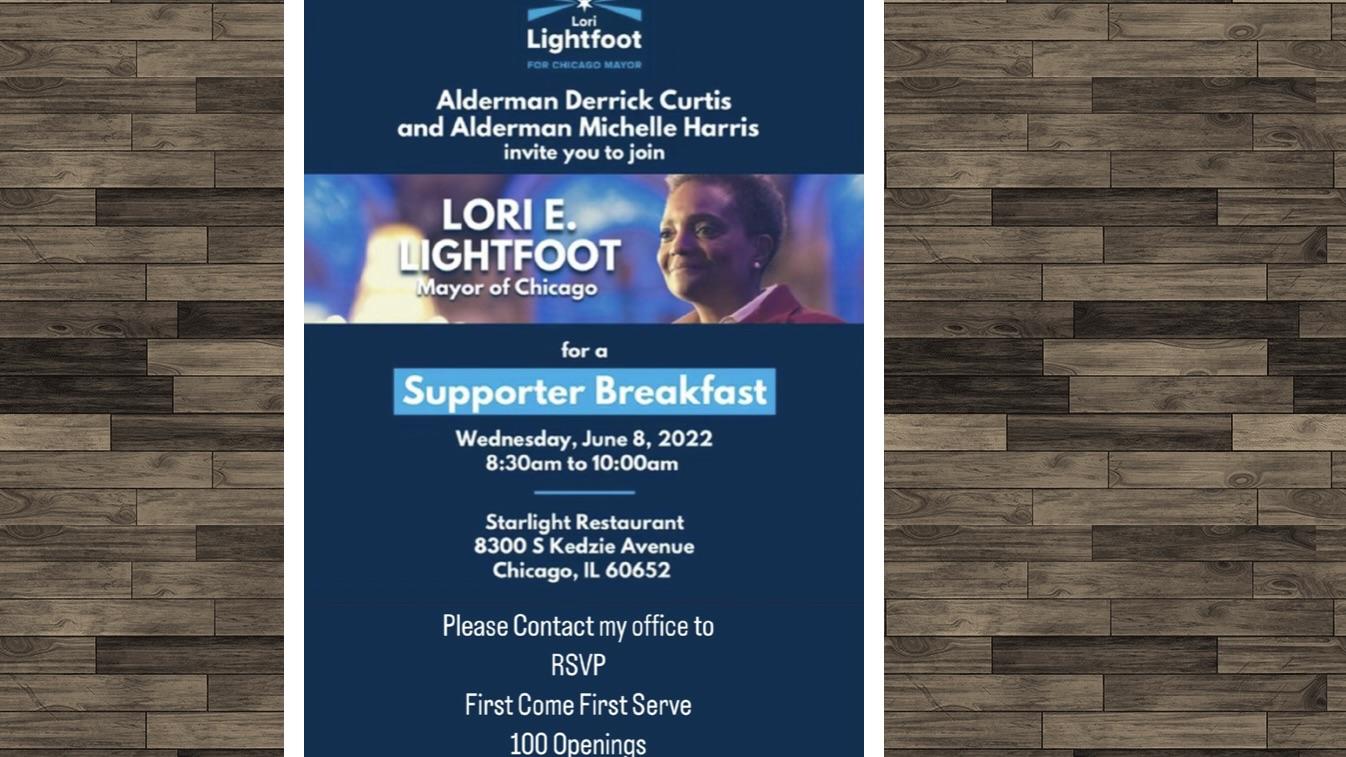 An image from 18th Ward Ald. Derrick Curtis' ward newsletter. (Provided)
Contact Heather Cherone: @HeatherCherone | (773) 569-1863 | [email protected]
---