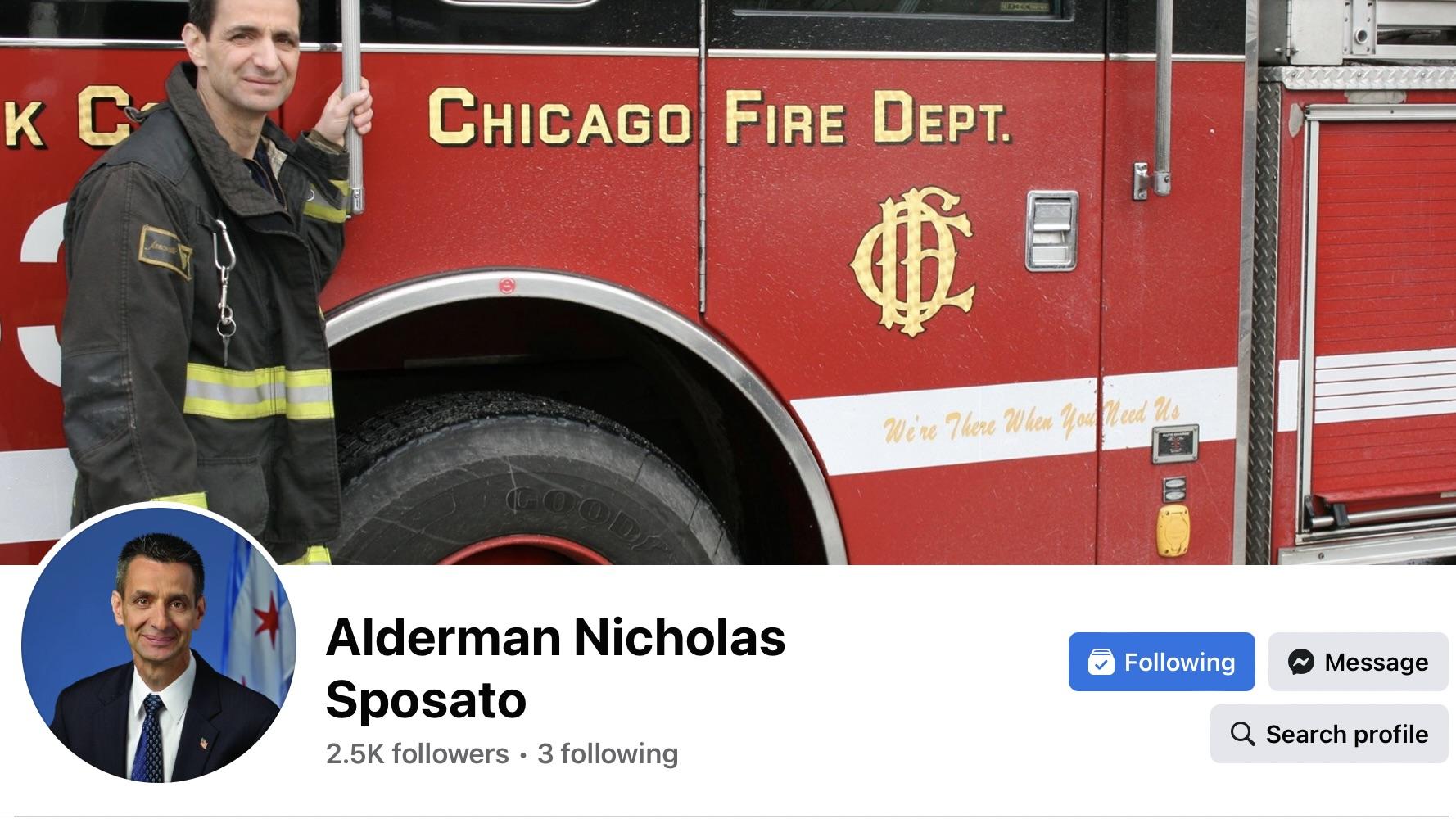 The Chicago Board of Ethics found probable cause that Ald. Nicholas Sposato violated the city's Governmental Ethics Ordinance by posting this photo on his Facebook page. (Facebook)
The Chicago Board of Ethics has found there is probable cause to believe that Ald. Nicholas Sposato (38th Ward) violated the city's Governmental Ethics Ordinance by appearing in photographs used on his social media page on city property.
Sposato will have a chance to challenge the board's determination, which could result in fines of up to $5,000 per violation. If the board determines that Sposato violated the ordinance, the Far Northwest Side alderperson could appeal that decision to the Cook County Circuit Court.
The unanimous action by the Chicago Board of Ethics on Monday, which was disclosed Tuesday, did not name Sposato in keeping with its rules of procedure, found that there is probable cause to conclude that the alderperson violated two provisions of the city's Government Ethics Ordinance.
Sposato did not immediately respond to a request for comment from WTTW News.
The Ethics Board acted after Jefferson Park resident Pete Czosnyka filed a complaint with the Office of the Inspector General. The complaint that the Ethics Board considered was referred to it from the inspector general. 
Czosnyka's complaint, filed in February, alleges that Sposato, a former firefighter, violated the city's Governmental Ethics Ordinance by appearing in a photo dressed in a firefighter's turnout coat while gripping the handle of a Chicago Fire Department fire engine with the department's official logo clearly visible.
As of Tuesday afternoon, Sposato was still using the photo as the main image on two of his three Facebook pages, Nicholas Sposato for 38th Ward Alderman and Alderman Nicholas Sposato and also posted it on his personal Facebook page.
The photo appears to have first been posted on Dec. 3, 2019, shortly after Sposato retired from the Chicago Fire Department. Elected to the City Council in 2011 to represent the 36th Ward, Sposato was elected to represent the 38th Ward in 2015 and 2019 after the ward boundaries were changed after the 2010 census.
The city's Governmental Ethics Ordinance prohibits city leaders from using city resources for non-official purposes.
The 5-0 vote by the Chicago Board of Ethics is the first time it has found probable cause that an elected official has violated the rules governing the use of social media by elected officials in Chicago, first issued by the board in January 2019. 
Those rules require elected city officials to keep accounts designed to promote their bids for re-election or personal accounts separate from those designed to inform the public about their official duties. That is designed to eliminate the possibility that "non-city business is being sponsored or endorsed by the city," according to the board's opinion signed by Chair William Conlon.
Czosnyka also filed a complaint against Ald. Jim Gardiner (45th Ward) for posing for campaign photos while wearing a jacket with an embroidered Chicago Fire Department logo. Gardiner is a former paramedic.
The status of Czosnyka's complaint against Gardiner is unclear.
In December 2020, the Ethics Board admonished an elected official who used their professional social media accounts to broadcast a prayer service. That elected official avoided fines or enforcement action after they deleted the offending posts.
The Board of Ethics also prohibits elected officials who use social media like Twitter and Facebook to communicate with constituents and city residents from blocking people from following their accounts or deleting comments critical of them or their positions.
However, elected officials may delete comments posted to their pages if they are "obscene, profane, libelous or defamatory, or are commercial and posted to sell goods or services," according to the opinion.
Six 45th Ward residents are suing Gardiner in federal court for allegedly blocking them or deleting critical comments on his Facebook page in violation of the First Amendment. In February, a federal judge rejected Gardiner's request to dismiss the lawsuit.
Contact Heather Cherone: @HeatherCherone | (773) 569-1863 | [email protected]
---