Ald. Ed Burke (WTTW News)
A federal judge said Tuesday that he is preparing to issue a nearly 200-page ruling in the corruption case against Ald. Edward Burke (14th Ward) that could determine whether federal prosecutors can use thousands of hours of the powerful politician's telephone conversations.
During a brief hearing for Burke and his co-defendants, longtime aide Peter Andrews and Portage Park businessman Charles Cui, U.S. District Court Judge Robert Dow said that he expected to make that ruling public within a week.
Dow said he was scouring the U.S. Supreme Court decision to vacate the conviction of former Virginia governor Robert F. McDonnell. McDonnell was convicted of taking official action in return for loans, vacations and gifts. The Supreme Court ruled that a corrupt act "must involve a formal exercise of governmental power, and must also be something specific."
Assistant U.S. Attorney Sarah Streicker asked Dow to set a date for the trial of Burke, Andrews and Cui, saying it was in the public interest to bring the three of them before a jury. But Dow said he could not set a firm trial date because of his packed calendar, restrictions that are still in place to stop the spread of COVID-19 and the need to try defendants who are being held in pre-trial detention.
"It's gonna be next year, to be honest," Dow told the attorneys.
Burke, Andrews and Cui were released immediately after being charged, and all have pleaded not guilty.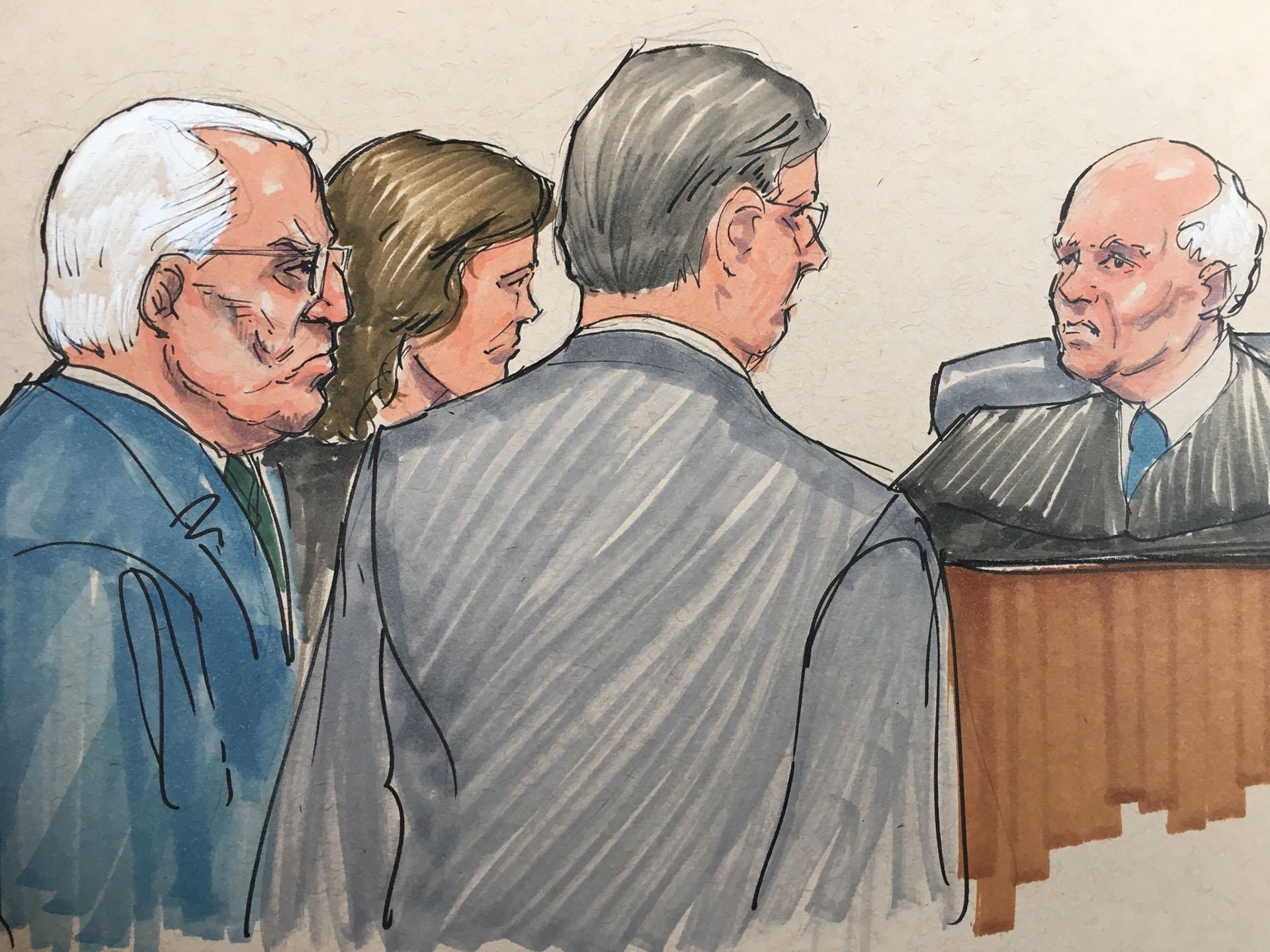 In this courtroom sketch, Ald. Ed Burke, left, appears before U.S. Federal Magistrate Judge Jeffrey Cole with his attorneys on Tuesday, June 4, 2019. (Credit: Tom Gianni)
Burke faces charges of racketeering, bribery and extortion. Racketeering charges — usually brought against members of the mob or street gangs — allege a pattern of corruption unknown to its victims.
Andrews, a longtime aide to Burke and the current chair of his campaign finance committee, is charged with helping Burke attempt to extort two businessmen who operated a Burger King restaurant in the 14th Ward. 
Cui is accused of hiring Burke's law firm in exchange for the alderperson's help obtaining a sign permit and city subsidy for the redevelopment of a Portage Park bank into shops.
Burke has spent more than $3 million in campaign contributions on fees to cover his legal defense, and has an additional $8 million in his campaign accounts, according to records filed with the Illinois State Board of Elections.
Burke was the subject of "the longest wiretap in the United States that concluded in 2018." In all, investigators intercepted 9,101 calls made by Burke or answered by him during the investigation, according to court records.
Those calls contain "powerful evidence" that Burke is guilty of corruption, prosecutors said, including a 2017 question he posed to disgraced former Ald. Danny Solis: "So, did we, uh, land the tuna?"
During a February hearing, Burke's attorneys argued that those wiretaps were obtained without probable cause and should be excluded from evidence.
It has been more than three years since the U.S. Attorney's Office of the Northern District of Illinois indicted Burke on 14 counts that alleges the Southwest Side politician repeatedly — and brazenly — used his powerful position at City Hall to force those doing business with the city to hire his private law firm by the Department of Justice. 
Burke, 78, was re-elected to a 13th term on the Chicago City Council in February 2019, less than two months after he was charged with attempted extortion. In 2020, 14th Ward Democrats rejected Burke's bid for a 14th term as the ward's committeeperson, electing state Rep. Aaron Ortiz, D-Chicago.
Ortiz defeated former state Rep. Dan Burke, the alderperson's brother, in March 2018, and could run for the 14th Ward seat on the City Council in the next aldermanic election, scheduled for February 2023.
If Burke decides to run for re-election, he could do so before being brought to trial on charges he has faced for more than an entire term on the City Council. Burke has essentially stopped raising cash for campaign expenses, with his only large contribution in recent months coming from a liquor store in the neighboring 15th Ward.
Some of those charges revolve around a plot involving Solis to force the firm renovating the Old Post Office in Solis' 25th Ward to hire Burke's private law firm in return for city approvals.
Solis entered into deferred prosecution agreement with federal prosecutors that will likely mean he will avoid prison and keep his city pension.
Burke's attorneys accused the government of setting him up with the help of Solis and improperly listening to his phone calls. 
Solis agreed to help federal agents investigate Burke after Solis was secretly recorded by a developer as part of another investigation and confronted by federal officials with evidence that he traded sex acts, Viagra, free weekend use of an Indiana farm once owned by Oprah Winfrey and a steady stream of campaign contributions for City Council actions.
The indictment alleges that Burke enlisted Solis' help to force the Old Post Office developer to hire Burke's private law firm in return for city approvals. Burke had already pledged to kick back a portion of the spoils to Solis in return for his approval of an $18 million subsidy and a tax break worth $100 million, prosecutors alleged. 
Burke's attorneys have argued that although Solis repeatedly tried to record Burke offering to provide an official action in exchange for private business, he never did. 
The indictment improperly characterizes the impact Burke's work as a private attorney had on his official duties as alderperson, according to the alderperson's attorneys.
The next hearing in the case is set for July 12.
Contact Heather Cherone: @HeatherCherone | (773) 569-1863 | [email protected]