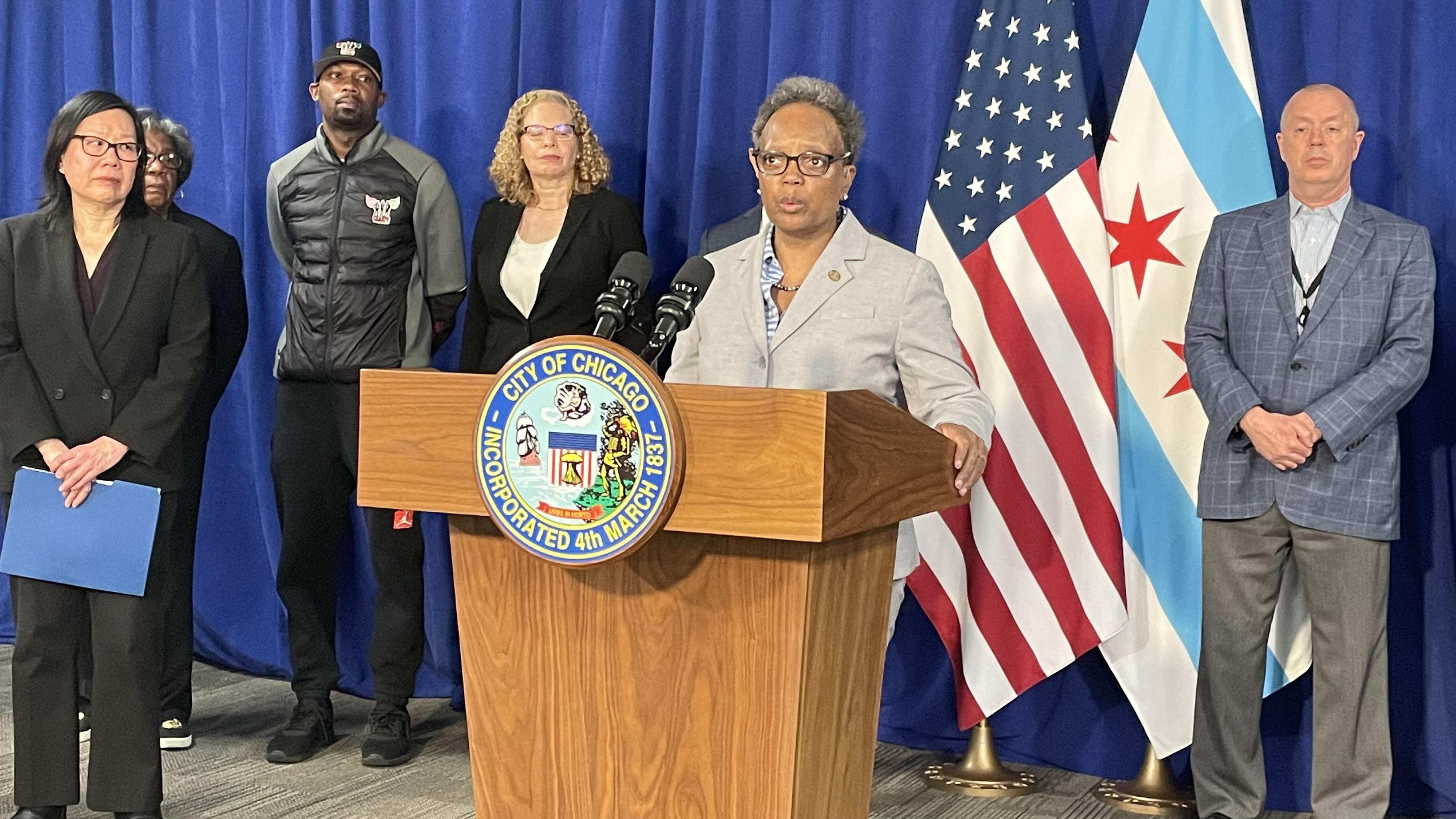 Mayor Lori Lightfoot addresses downtown violence on May, 16, 2022. (Heather Cherone/WTTW News)
Mayor Lori Lightfoot announced Monday she would sign an executive order that will expand Chicago's 30-year-old curfew for teens younger than 17 to start at 10 p.m. on Friday and Saturday nights.
Until Monday, Chicago teens had to be home by 10 p.m. Sunday through Thursday and 11 p.m. Friday and Saturday. The curfew will now start at 10 p.m. seven days a week, Lightfoot said.
Lightfoot said she had no choice but to act after the murder of 16-year-old Seandell Holliday just before around 7:30 p.m. Saturday in the heart of Millennium Park amid what Lightfoot called "chaos and unnecessary violence." A 17-year-old has been charged in connection with his death.
Flanked by high-ranking city officials, religious leaders and business officials at a City Hall news conference, Lightfoot said she acted with a "heavy heart" when she announced Sunday afternoon that teens 16 and younger would be banned from Millenium Park after 6 p.m. Thursday through Sunday, unless they are accompanied by a "responsible adult."
It was not clear who would qualify as a responsible adult and how many teens each could allow to use the park.
Lightfoot said city officials had "exhausted every other opportunity, every other tool and remedy" before imposing the ban.
"We've got to go to this next step to make sure that our jewel of Millennium Park is available and open to everyone," Lightfoot said.
Millennium Park is the top tourist attraction in the Midwest, city officials said.
Lightfoot said she was acting in accordance with the power she has to regulate the time, place and manner of access to the city's parks, as determined by the U.S. Supreme Court in 2002 in the case of Thomas v. Chicago Park District.
Lightfoot said she was confident her actions would withstand judicial scrutiny because they were "modest, very surgically narrowly defined."
"Doing nothing is simply not an option," Lightfoot said.
Both the extended weekend curfew for teens and the ban on teens in Millenium Park after 6 p.m. on weekends will be in place indefinitely, Lightfoot said.
Lightfoot said Sunday that the ban on teens in the park would be "strictly enforced and violations will be dealt with swiftly."
Lightfoot said Monday she had no interest in "rounding up young people and throwing them in the back of a wagon."
But Lightfoot declined to say exactly what consequences teens could face for defying the ban, telling reporters city officials would "exhaust all other options before they take law enforcement actions."
"We don't want to arrest children," Lightfoot said. "If we have to because they're breaking the law, we will."
Lightfoot said the goal was to encourage teens and their parents to make better choices.
"But what we've seen in other areas of the city when issues have arisen is, our officers talk to the young people, educate them about what the rules are and, in most instances, the young people disperse without any incident," Lightfoot said. "That's what we're hoping will happen."
The mayor and several of her top-ranking officials told reporters there were plenty of safe, productive programs and events for teens to participate in through the Chicago Park District and the city's Department of Cultural Affairs and Special Events.
The teen curfew was approved by the Chicago City Council in 1992, and it is not clear whether Lightfoot has the authority to roll back the limits set by official legislative action.
Contact Heather Cherone: @HeatherCherone | (773) 569-1863 | [email protected]
---