A file photo shows a crime scene blocked off by the Chicago Police Department. (WTTW News)
Ten reputed members of the Four Corner Hustlers street gang have been arrested and charged with conspiring to sell narcotics at open-air drug markets on Chicago's West Side following an undercover investigation that lasted more than a year.
The federal charges, which were announced Thursday by U.S. Attorney John Lausch's office, say law enforcement officers made numerous undercover narcotics purchases at open-air drug markets in West Garfield Park between Feb. 2021 and April 2022.
The effort, dubbed "Operation American Hustle," was led by Homeland Security Investigations and the Chicago Police Department, and led to the seizure of multiple kilograms of heroin — some of which was laced with fentanyl — and cocaine.
"Fentanyl, heroin and cocaine are extremely potent drugs that have wreaked havoc in too many of our communities across the country and right here in Chicago," Lausch said during a press conference Thursday afternoon.
The ten men arrested are: Nathaniel Evans, 38; Jarelle Jones, 24; Marquis Jones, 29; Devontay Logan, 27; Joseph Williams, 31; Dornell Williams, 34; Teremius Webb, 25; Antonio Fletcher, 40; Kyle Linton, 25; and 40-year-old Maurice Bell. Each has been charged with drug conspiracy, and if convicted, could face life in prison.
Each of the defendants are in custody and have made an initial appearance in federal court in Chicago. On top of the federal charges, at least 21 others have also been charged in Cook County with state drug offenses related to the investigation, according to Lausch.
"Street gangs like the Four Corner Hustlers pose a real threat to our community," said Angie Salazar, special agent-in-charge of Chicago's office of Homeland Security. "We recognize there's more to be done, but we will continue and stand committed to work tirelessly to protect the communities that we serve and bring those who threaten our public safety to justice."
Evans, who is described as the ringleader of the operation, allegedly oversaw the three open-air markets, located in the 3900 block of West Jackson Boulevard, the 3900 block of West Van Buren Street and the 4000 block of West Maypole Avenue.
According to the feds, Jarelle Jones, Marquis Jones, Joseph Williams, and Dornell Williams worked as "shift managers" who oversaw sales. Logan and Bell allegedly picked up narcotics and delivered them to those markets, while Webb, Fletcher, and Linton worked as street-level dealers.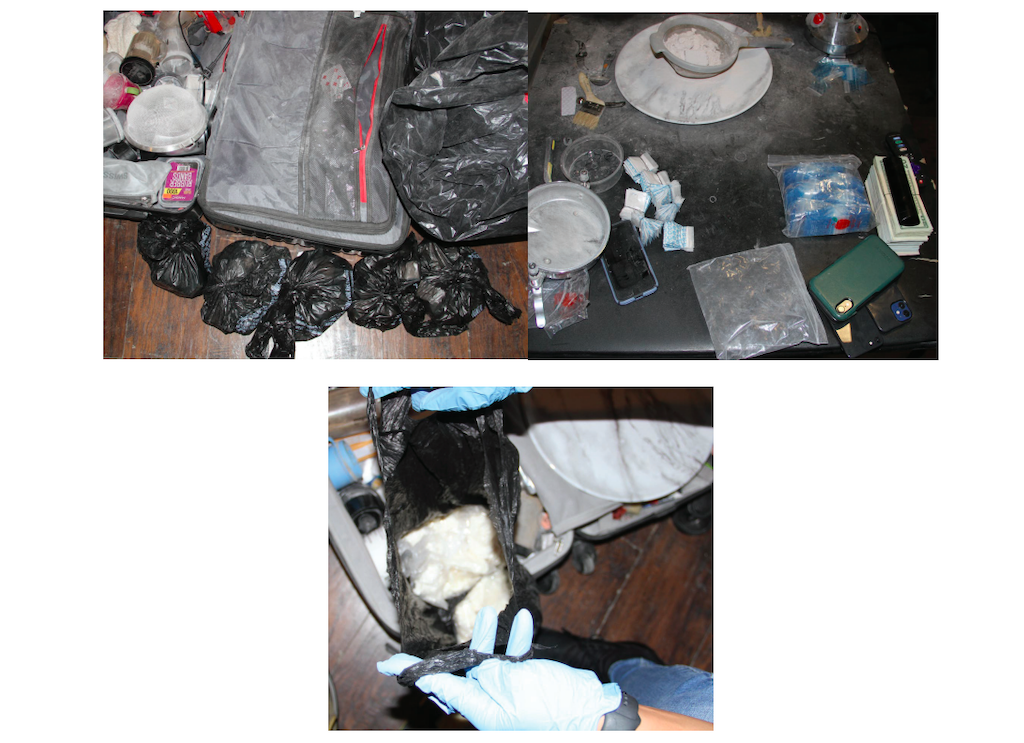 Packages of heroin allegedly seized by law enforcement from Four Corner Hustlers gang members. (U.S. Attorney's Office)
CPD First Deputy Superintendent Eric Carter said the locations targeted in the operation were "hot spots" for drug and gang activity. According to a 69-page complaint, drugs sold at these markets were often sold in small baggies for $10.
"That's how it's done, that's what the open-air drug markets look like," Lausch said. "These are drugs that are packaged and bundled in particular ways for someone to be out there on the street selling it to customer after customer after customer."
In addition to the drugs, law enforcement also seized four rifles, four handguns, a MAC-10 submachine gun, a shotgun, and more than 450 rounds of ammunition. While there is no evidence currently that the firearms recovered were used in other crimes, Lausch said that investigation remains ongoing.
"The street gang problem in Chicago, it's significant, it's been significant for a long time," Lausch said. "The work here is an essential part of what needs to happen."
Contact Matt Masterson: @ByMattMasterson | [email protected] | (773) 509-5431
---