A local music prodigy began studying in his native Ukraine before he moved to Chicago with his family. The community of musicians he found here – and music itself – have helped sustain him during an uneasy time.
TRANSCRIPT
Marc Vitali: At Evanston's Nichols Concert Hall – a former church – a high school senior plays one of Prokofiev's war sonatas.
Miroslav Mykhailenko, Pianist: I feel very impacted by Prokofiev's first movement sonata because it was written during the Second World War, and it's really very dramatic and powerful and I can imagine, you know tanks rolling in, rockets, bombs,
It's just really overwhelming.
Vitali: 17-year-old Miroslav Mykhailenko is in the Academy program of the Music Institute of Chicago – an elite group of just 35 musicians among the nearly 2,000 students.  
Scott Verschoor, Music Institute of Chicago: Miroslav is a remarkable and unique pianist as part of our Academy program.
One of the things that really draws people to great performers is the story behind the individual.         
Mykhailenko: I was born in Kyiv, Ukraine and I moved to the US just four years ago with my family. All my memories from Ukraine are very dear to me, I think they really shaped me as a person as an individual and as a performer.
The war has created a great deal of anxiety for me, knowing that first, my extended family is still in Ukraine and second, that both of my uncles are actually serving right now in the Ukrainian military and defending my country, so we're praying for them.
Vitali: At the Music Institute, he's found support among his peers. To lift his spirits, the student orchestra performed Ukraine's national anthem with Miroslav on piano.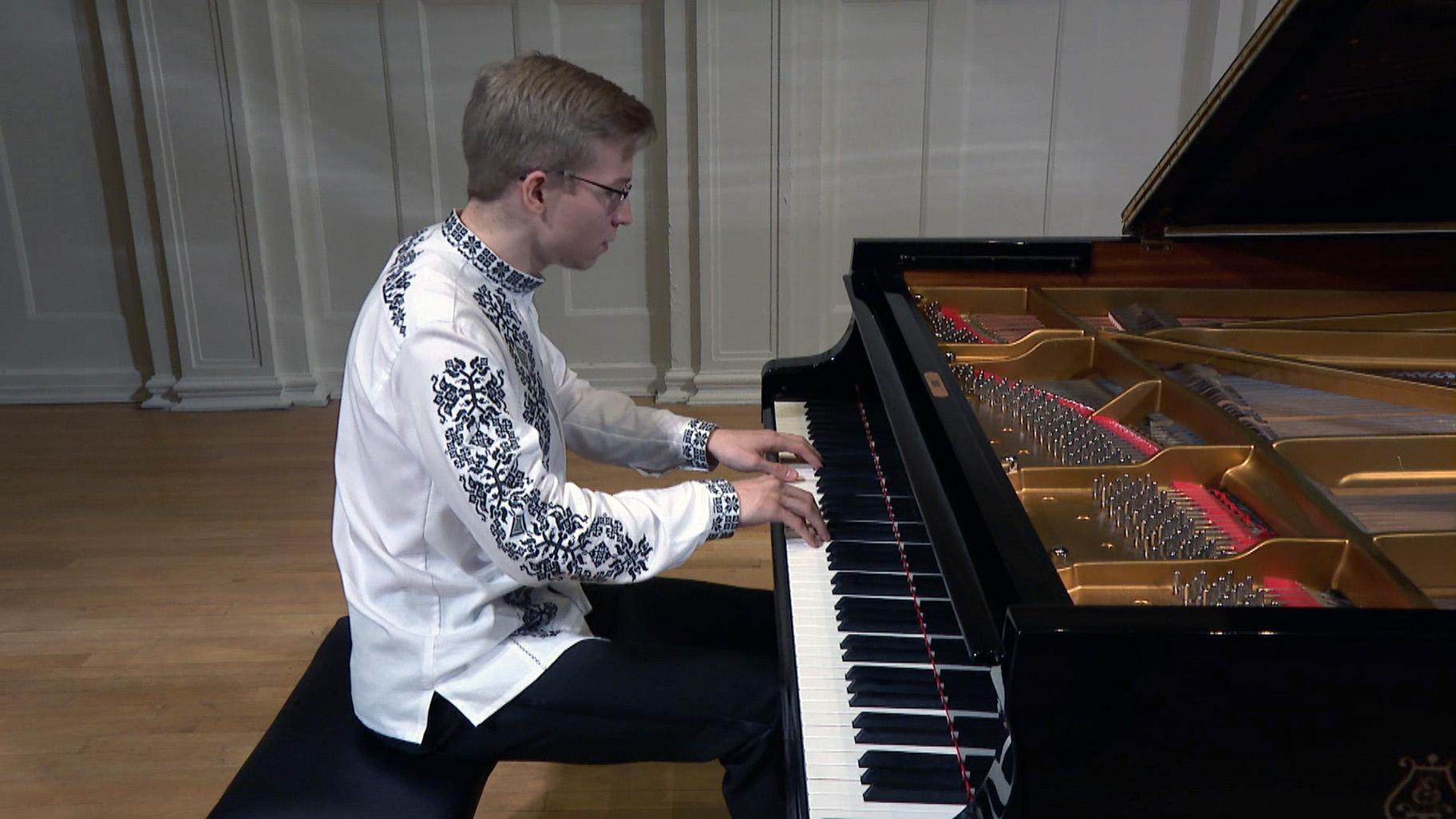 (WTTW News)
Mykhailenko: That performance with the orchestra playing my national anthem, it really stirred me up to do even more for my Ukrainian community, and it really healed me from anxiety and worry that I had before.
Verschoor: I think he's doing very well.
I think the nice thing is there's a great community of Ukrainians here in the Chicago area and he's gotten the support of that.
Music is a great way to help you work your way through really tough and difficult times.
Mykhailenko: I want my audience to be really captivated and captured by what I play, and to be honest one of my goals is to make my audience cry when I play a very emotional piece. So this would be the goal for the future. 34.00
The war has really put a strain on me as well as my family and Ukrainian people all over the world. I would like to share my best wishes for this war to end soon.
More on this story:
Miroslav graduates high school next month, and he just found out he's been accepted into the prestigious Peabody Conservatory. And while he doesn't have any public performances scheduled at this time, the Music Institute of Chicago this weekend hosts two concerts at Nichols Concert Hall. 
---