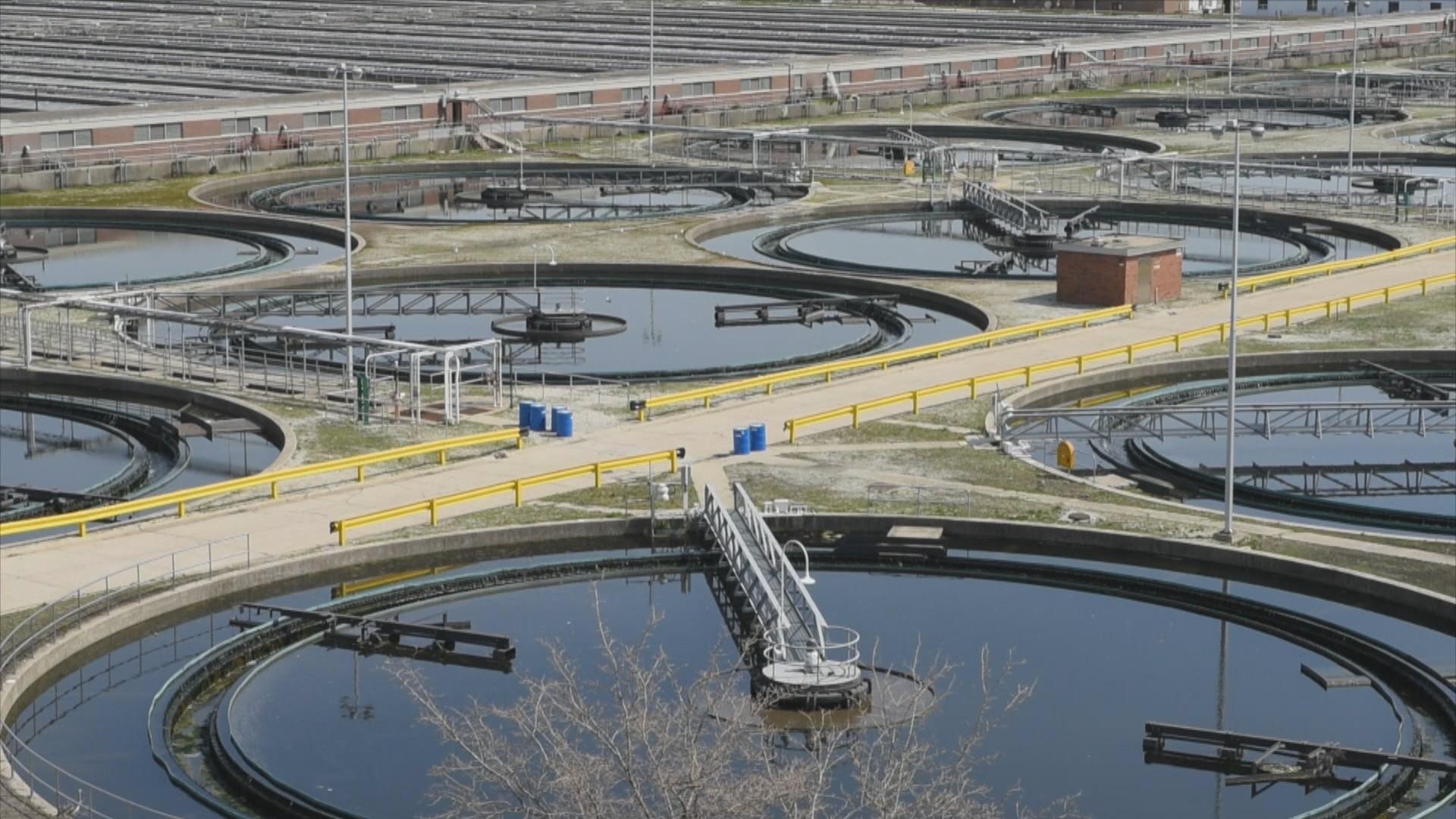 (WTTW News)
Last May, officials announced a new statewide program that would monitor the virus that causes COVID-19 and its variants in wastewater in all 102 Illinois counties by the end of 2021.
Nearly a year later, only 68 wastewater treatment plants in 48 counties are participating in the program, according to state health officials.
"Participation in the wastewater surveillance program is voluntary, and some counties do not have wastewater treatment plants," a spokesperson for the Illinois Department of Public Health said in response to WTTW News questions about the program.
IDPH made at least three attempts to contact wastewater treatment plants it could identify to join the Illinois Wastewater Surveillance System (IWSS), according to the spokesperson.
"Some were unreachable and some declined participation," the spokesperson said, adding outreach efforts included contacting local municipalities. "We are open to including additional counties if they are interested."
IDPH contracted with Discovery Partners Institute at the University of Illinois-Chicago to develop the Illinois Wastewater Surveillance System, which received more than $6.5 million in federal funding to participate in the National Wastewater Surveillance System that's funded through September 2025.
"Public health agencies are leaning more and more on wastewater (surveillance) because it represents a lot of people and results come fast," said Rachel Poretsky, an associate professor of biological sciences at UIC.
There is no cost to wastewater treatment plants to participate in the program, according to IDPH. The state system provides sample collection and shipping equipment, and relies on utility operators to collect samples twice a week.
While only 68 wastewater treatment plants in 48 counties are currently participating, the system covers 8.4 million people, which is over 80% of the state's more than 12.6 million residents, according to state officials. Wastewater treatment plants in Chicago and Cook County are among those participating.
"The CDC National Wastewater Surveillance System (NWSS) estimates that 20% of U.S. residents will not be reached through wastewater surveillance, due to decentralized and individual systems such as septic tanks," IDPH said in a statement. "We think Illinois is likely close to this number."
SARS-CoV-2, the virus that causes COVID-19, is detectable in human waste nearly from the onset of infection, according to officials. Symptoms may not appear for three to five days.
"(Wastewater surveillance) becomes an unbiased way to track the virus in a community because it doesn't rely on individuals," said Poretsky. "People shed the virus in their waste regardless of whether they're experiencing symptoms."
Early detection of COVID-19 and its variants is one of the big advantages of wastewater surveillance, according to Dr. Isaac Ghinai, medical director of laboratory-based surveillance with the Chicago Department of Public Health. "We can start to see wastewater concentrations of the virus before we see changes in trends like cases, hospitalizations or ICU admissions," he said.
In addition to participating in the statewide program, the Chicago Department of Public Health conducts wastewater surveillance at Cook County Jail as well as neighborhood sites throughout the city.
"Our neighborhood approach is a sentinel approach. We don't try to get everyone," Ghinai said. "We've got at least one sample site in every single Healthy Chicago Equity Zone site and try to add additional sample sites in areas with a disproportionate burden of COVID-19 or experienced challenges to testing."
As the COVID-19 testing landscape changes with more people taking at-home tests, which aren't reported to public health authorities, "other methods of surveillance like wastewater surveillance are increasingly valuable," Ghinai said.
While wastewater surveillance can detect changes in the amount of virus in an area, it can't say how many people have COVID-19 at a particular time. "Wastewater is such a complex mixture, and it's really hard to say this amount of virus means this many people are sick," Poretsky said. "We can't directly make that link."
Officials don't only look at wastewater surveillance data to make public health decisions, such as deploying extra resources to a neighborhood where wastewater surveillance shows an increase in COVID-19. "We never make those decisions based on any one metric," Ghinai said, adding officials look at trends in wastewater data over time, not just one single reading.
Wastewater surveillance data is considered in tandem with COVID-19-related hospitalizations, ICU admissions and deaths, among other metrics, to make public health decisions, according to Ghinai.
With wastewater sampling and lab analysis methods constantly improving, officials are hopeful about uses beyond COVID-19, such as tracking drug-resistant organisms, Ebola, influenza and other pathogens.
"Wastewater surveillance holds a ton of promise," Ghinai said. "SARS-CoV-2 will never go away, and the value of wastewater surveillance for SARS-CoV-2 will never go away. I think monitoring its seasonality will be a valuable new tool."
Contact Kristen Thometz: @kristenthometz | (773) 509-5452 |  [email protected]
---