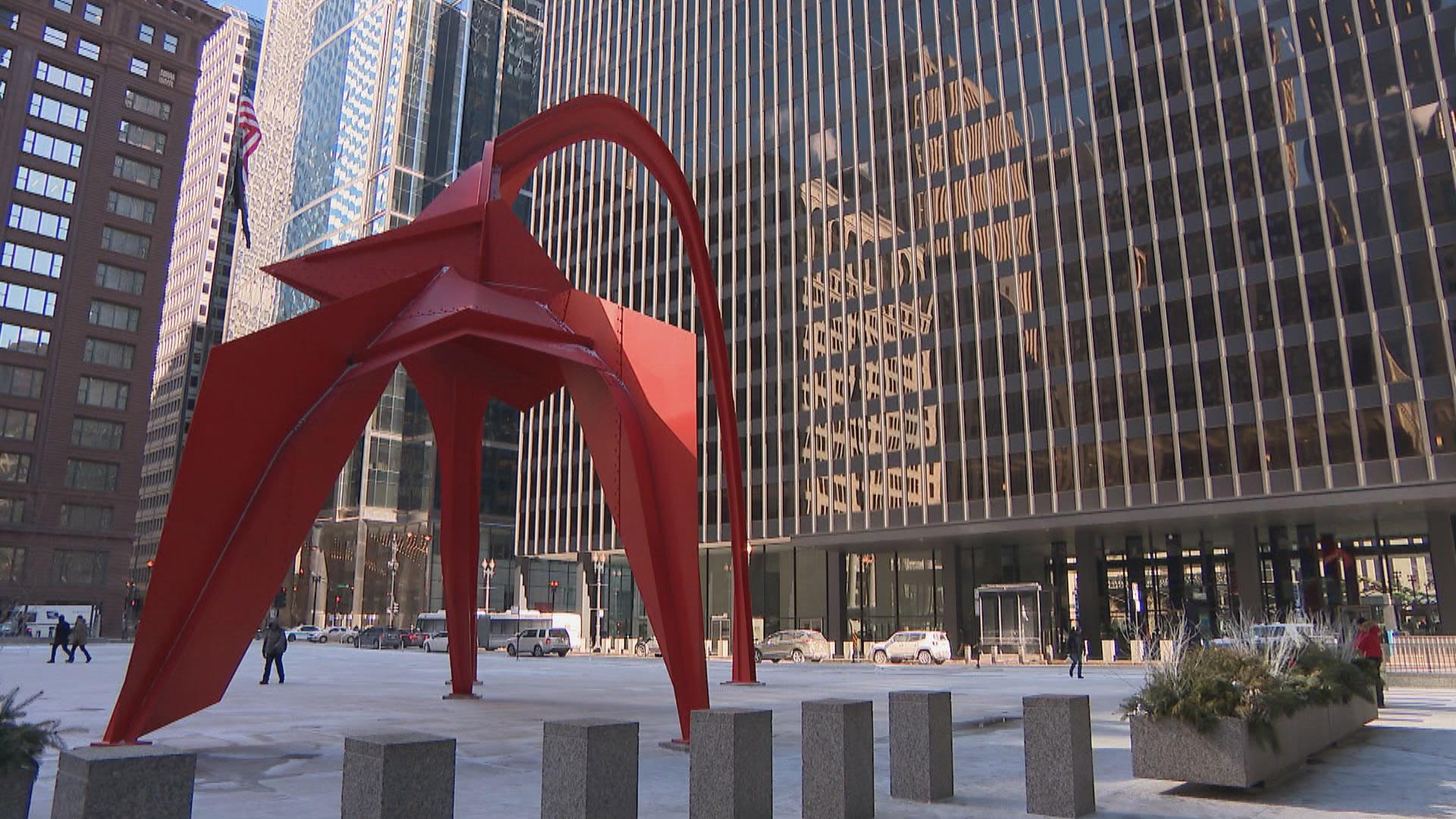 Federal Building in Chicago, designed by Ludwig Mies van der Rohe. (WTTW News)
By the end of this century, if humans don't manage to drastically reduce greenhouse gas emissions, Chicago's climate will feel like Dallas, Texas, where temperatures average 90-95 degrees a full three months out of the year.
A new exhibit at the Chicago Architecture Center leads with this sobering scenario before delivering the good news: The situation is still salvageable.  
But not for much longer, cautioned Doug Farr, founder of the architecture firm Farr Associates and a staunch advocate for sustainable design. 
"The scarcest resource we have is time," said Farr, as he led a tour of the exhibit, "Energy Revolution," which he helped curate.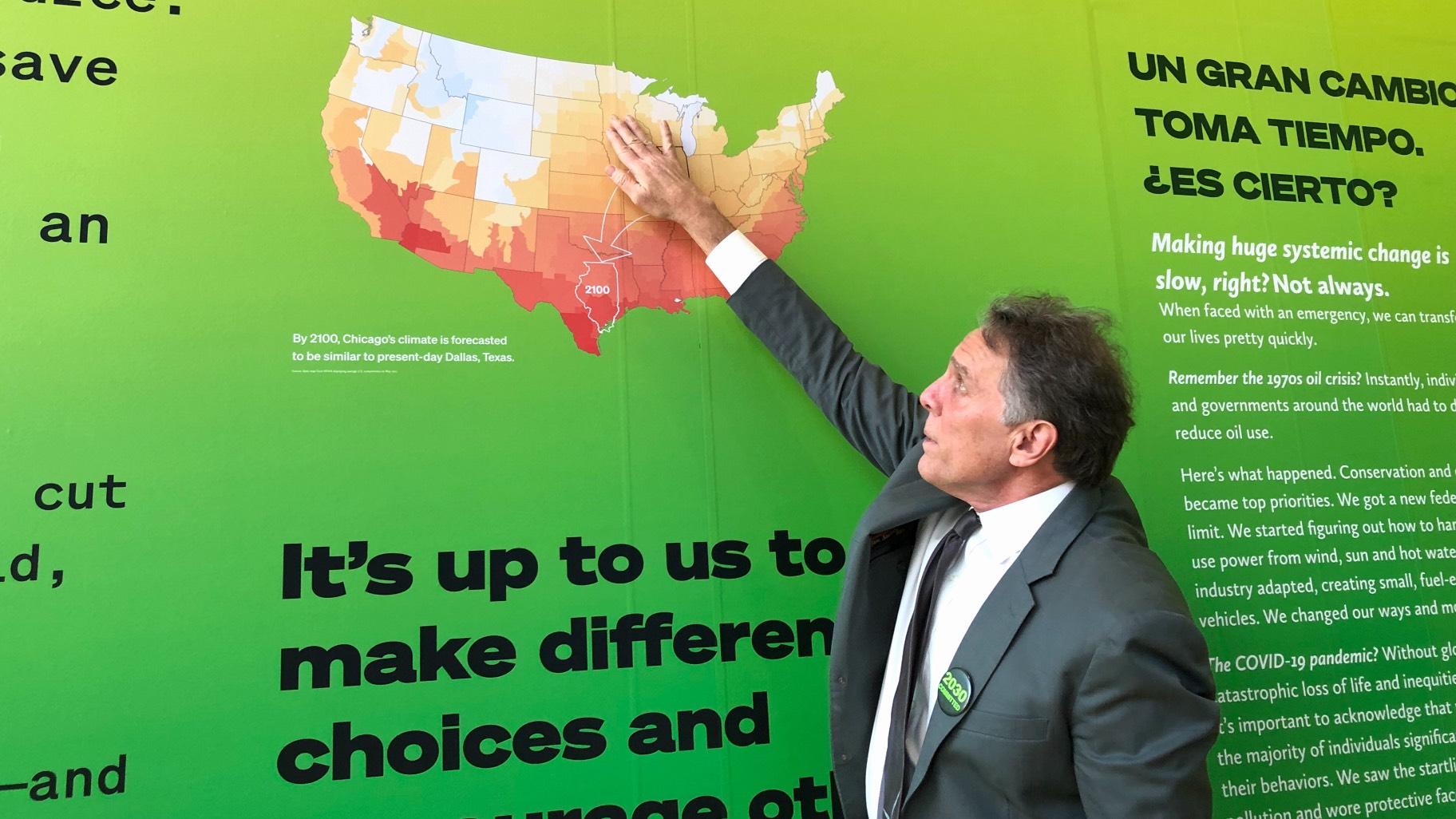 Architect Doug Farr points out one of the predicated consequences of climate change: Chicago will feel like Dallas. (Patty Wetli / WTTW News)
"Energy Revolution," running through Oct. 17, looks at climate change through the lens of architecture, with an emphasis on energy consumption.
The U.S. wastes 60% of the energy the country generates, according to Farr. It escapes from innumerable sources, be it drafty houses, dryer vents or tailpipes left idling while cars warm up on cold winter mornings.
Conserving that energy is job one — before investing in solar panels, buying electric vehicles or blasting off on missions to Mars to mine the red planet for its resources. The first order of business, Farr said, is to just use less energy.
In terms of architecture, one of the simplest solutions is staring builders in the face, he said. 
It's insulation.
To illustrate the point, the exhibit's centerpiece exposes cross-sections of walls from three buildings: the historic Monadnock Building, dating to the 1880s; 860-880 N. DuSable Lake Shore Drive, designed by Ludwig Mies van der Rohe and built in 1949-51; and Farr Associates' planned Academy for Global Citizenship on the Southwest Side, set to be completed in 2023.
Accompanying the wall display is an analysis of the energy use of 3,000 buildings in Chicago, spanning the timeframe of the above examples. The graph shows that the most efficient were constructed in the Monadnock's era, the least efficient date to the 1950s, and the city's newest buildings have yet to match the performance of their counterparts from the late 1800s.
Farr attributes the discrepancy to a couple of factors, made evident in the cross-sections. Chicago's oldest commercial buildings were designed to convey solidity and permanence, and were constructed of sturdy brick and steel. Then came a sea change ushered in by Mies van der Rohe, with an emphasis on clean lines, thinness and transparency. Glass — single pane, in many cases — became dominant and insulation was often non-existent. It's an aesthetic that's still prevalent in Chicago, to the detriment of energy conservation, Farr said.
"I can't envision a worse building" in terms of inefficiency, he said of Mies' 860-880.
Retrofitting such buildings is possible through a variety of means including replacing windows, adding a second "skin" to the facade or upgrading HVAC systems, none of which will come cheap, Farr said. But the cost of doing nothing is even steeper, he said, pointing to the exhibit's "annihilation" panel, which illustrates the global catastrophe that will result from the planet heating up 6 degrees.
Italy is one country that has introduced a program to subsidize energy upgrades to existing buildings, to the tune of more than $22 billion to date, while a similar effort in the United Kingdom has stalled, according to a report in The Guardian. 
Per a preview of Chicago's Climate Action Plan, due in the coming weeks, one of the goals is to retrofit 90% of city-owned buildings by 2035, but no further specifics are yet available regarding what that would entail.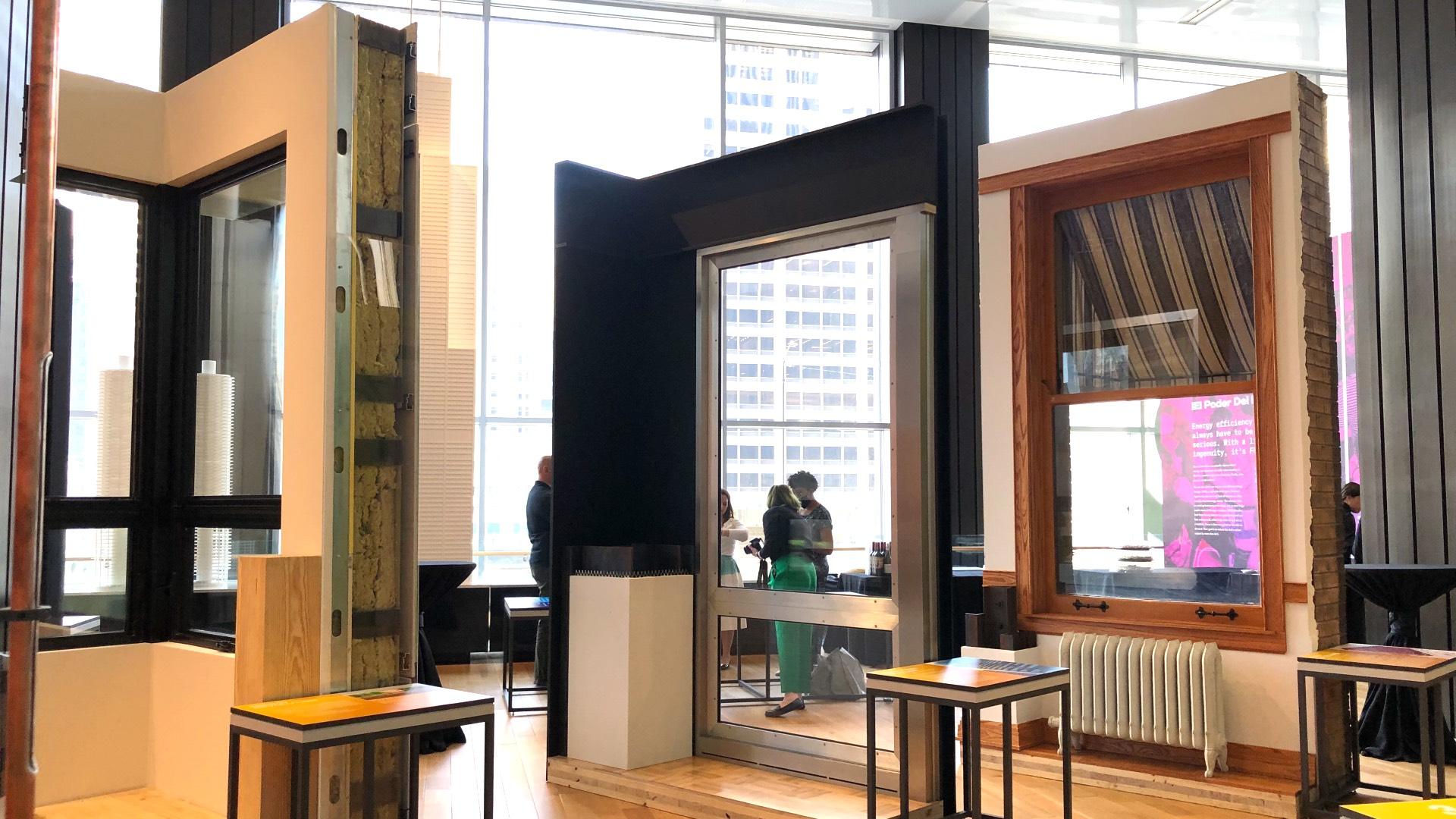 Cross-sections of building walls expose what is or isn't being done to cut energy use. The center wall, all glass and no insulation, is one of the worst examples in Chicago. (Patty Wetli / WTTW News)
Building smarter, more sustainable cities from the ground up was one of the mitigations referenced in the most recent report from the United Nations' Intergovernmental Panel on Climate Change.
The inclusion in "Energy Revolution" of the cross-section of Farr's Academy for Global Citizenship is designed to show what's possible for new construction.  
There's a thick layer of insulation, as well as quadruple-paned glass that makes use of sleek iPhone screen protector technology. Other energy-saving tricks include geothermal wells to help heat and cool the building, operable windows and skylights to allow cross-ventilation, and aluminum "fins" to shade the windows in the summer. Steel supports are replaced by cross-laminated timber beams, made from sustainably grown wood that takes far less energy to produce than steel, Farr said.
Architects have all of these tools in their arsenal, now, but getting clients to agree to them isn't always easy. At some point, concerns over immediate construction costs tend to outweigh potential future savings, he said. 
It will require the mainstreaming of energy-saving technologies as well as policy shifts to tilt the scales, said Farr.
He pointed to the smoking cessation campaign as an apt analogy, noting that warnings from the surgeon general (akin to climate change alarms) did little on their own to change behavior. It took bans on smoking in public places and stiff taxes on cigarettes, among other measures, to make an impact.
"Those are structural changes," said Farr.  
"Energy Revolution" aims to build awareness of options like energy saving appliances. (Patty Wetli / WTTW News)
The purpose of the exhibit is to increase awareness about both macro and micro issues related to energy consumption, said Eve Fineman, director of exhibitions at the Chicago Architecture Center. 
Consider the recent information sessions held regarding proposals for Chicago's first casino, she said. Where were the questions about building materials and energy use?
First there needs to be awareness of and exposure to the choices that are available, which sparks conversation and decision-making, Fineman said.
That trickles down to the individual level, where opportunities are being missed "left and right" for lack of knowledge and planning, said Farr, which is why the exhibit devotes significant space to the subject of appliances.
Think about how most people replace their hot water heaters, he said. It's usually an emergency situation and they buy whatever's available, instead of proactively purchasing a more efficient model like a heat pump water heater. Same for conventional clothes dryers, which are incredibly wasteful and could be replaced with heat pump condensing models — if more people knew such an option, which is common in Europe, even existed.
In showcasing available solutions large and small, the exhibit aims to arm people with the information they need to take personal steps and press for policy changes, while also instilling a sense of urgency.  
Said Farr: "We have to do all of it simultaneously, as soon as possible."
"Energy Revolution" runs through Oct. 17 at the Chicago Architecture Center.
Contact Patty Wetli: @pattywetli | (773) 509-5623 |  [email protected]
---