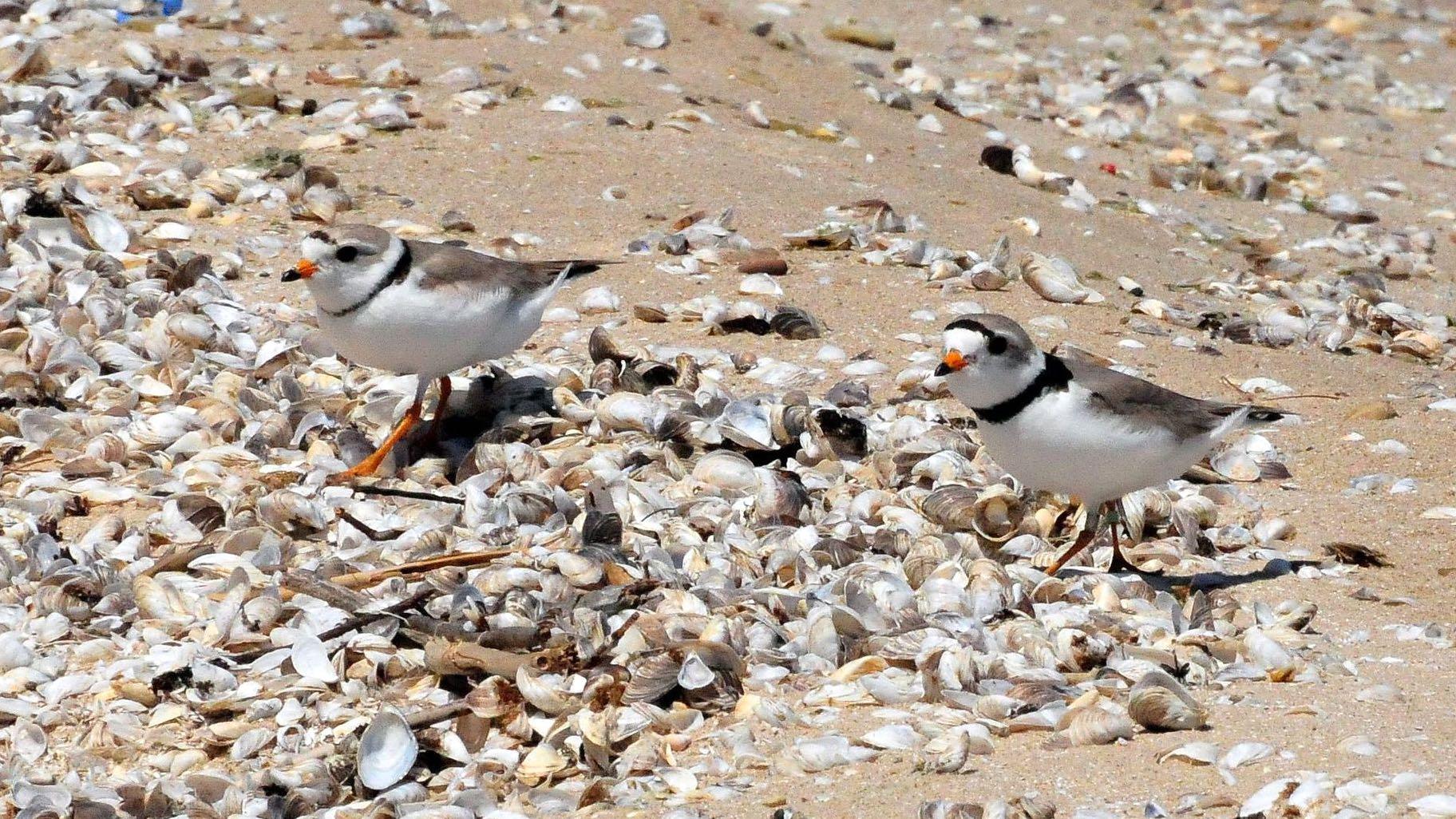 Piping plovers. (Joel Trick / U.S. Fish and Wildlife Service Midwest)
In the span of a few short years, Chicagoans have gone from "What's a piping plover" to "OMG, Monty's back! Where's Rose?"
The enthusiasm for the beloved duo is heartwarming but it's also overwhelming and potentially dangerous for the birds, according to plover monitors.
Shortly after Monty's return to Chicago was confirmed Thursday, the plover "paparazzi" descended on Montrose Beach and in the process placed Monty at risk.
Tamima Itani, who organizes the annual platoon of plover monitors that watches over the birds, shared the cautionary tale via social media: While Monty was feeding on the beach, people began closely tailing him to take photos and video, distracting the bird when he needed to be paying attention to a predator circling overhead.
People should keep a distance of at least 30 feet, she said, and dogs should be leashed and kept a minimum of 100 feet away from the birds. Anything that causes the plovers to take defensive measures is a waste of the birds' precious energy.
Though a section of the dunes is typically fenced off while Monty and Rose are on the nest, the area hasn't been closed to the public yet, according to dune steward Leslie Borns, who added, "We're constantly monitoring the situation."
Plover monitors shared a safety checklist for Monty and Rose:
— Give the birds space and respect all posted signs and closed areas.
— Seek out plover monitors (typically ID'd by their monitor t-shirts), who can direct you to a safely distanced viewing spot.
— Keep the beach clean, disposing of garbage and any other items that could endanger the plovers. Last year, a wayward balloon created quite the scare for Monty and Rose.
Speaking of Rose, she's yet to land in Chicago and a frisky Monty appears to be growing impatient. According to Itani's account, he began scraping nest sites and courting an unknown (and ultimately uninterested) female plover that's been hanging out at the beach since Wednesday.
Never a dull moment in Plover-ville.
Contact Patty Wetli: @pattywetli | (773) 509-5623 |  [email protected]
---