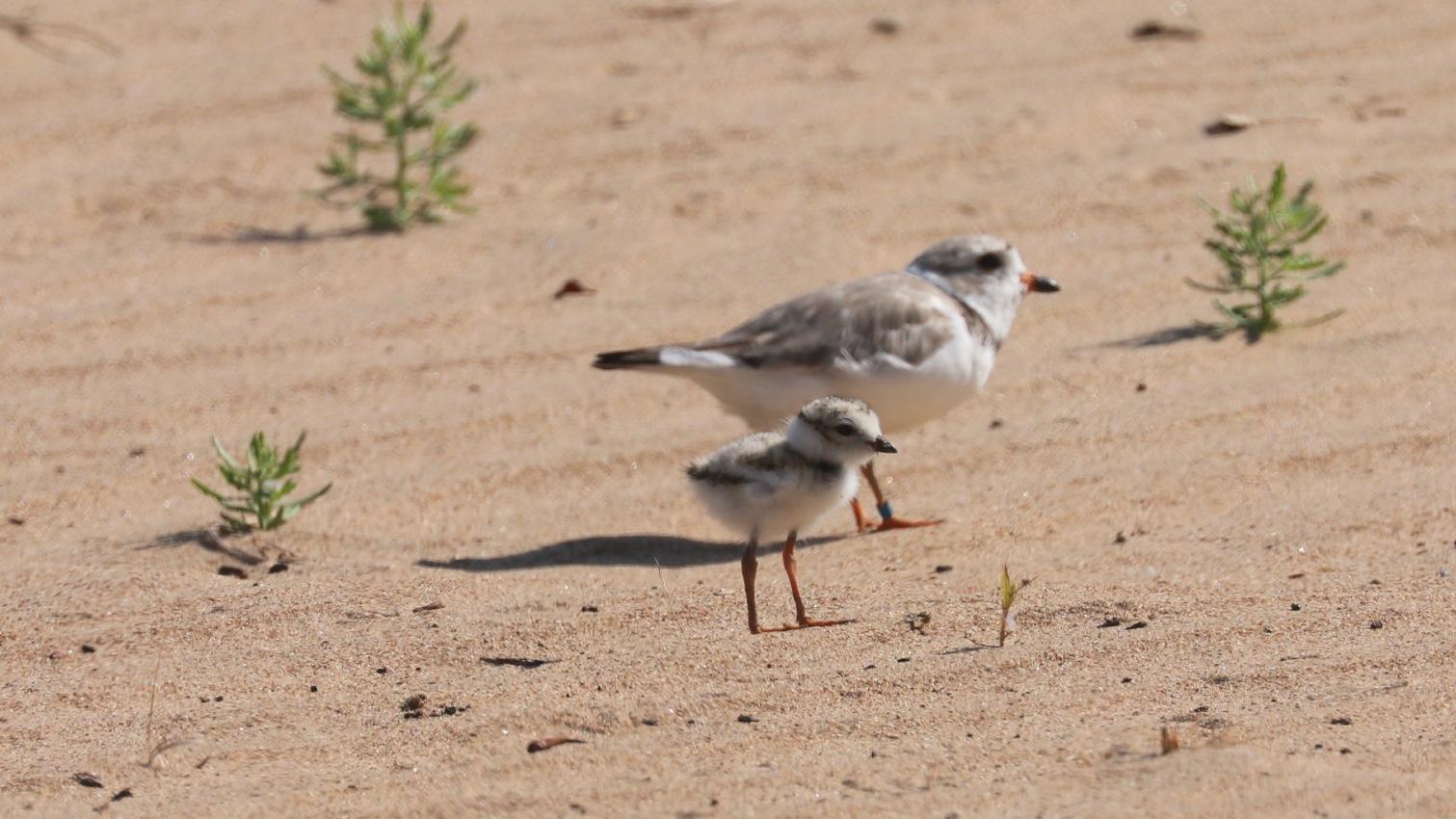 A plover parent and chick at Montrose Beach in 2019, courtesy of the Shedd Aquarium. (Credit: Susan Szeszol)
Chicago's birding community is on high alert for the arrival of the city's beloved piping plover pair, Monty and Rose, after a false alarm on Tuesday.
That's when a Monty look-alike was spotted at Rainbow Beach, generating plenty of excitement even once his identity as not-Monty was confirmed. Rainbow Beach has dune habitat similar to Monty and Rose's preferred nesting site at Montrose Beach and has been pegged as a potential breeding ground for the endangered Great Lakes piping plovers. 
Now comes word that the real Monty could be en route to Chicago.
Monitors who've been keeping tabs on the feathered fella at his wintering grounds in Texas notified their northern counterparts on Wednesday that Monty was nowhere to be found. With winds favorable for migration, Monty may well have flown the coop and is winging his way toward an anticipated rendevous with Rose.
In 2020, Monty and Rose arrived at Montrose Beach on May 1 within hours of each other. In 2021, they were slightly out of sync, turning up a day apart during the last week of April.
The earliest plover arrival in the Great Lakes this year was recorded on April 11 at Sleeping Bear Dunes in Michigan, where a relatively sizable population of plovers spends it summers.
When a Piping Plover arrived at Rainbow Beach on 4/19 sporting a green band on its right leg, we gasped. Could it be?
While this Piping Plover was not Monty, we were thrilled to see another Piping Plover & would be elated if it choose to stay!
Photo credit: Ian Sarmiento #bird pic.twitter.com/SQ1Bg19hP8

— Chicago Piping Plovers (@ChicagoPiping) April 20, 2022
---
BREAKING NEWS: Kristen Vale with the American Bird Conservancy has notified us that Monty has not been spotted in Texas today and that winds are favorable for migration. Our guy may be en route! Photo credit: Tamima Itani #plover #chicago #migration #bird #birding pic.twitter.com/iVN8W8968s

— Chicago Piping Plovers (@ChicagoPiping) April 20, 2022
---
Somebody has his fancy, going courting plumage!
We were thrilled to receive these pictures of our guy Monty beginning to sport his breeding plumage taken at the Bolivar Flats on April 7 at 8:45 am.

Photo credit: @itinerantsurgeon (Instagram) #plover #pipingplover #chicago #bird pic.twitter.com/BME7ikWhrd

— Chicago Piping Plovers (@ChicagoPiping) April 12, 2022
---
Contact Patty Wetli: @pattywetli | (773) 509-5623 |  [email protected]