Students at Chicago Public Schools walk along a hallway in this file photo. (WTTW News)
New research from the University of Chicago found that an education nonprofit aimed at boosting college access for students from low-income families has had a significant impact on enrollment and graduation rates.
According to a new analysis from UChicago's Inclusive Economy Lab published Tuesday, OneGoal — a national nonprofit based in Chicago — had positive impacts on several academic milestones for Chicago Public Schools students from low‐income communities.
"The results are highly encouraging across a broad swath of academic outcomes, suggesting that OneGoal's interventions have important potential for designing a pathway toward greater postsecondary success for more of the city's young people, including Black and Latinx students, who are disproportionately underserved," Inclusive Economy Lab (IEL) Executive Director Carmelo Barbaro said in a statement.
The IEL said it partnered with OneGoal and Chicago Public Schools to examine the effectiveness of OneGoal's three-year cohort program model, specifically looking at the academic outcomes of 7,000 students who participated between 2011 and 2020.
Students in those cohorts met daily during their junior and senior years in high school to discuss their college and career goals, and help each other complete applications and financial aid forms.
After graduating high school, those students continued to receive one‐on‐one support from OneGoal for an additional year.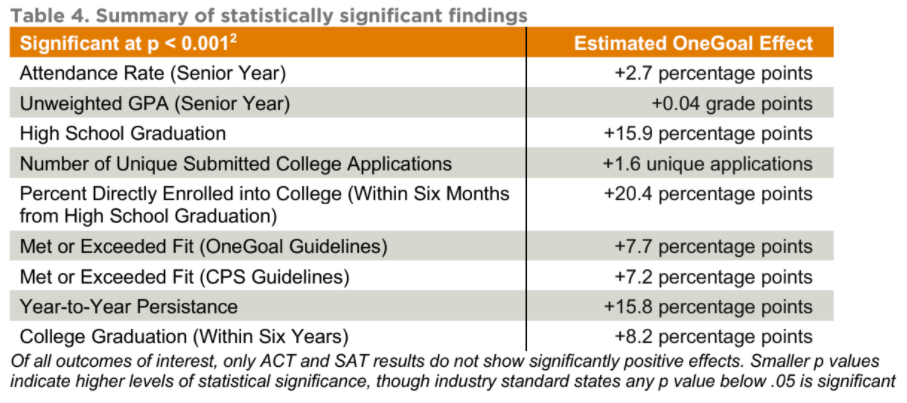 (UChicago Inclusive Economy Lab)
As part of its study, the IEL compared academic outcomes from CPS students who participated in OneGoal against others with similar demographic, academic and geographic characteristics.
In doing so, they found that the OneGoal students had a 15.9% higher high school graduation rate (99.4% compared to 83.5%); 15.8% higher year-to-year persistence rate in college (49.4% compared to 33.6%) and an 8.2% higher six-year college graduation rate (28.5% compared to 20.3%).
"The results of the Inclusive Economy Lab's comprehensive examination of OneGoal's student support program highlight an important strategy for supporting more CPS graduates to achieve their goals in the transition to and through college," said Heidi Truax, executive director of the CPS Office of School Counseling and Postsecondary Advising. "We appreciate the commitment of our partners and remain dedicated to innovation as we strive to break down entrenched barriers and build brighter futures for all of our young people."
Contact Matt Masterson: @ByMattMasterson | [email protected] | (773) 509-5431
---