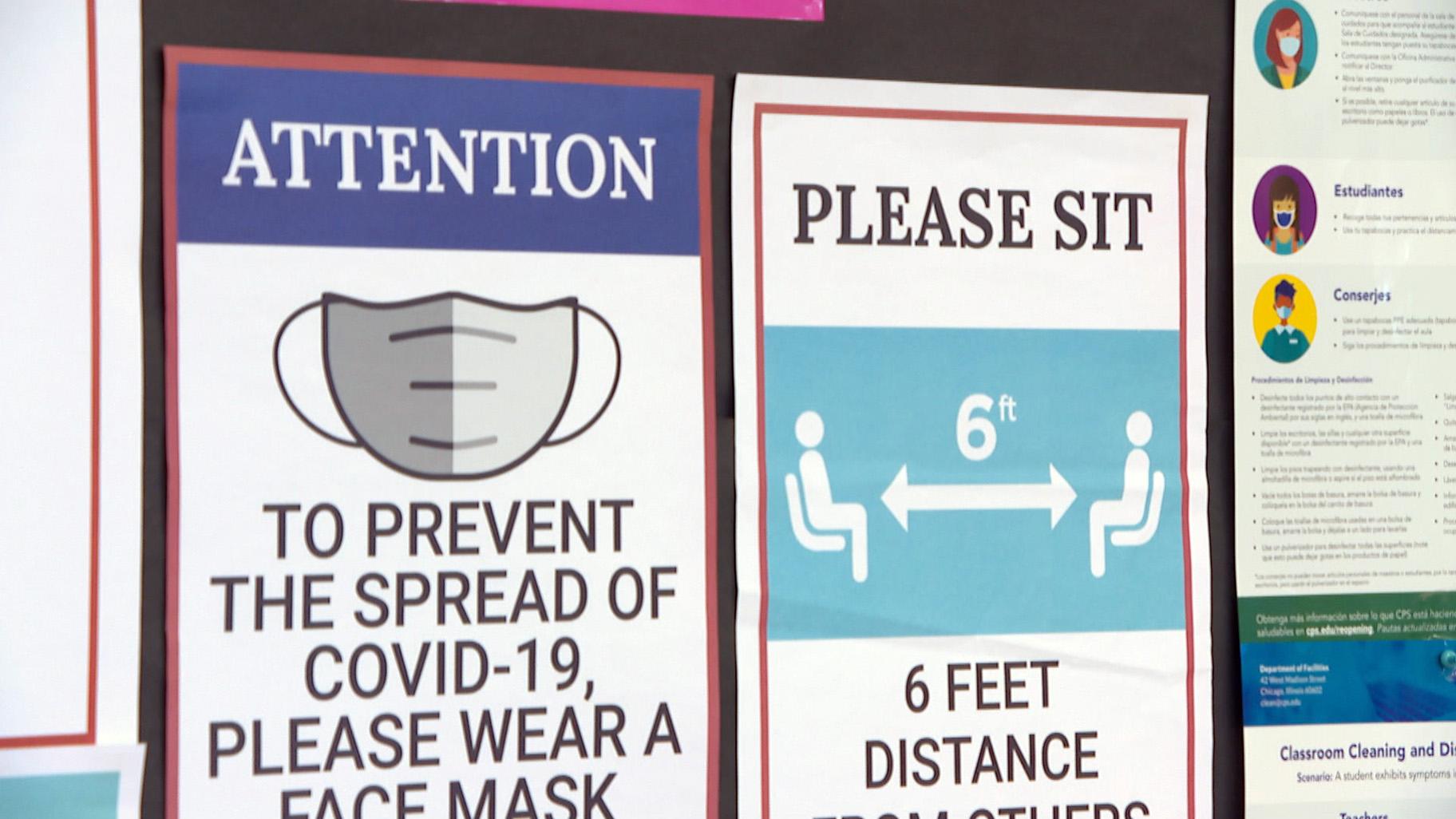 (WTTW News)
Under new legislation signed into law by Gov. J.B. Pritzker, fully vaccinated public school and higher education employees across Illinois won't have to use sick time if they're forced to miss work due to COVID-19.
The governor on Tuesday signed House Bill 1167, which provides paid administrative leave to vaccinated employees who miss class time due to COVID-19 and requires school districts, public universities and community colleges to pay support personnel and contractors during any school closure.
The law applies retroactively, meaning that teachers who already used sick time this school year for COVID-related absences will instead have those days converted to paid administrative leave.
"We want to ensure that our school children would see the fewest disruptions to their in-person learning due to the public health crisis," Pritzker said. "The bill I'll sign into law fulfills that promise. It ensures that if a teacher has done their part to keep their classroom safe for their most vulnerable students, they won't have to worry for a second about their pay or their paid time off if they get COVID."
Under the legislation, public school district, public university and public community college employees who have gotten their required COVID-19 vaccine doses will be granted paid administrative leave if they or their child are forced to isolate from school, either due to a positive test or because of a close contact with someone who was positive for COVID-19.
Those same employees would also see their used sick time retroactively restored if they were already forced to isolate or quarantine from their schools, colleges or universities due to COVID-19.
The new law also maintains wage protections for hourly school employees like custodians, bus drivers, cafeteria workers, classroom assistants and administrative staff, for the 2021-22 school year.
"This is a step to recognize those who have done all they can to protect themselves, their families, their students and their schools, but still end up facing hardships because of the pandemic," state Senate President Don Harmon, D-Oak Park, said in a statement. "They've played by the rules, done everything that was recommended, and they shouldn't lose sick days or pay for doing the right thing. I want to thank the governor for working together with us to find a common-sense approach to address this situation."
Pritzker vetoed a similar bill earlier this year that would have granted that administrative leave to all public school and higher ed employees, regardless of vaccination status.
Teachers unions fought for the law. They argued it's wrong to punish members who were playing by the rules and keeping their communities safe.
Complying with state and school policies that required they avoid the classroom after testing positive for COVID, experiencing COVID-like symptoms, or coming into close contact with someone with COVID forced some newer teachers and administrative staff to completely exhaust their sick time, unions said.
In a statement, Chicago Teachers Union Vice President Stacy Davis Gates said: "Collectively, we've worked tirelessly for safety measures so educators and students who have sacrificed so much in the era of COVID can get the resources and supports they deserve. This bill is a critical part of that effort."
Naperville Central High School social studies teacher Rob Lugiai said he'll personally benefit.
Lugiai said he was sick last year. Even though he tested negative for COVID-19 with an at-home test, the district required anyone with COVID-like symptoms to show proof of a PCR test in order to come to school.
It took three days for the pharmacy to return the PCR results showing he didn't have COVID-19.
He had to use sick time for those absences.
"Those were sick days I used because my employer required the second test," Lugiai said. "(With the new law) I will have those sick days returned to me. I have colleagues who were out for 10 days, 20 days or longer due to an exposure, multiple exposures, and/or testing positive for COVID-19."
Education advocates who joined the governor at the bill signing Tuesday lauded new legislation as a way to both retain and attract teachers and support staff to Illinois.
"We need to get people to want to come to this profession, to want to go every day into a class of 20 or 30 kids and say 'Good morning' and help build those lives and our future," Illinois Federation of Teachers President Dan Montgomery said. "And right now we don't have enough, and this (law) is part of that too. So it's dramatically important."
Unvaccinated teachers will have to use sick days for COVID-related absences, unless they get their COVID-19 shots within the next five weeks.
While backers say the measure gives teachers security when there's a shortage of educators, some critics have cost concerns, while others argue such protections should be extended to other essential workers who continued to put themselves at risk by working throughout the pandemic.
Contact Matt Masterson: @ByMattMasterson | [email protected] | (773) 509-5431
---