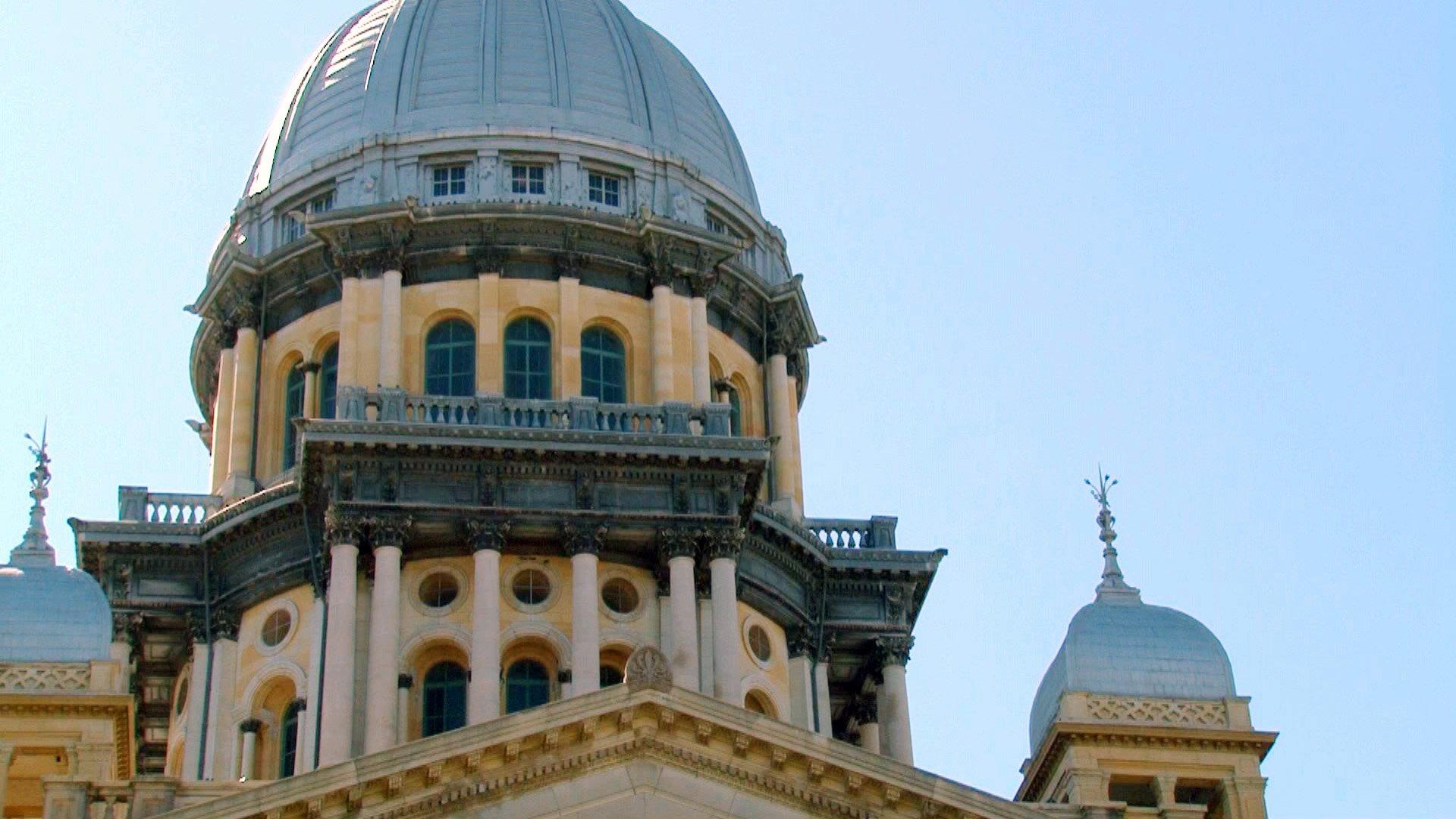 (WTTW News)
With the annual legislative session getting underway, Illinois House Speaker Emanuel "Chris" Welch was loathe to share details about a planned anti-crime agenda.
In January, Welch told WTTW News that "there's going to be an anti-crime agenda that comes out of the General Assembly this spring. We know that carjackings is an issue all across this state, we know that organized retail theft is an issue. There's a lot of big things that will get done, but particularly around this area of helping to reduce crime."
With days left before lawmakers are set to adjourn on April 8, the details of that agenda are emerging.
On Monday, Democrats unveiled a series of bills they described as "pro law enforcement," even as a top Republican rebuffed the effort as "trying to rewrite history."
Legislators are set to adjourn their spring session nearly two months earlier than normal, in order to spend spring and summer on the campaign trail. Normally, this year's primary would have been already over and done with, but this year it was moved from March to June 28.
Crime is sure to be on many voters' minds, given rising incidents of crime the past couple of years, part of the motivation for the election-year hearkening on both sides of the aisle, as well as the last-minute push to follow through on Welch's pledge.
"This not an antidote for anything. This is us trying to make the streets safer and get more police office on the streets. That's it," said state Rep. Dave Vella (D-Rockford), who was part of a working group of Democrats researching and negotiating avenues for action on public safety.
Still, progressive voters are apt to be keyed into what Democrats, who control the General Assembly, are doing to follow through on dismantling systemic racism in the criminal justice system. That was a prime goal of a major law enacted just last year, the Illinois Safety, Accountability, Fairness and Equity-Today (SAFE-T) Act, which among other changes, was focused on eliminating cash bail, requires police to intervene if another officer uses excessive force, and creates a process for decertifying police.
"Democrats in Illinois have repeatedly attacked our police and justice system," House Republican Leader Jim Durkin said in a statement. "Until they wake up and repeal their pro-criminal SAFE-T Act, there will be no safe communities in Illinois."
Law enforcement groups opposed the SAFE-T law and blame it in part for an exodus among their ranks, and Republicans  — even as elements of the law have yet to be enacted — cite it as a contributing to a sentiment among criminals of lawlessness being accepted without consequence.
The SAFE-T Act also has required since January all the officers in large cities to wear and use body cameras while carrying out active duties, a requirement that will also apply to all municipalities come 2025.
Among the measures Democrats pitched on Monday is HB4608, a plan that would allow local police to flag video they believe has value as evidence, and would permit state funding to be used for data to store video — addressing two issues of the various issues law enforcement had with the 2021 law.
Other just-introduced measures include plans (HB4228) to set a minimum compensation requirement for county sheriffs, to temporarily extend the current practice that permits police to record without permission investigations of drug and sex offenses (HB3898), and a program to offer grants to incarcerated or recently released people for mental health and substance abuse (HB4364).
In recognition of first responders and other late-night shift workers, another proposal (HB1571) creates a grant program that providers could draw if they provide after-hours and nightly child care. 
Another measure (HB1568) serves to stem a tide of turnover among police and increase recruitment of new officers, allowing certain officers to continue working past age 55 without a pension penalty, creating an Illinois Law Enforcement Recruitment and Retention Board, creating a path for using community college credits to satisfy requirements of becoming an officer, and  allowing qualifying  members of law enforcement to buy and keep their firearm upon retirement.
Vella said that will send a signal to officers that "we appreciate you, we honor you, we honor the service you gave to us."
"To have safe streets and equal justice for everybody we need good officers in the streets," Vella said.
Another measure (HB1321) seeks to address concerns about the mental health of officers by creating a program to fund behavioral health services for first responders and allows for the state police training board to establish minimum standards for mental health screenings.
"Few jobs take such a heavy toll," said state Rep. Lindsey LaPointe (D-Chicago). "We've overlooked this for too long."
The moderate Democrats who presented the series of bills Monday conceded that they're unsure which will have support, or time, to become law before Friday, though they discounted questions by journalists questioning whether progressive and Black legislators will lend their support.
The latest crop of measures come after Friday, another group of Democrats (some of whom, like Vella, were also part of Monday's introduction) presented a victim-focused set of initiatives.
That the packages were introduced by two sets of legislators, on two days, is an indication of how seriously the majority party recognizes crime as an issue even as they recognize how delicately it plays with different segments of their base, or of the disparate mindset from which Democrats approach the issues, or both.
While on Monday lawmakers continually praised police who put their lives on the line, on Friday the focus was on overturning a tough-on-crime culture.
Among those plans are allocating at least $1 million (SB4203) to create an anonymous-tip hotline and rewards for reporting crimes, and forwarding hundreds of millions dollars extra toward early intervention, after-school and other community programs (SB4202).
"For many of us, violence and crime has been the norm with a series of fake, false promises by paternalistic experts and authority figures," said state Sen. Robert Peters (D-Chicago). "I had another shooting on my block a couple weeks ago and people are sick and tired of the failed status quo. They are sick and tired of – excuse my language – this bullshit. And I am sick and tired of it too. Our communities need to be heard, our leaders must be brave, our state must move away from the failed tough-on-crime status quo."
Peters backs the creation of a task force that he said  "puts victims and crime survivors at the center of the conversation."
As Gov. J.B. Pritkzer has proposed, the efforts commits to funding and progressing Illinois' mostly-dormant state witness protection program.
In 2014, Peoria Democratic Rep. Jehan Gordon-Booth's son was killed; without a witness who testified about the shooting "our family probably never would have gotten justice."
That witness, she said, had to move because of threats to the witness' family safety.
Witnesses need not just cooperate; "they also have to go and take the stand in court and stand before that individual who they saw take someone else's life" Gordon-Booth said.
Meanwhile, Illinois Attorney General Kwame Raoul and the state's retail merchants association are pushing a package (HB1091) aimed at tackling organized retail crime, amid a surge of so-called "smash-and-grab" thefts at high-end stores and shopping malls. They seek to create an opportunity for law enforcement statewide to cooperate, to require third-party sellers to verify bank and other information to prevent resale of stolen goods, and equipping prosecutors with more tools to go after coordinated looters.
Republicans, who don't have enough numbers in either chamber to pass legislation without support from Democrats, have likewise introduced their own measures, which increase funding of police, institute mandatory minimum sentences for gun crimes, institute the death penalty for those convicted of killing police, and overhauls the state board charged with determining when those convicted of violent crimes can be released on parole. 
Follow Amanda Vinicky on Twitter: @AmandaVinicky
---