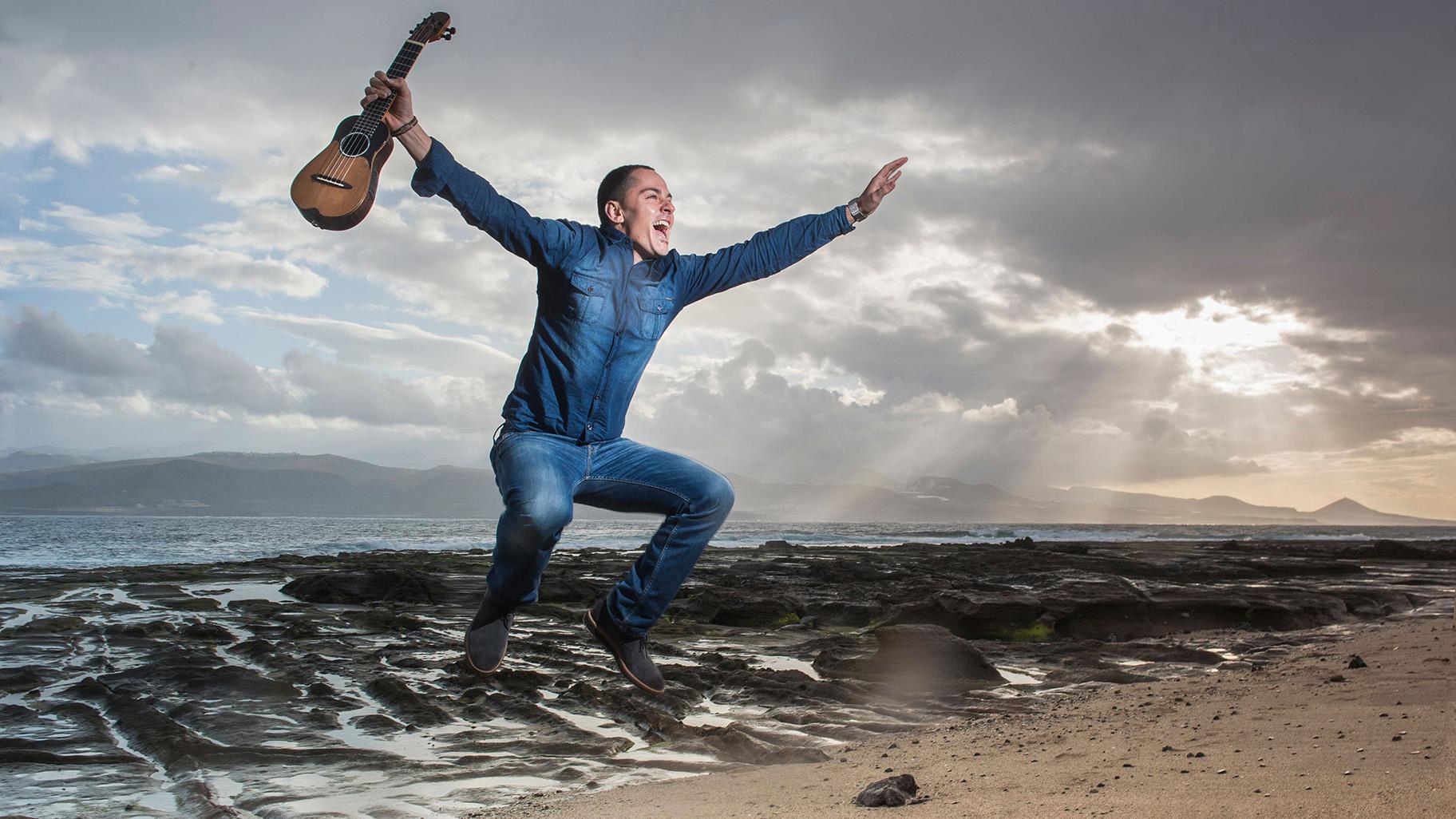 Germán López is performing in Chicago at the Instituto Cervantes of Chicago on March 25, 2022. (Credit Nacho Gonzalez)
When it's used to play the traditional music of the Canary Islands, the small, long-necked, five-string instrument's sound is often bright and folksy. But in the hands of Germán López, whose style combines the sound of the Canary Islands with pop and world rhythms, the timple takes on an entirely new character.
"In the Canary Islands we play a lot of music from Cuba, from Venezuela, from Mexico. It's natural for us. So a lot of people and a lot of food and music and dance and lyrics going and coming back," López said. "It's like a big plate with different kinds of food and maybe you don't know exactly where every food comes from."
The timple's distinguishing characteristic is the arrangement of the strings, with the lowest string in the middle.
"When you try to play some music that is not composed for the timple it is a little bit difficult," López said. "But at the same time, it's very interesting for us because you learn a lot trying to do that that kind of music with the timple."
López began playing the instrument as a child for a simple reason: he had little hands.
"I wanted to study guitar and I was too small or the guitar was too big for me … I couldn't play the strings. So my teacher told me that maybe it was better to start with the timple because it's smaller than the guitar," he said.
But rather than moving on to the guitar, López says he went all in with the timple after meeting his new teacher, Jose Antonio Ramos.
"I fell in love when I discovered what the timple could do in his hands and in that moment I decided to forget the guitar and to learn timple as much as possible," López said. "It was very interesting for me the different ways you can play with this small guitar."
López and Andalusian guitarist Antonio Toledo, whom Lopez calls "incredible," are performing López's new album "Canela y Limon" in a one-night performance on March 25 at Instituto Cervantes.
"People don't believe when I say this, but we never know what's going to happen when we start a song," López said. "We start playing and we are looking at each other and thinking, what are we doing now? And the music is taking us different ways. And when we discover something new, it's amazing for us."
Returning to the stage after a long COVID absence was a little awkward at first, but López said pandemic lockdowns made him realize how much music could do to heal.
"I played a lot of music by social media and a lot of people wrote me and sent me messages saying 'thank you because I'm alone at home, and your music is helping me to spend this time better,'" López said. "It was like, oh my God, I don't know how lucky I am because my job and my passion can help other people. And now we enjoy every minute more than before. We are grateful for what we do and this is like a present for us."
---
Germán López in Concert: Canela y Limón Duo featuring Antonio Toledo
Friday, March 25, 2022
7 - 8:15 p.m.
Instituto Cervantes of Chicago, 31 West Ohio St.
---