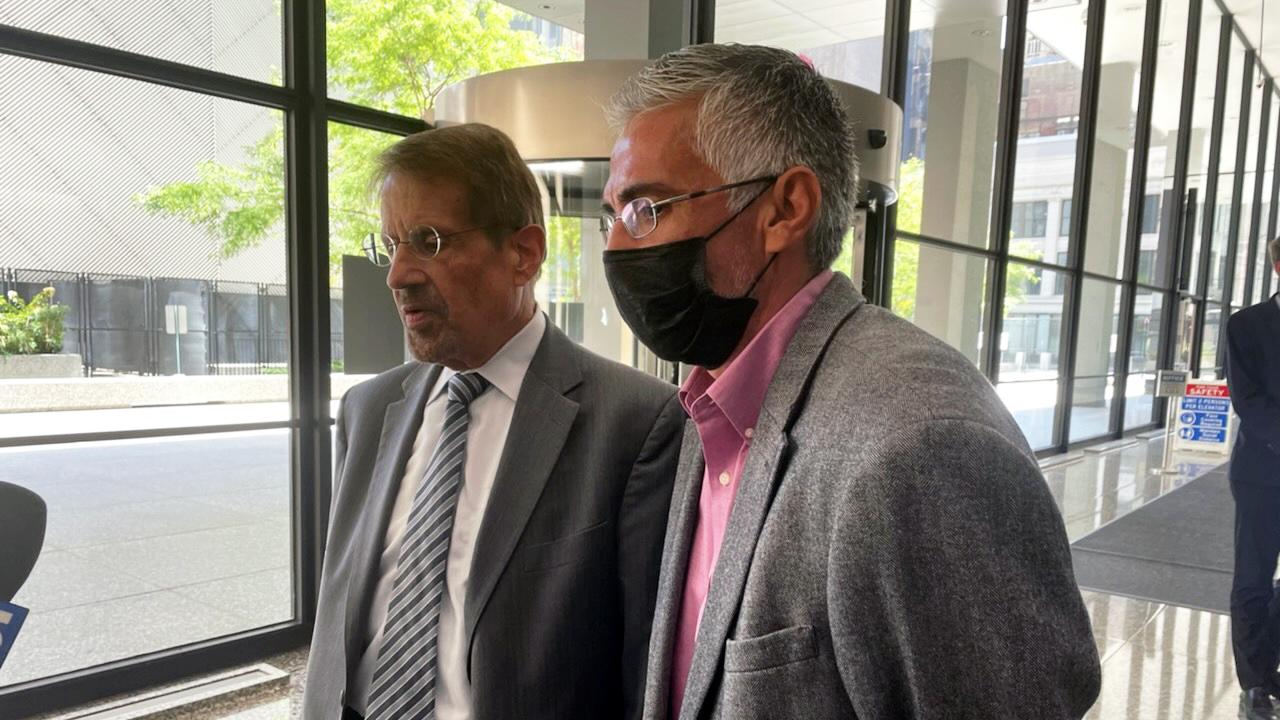 Former Ald. Ricardo Muñoz, right, listens as his attorney Richard Kling addresses the news media on Monday, Sept. 27, 2021. (Heather Cherone / WTTW News)
Federal prosecutors have argued Ricardo Muñoz deserves to spend a year in prison after pleading guilty to wire fraud and money laundering charges, but an attorney for the former 22nd Ward alderperson believes his client could instead serve a sentence in a community setting.
In a sentencing memorandum filed Tuesday, defense attorney Richard Kling said that a sentence of community service and supervised release would be a "sufficient, but not greater than necessary" penalty for Muñoz.
"Although Mr. Munoz didn't try to bribe government officials to get lucrative contracts, or try to buy a Senate seat," Kling wrote in the filing, "he recognizes and acknowledges that he abused his position of trust, that his behavior was nonetheless illegal and violated his obligations and responsibilities to the community that entrusted him with the position he held. For that behavior, he accepts full responsibility."
Muñoz, who was first appointed to the City Council by former Mayor Richard M. Daley in 1993, was indicted on 15 counts of wire fraud and one count of money laundering in April 2021. He left office in 2019 after he decided not to run for reelection. 
Muñoz eventually pleaded guilty, admitting to transferring $16,000 from the Chicago Progressive Reform Caucus' account on Oct. 31, 2016 and then making a $15,234 payment to an out-of-state college to resolve an overdue tuition bill. At the time of the tuition payment, Muñoz's account had approximately $300 in it, according to federal prosecutors.
In a separate court filing last month, the government asked U.S. District Judge John Kness to sentence Muñoz to one year and one day in prison, saying he "abused his public position and betrayed the public trust."
The feds claim any sentence for Muñoz that doesn't include prison time sends the "wrong message to the public: that public officials who violate the law are held to a different — more lenient — standard than others."
But Kling argued that while his client's conduct "was illegal, plain and simple," Muñoz has already been branded a convicted felon and is working to make restitution payments to the caucus.
"Finally," Kling wrote, "it must be asked whether an already overburdened criminal justice system should spend the time, money, and other resources necessary to 'house' someone who is not a danger to the community and who is fully capable of housing himself at his own expense and and not on the taxpayers' budget."
Kling also suggests the court could impose that Muñoz complete a "significant amount of community service" as part of his sentence.
Muñoz was slated to be sentenced earlier this month, but that hearing was delayed due to COVID-19 issues. His next hearing is scheduled for Feb. 11.
Heather Cherone contributed to this report.
Contact Matt Masterson: @ByMattMasterson | [email protected] | (773) 509-5431
---